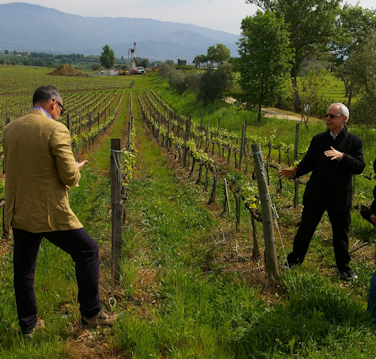 Tenimenti Luigi d'Alessandro
Italy, Tuscany
Massimo d'Alessandro is passionate about the Rhone and Syrah in particular. Having long since identified the 'terroir' and micro-climate of his Cortona vineyards as being almost identical to that of the Northern Rhone, he imported the best Viognier and Syrah clones, densely planted in the early 1990s, and set about making the best wines of the region. His Syrah is now rated world-class, particularly in vintages such as 2001 and 2004.
Other reviews and comments
It is hard to believe the huge jump in quality this venerable estate has undergone in just the last few years. Luca Currado of Vietti has instilled a Piedmontese sense of discipline that entails greater attention in the vineyards, more cleanliness in the cellar and the use of Slavonian oak casks, among other things. Vintage 2007 is the first harvest Currado and his team of coworkers followed from start to finish, and the results are hugely impressive. It certainly seems like the sky is the limit here.
Robert Parker, The Wine Advocate, www.eRobertParker.com
I sat down at Borgo Syrah near the town of Cortona in Tuscany with Massimo d'Alessandro, owner of the wine estate Tenimenti Luigi d'Alessandro, and tasted the three vintages of his super single vineyard Syrah Migliara. Consulting enologist Luca Currado was with us. Currado makes amazing Piedmont wines such as Barolos, Barbarescos and Barberas at his family estate of Vietti. The first vintage of Migliara was 2006, and I tasted all three vintages in bottle. Check out the video to see how it out all played out. I have been a huge fan of the Tenimenti Luigi d'Alessandro Syrah of Il Bosco, but I think that Migliara takes it to a higher level.
James Suckling, www.jamessuckling.com