Domaine Daniel Barraud
Daniel and Martine Barraud, now joined by their son Julien and daughter Anaïs, have vineyards in Vergisson that are mostly high up under the famous rock (Vergisson lies between the two dramatic cliffs of the rocks of Solutré and Vergisson). The vineyards here are significantly higher than those of Fuissé, and are consequently later-ripening, and the wines often have a more solid structure - but all of Daniel's wines have their own character, from the Puligny-like directness of the La Roche to the fat richness of the 'en Buland', via the mineral force of the Crays.
All the wines are made keeping close to the tenets of bio-dynamics - not as Daniel says for the sake of it - but because over the generations experience has taught them these principles really are the best way forward - as such they only ever bottle on a waning moon, All the wines see some barrel ageing apart from the Chaintré, which is aged in foudre (2/3) and tank.
As Allen Meadows wrote in 2014 in Burghound "I have said this before, but I will say it again: no one makes better wine in the Mâconnais than Barraud. There are a few domaines that produce wines that are sometimes just as good, ... but none of them surpasses the quality he consistently produces. If you aren't familiar with the wines, you owe it to yourself and your pocketbook to check them out." (www.Burghound.com). In 2018 They picked from the 28th August to the 15th of September (stopping for 4 days in the middle. 'The wines are balanced, thirst-quenching, fresh - like 2016 or 2014', said Julien.

2018 POUILLY FUISSÉ Vieilles Vignes Les Crays Domaine Daniel Barraud
Crisp nose, mineral to the fore - palate is loaded with juicy citrus notes. This has an easy flow though - smooth and velveteen on the palate with just a slowly building mineral scrape towards theCrisp nose, mineral to the fore - palate is loaded with juicy citrus notes. This has an easy flow though - smooth and velveteen on the palate with just a slowly building mineral scrape towards the finish. Good stuff. From vines on the rock of Vergisson. Behind Verchere. 'Calcaire Rouge' soil here. Top drawer terroir gives such refined complexity in this humdinger of a Maconnais.L&S(Nov 2019)

Magnums, case of 3
In Bond

2018 POUILLY FUISSÉ Vieilles Vignes En Buland Domaine Daniel Barraud
This plot was planted in 1934. The wine is now labelled as 'Grand Vin de Bourgogne' (as it is!)However, this is the best they can do as the local authorities will not classify En Buland as 1er cru, This plot was planted in 1934. The wine is now labelled as 'Grand Vin de Bourgogne' (as it is!)However, this is the best they can do as the local authorities will not classify En Buland as 1er cru, despite its clear brilliance! This is simply because it faces North East and not South. Perched highish on the Rock of Solutré. With the same soil as Les Crays but on the opposite rock across the valley - which means it has a very different exposition. Power and weight are mesmerising - but delivered with aplomb. This is intense and powerful - but still so tightly coiled in the middle. Energy and flesh in great harmony. It is a masterpiece of White Burgundy. L&S(Nov 2019)

Magnums, case of 3
In Bond
Domaine Hubert Lamy
A domaine with 18.5 hectares of vines - 80% are Chardonnay and 20% Pinot Noir. The vines are spread over Saint-Aubin, Puligny-Montrachet, Chassagne-Montrachet and Santenay. Olivier Lamy's wine-making style and preference is to emphasise the fresh and the mineral side of his wines, with limited new wood and that is with the wines in 600 litre demi-muids rather that the classic Burgundy (225 litre) fût. Certainly Olivier's whites do have an arrow-like purity and intensity, and seem to age completely straight and true.
In 2018, he told us, there was for once no frost or hail. It was very dry in the summer, but had been very wet in winter when it seemed to rain every day. In the winter they had 50% more water than usual, but in summer it was 50% less. There was also 30% more sunshine than normal, and it was the sun rather than the heat which for him really defines the vintage - the sunniest for 30 years.
They started picking on the 22nd of August - earlier than in 2003, but did not finish until the 12th September - some of the reds, despite being at 14 degrees potential alcohol, were green inside - that had not achieved phenolic ripeness and they just had to wait. In the reds he used more stems to keep freshness, and in the whites he pressed harder, saying that you can be more aggressive with the skins when there is ripeness like this - you need the phenols from the skins to balance the ripeness.
His final kicker of a comment was that although yields were pretty good in 2018, 2019 is a very small harvest - so buy while you can.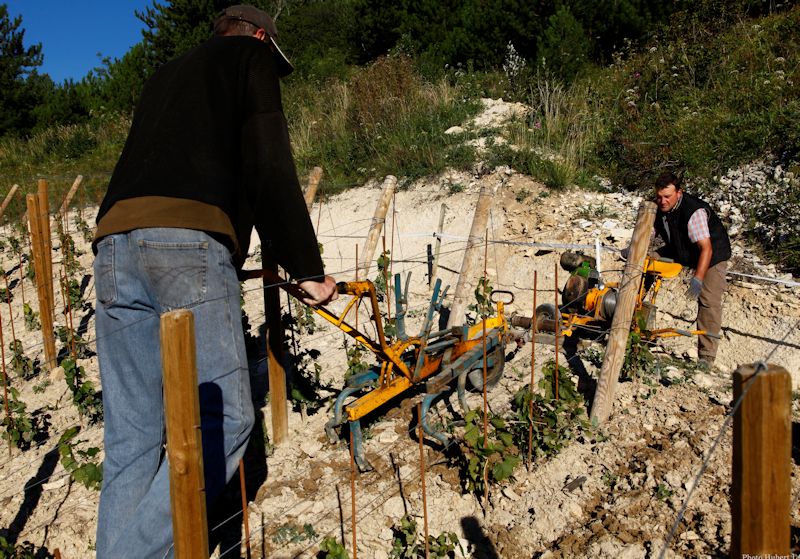 Domaine Fernand & Laurent Pillot
The origins of the Pillot family in Chassagne can be traced back to the eighteenth century, when they seem to have been coopers more than vignerons. In the nineteenth century they abandoned barrel-making in favour of enlarging the property in Chassagne. Fernand and Laurent, who is the fourth generation, added to it again in 1992, and then in 2001 Laurent's wife Marie-Anne inherited half of her family's property, the Pommard domaine of Pothier-Rieusset, and Laurent and his father bought the other half. The domaine now stands at 14.5 hectares of vines across almost the whole length of the Côte de Beaune from Santenay to Beaune.
The Domaine is worked according to organic principles and are ploughed – no chemical weedkillers are used. They have also been members of the Dephy-ECO-phyto group, which works to reduce the number of treatments using copper sulphate, since 2012.
Laurent has always managed to pack in a lot alongside his running of the vineyard. He has a sophisticated microlight which he flies to all corners of France, he keeps and hunts hawks, and conducts the Chassagne brass band as well as dabbling in Mayoral duties - on top of being a father of three, Anaïs, Adrien and Eugène. They are all mad about the alps and disappear up the mountains at regular intervals.
Laurent's eldest son Adrien has been travelling the world making wine all over the place for the last few years having completed his training in Beaune. Bringing back lessons learnt in Australia, South Africa and California (and from a stint at Lea & Sandeman) - he now helps Laurent with all aspects of the wine-making and viticulture at the domaine. The wines have long been L&S favourites in both red and white - they represent excellent value, and they age very well too, despite being attractive young. The whites are precise and pure, and not lacking for body and generosity, while the reds are velvety and juicy, beautifully balanced even if drunk young on their expressive Pinot fruit. The domaine was rightfully heralded in Decanter Magazine as 'an address that deserves to be better-known'. Great value and real pleasure across their range.
Read more about Adrien here in this recent Forbes article here.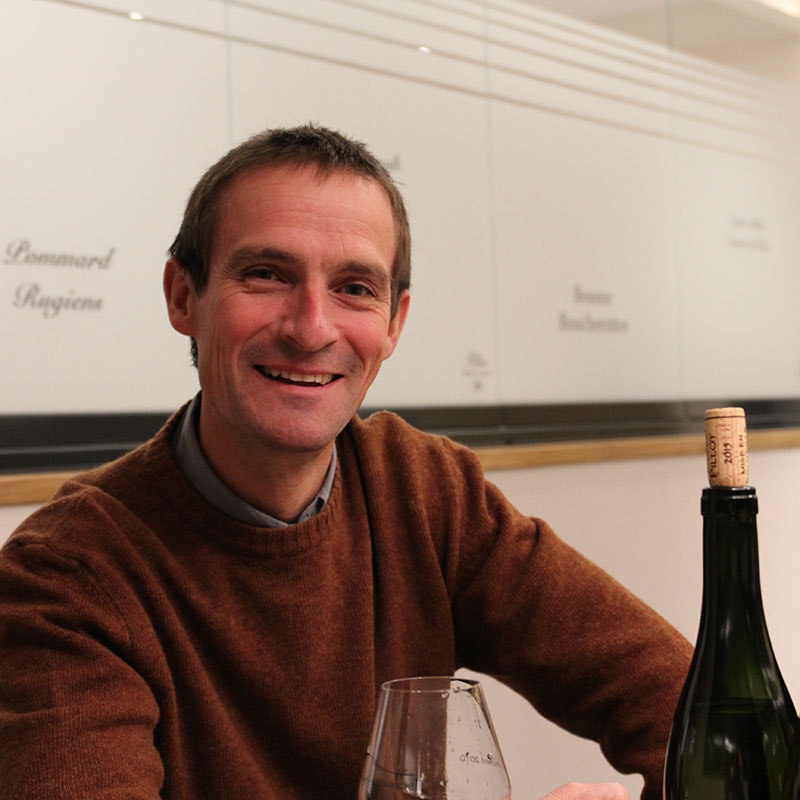 Domaine Rémi Jobard
Rémi has been been making small qualitative changes ever since he took over here. The entire vineyard is cordon-pruned, so yields are naturally limited. There has been no use of fertiliser since 1994, and the vineyard is grassed-over to encourage the vine roots to go deep. The domaine has been certified organic from 2008. He says that the two most important things are the absence of weedkiller (and thus the necessity to plough, which cuts any surface roots and makes the vine go deeper) and not adding any fertiliser which again makes the roots go deeper to find nutrients.
Rémi has two vast presses, to enable him to press very slowly over six hours, and this has resulted in a big jump in finesse. The élevage now lasts nearly fifteen months, so as to allow the wines to develop slowly and to avoid fining. As a result these are wines which take a moment to show, but which reward the patient with complexity and great depth of flavour.
Rémi made a move from traditional barrels to foudres made of a mix of French, Austrian and Slavonian oak, constructed by Austrian cooper Stockinger, and having added a new one (or two) each year, there's barely a normal barrel left. He likes the way the wines develop in these large volumes, in which the 'oaking' effect is minimised.
2018 has produced another great set of wines here, althought we always seem to arrive when they are being fined, so they are hard to taste - we look forward to seeing them again at our London tasting. But there's terrific concentration in a vintage which in general had large yields. Rémi picked the domaine fruit between the 30th of August and the 9th of September.