Domaine Fernand & Laurent Pillot
The origins of the Pillot family in Chassagne can be traced back to the eighteenth century, when they seem to have been coopers more than vignerons. In the nineteenth century they abandoned barrel-making in favour of enlarging the property in Chassagne. Fernand and Laurent, who is the fourth generation, added to it again in 1992, and then in 2001 Laurent's wife Marie-Anne inherited half of her family's property, the Pommard domaine of Pothier-Rieusset, and Laurent and his father bought the other half. The domaine now stands at 14.5 hectares of vines across almost the whole length of the Côte de Beaune from Santenay to Beaune.
The Domaine is worked according to organic principles and are ploughed – no chemical weedkillers are used. They have also been members of the Dephy-ECO-phyto group, which works to reduce the number of treatments using copper sulphate, since 2012.
Laurent has always managed to pack in a lot alongside his running of the vineyard. He has his own plane which he flies to all corners of France, used keep and hunts hawks, and conducts the Chassagne brass band as well as dabbling in Mayoral duties - on top of being a father of three, Anaïs, Adrien and Eugène. They are all mad about the alps and disappear up the mountains at regular intervals.
Laurent's eldest son Adrien has been travelling the world making wine all over the place for the last few years having completed his training in Beaune. Bringing back lessons learnt in Australia, South Africa and California (and from a stint at Lea & Sandeman), During harvest Adrien is now the one in the winery while Laurent takes charge of the picking team. The wines have long been L&S favourites in both red and white - they represent excellent value, and they age very well too, despite being attractive young. The whites are precise and pure, and not lacking for body and generosity, while the reds are velvety and juicy, beautifully balanced even if drunk young on their expressive Pinot fruit. The domaine was rightfully heralded in Decanter Magazine as 'an address that deserves to be better-known'. Great value and real pleasure across their range.
The Pillots 2019 harvest was not that bad in white, they said, down 15%, but the reds are down 30%. In general they are happy with the balance in the wines because it was very hot, but the acidities are still good. We discussed Adrien's wish to do a longer élevage for the whites, but the problem that if you take the wines out of barrel that means keeping them in vats with floating tops, and they are not mad about the practicality of that. For now most are bottled after a year, but the Vide Bourse and Grandes Ruchottes will stay in barrel until the spring. They use little SO2 to begin with, gradually stabilising the levels once the wines are back in tank, and still finishing with low levels. They like ripe grapes: 'there's a kind of fashion to be the first to pick in Burgundy - they want to keep the freshness but all they get is acidity and tannin'. For the reds, they don't do massive extraction - 3 pigeages only in the middle of the fermentation, but they do a lot of pump-overs.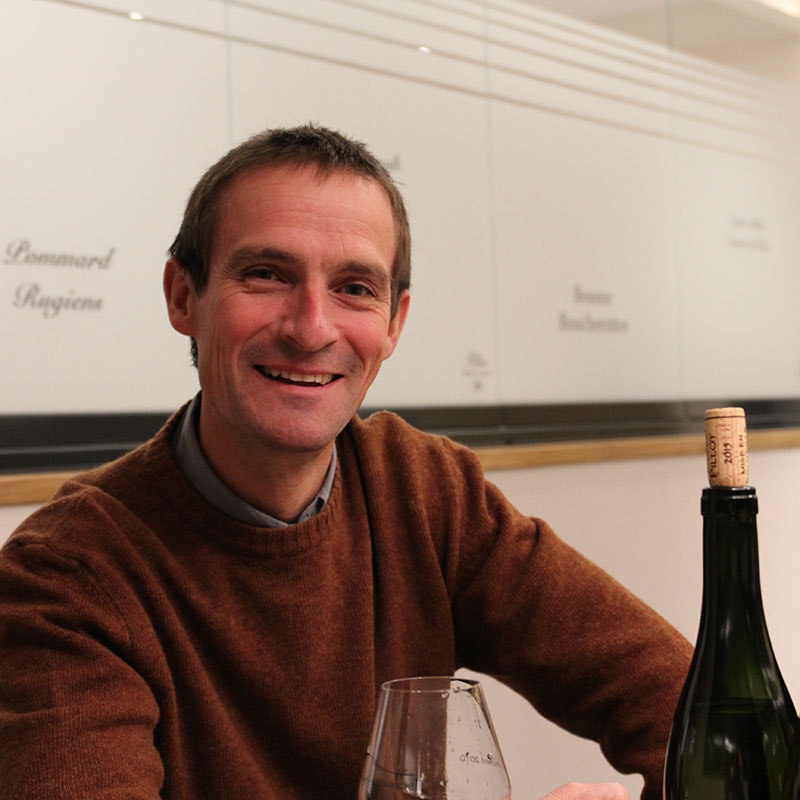 2019 POMMARD Tavannes Domaine Fernand & Laurent Pillot
Aromatically a little more reserved that sometimes? but a broad richness spreading a rich density of fruit with fine tannins just asserting themselves a little on the finish. The ripeness of theAromatically a little more reserved that sometimes? but a broad richness spreading a rich density of fruit with fine tannins just asserting themselves a little on the finish. The ripeness of the tannins gives a very fine texture. Drinking range: 2022 - 2028L&S (Oct 2020)

Half-bottles, case of 12
In Bond
Domaine Thierry Mortet
The domaine dates back to 1992, when Domaine Charles Mortet was split between Thierry and his brother Denis, and Thierry set up on his own with just 4 hectares of vines. Today he has 7.3 ha, of which 6 are red and 1.3 white. Only 4.36 hectares are Gevrey or Chambolle, the rest being a small parcel of Marsannay Blanc and regionals - Bourgogne Rouge and Blanc, Aligoté and Passetoutgrain.
Thierry continues to be praised in the French press without ever quite seeming to crack the influential American journalists. It may be simply because he is a bit short of fancy appellations - one little cuvée of Grand Cru would no doubt do his reputation a lot of good - but might also put his prices up, and these remain very modest.
In the vineyard, Thierry has been certified organic since 2007, but really this was just an official stamp on what had been the practices of the domaine since the beginning, and he is working towards biodynamic certification. In the cellar, the grapes are entirely de-stemmed, and given four or five days of cold maceration are followed by the fermentation, with just a touch of cooling to keep the temperature around 31-33C (below 35, at least), and two pigeages a day. The total time in vat can be as little as 17 days. The wines then go into barrel, all second use or older for the Bourgogne, with 30% new wood on the Gevrey, and 50% on the Clos Prieur, for a period of around sixteen months.
Thierry's wines are fine and precise, tangy and long, never massive, but not insubstantial all the same. Thierry describes the 2019s as 'not as powerful as 2018, but fresher... frank and pure, virile'.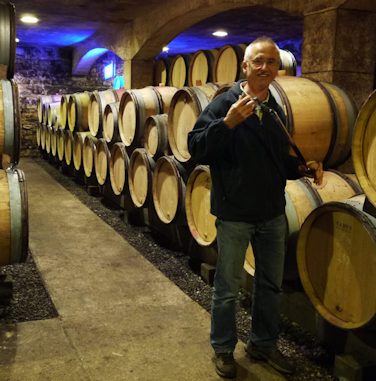 2019 GEVREY CHAMBERTIN Domaine Thierry Mortet
Ripe and softer than the Bourgogne, with fatness glossing the quite driving dark berry fruit. A strong mineral component - it's all lifted by the fresh acidity.Ripe and softer than the Bourgogne, with fatness glossing the quite driving dark berry fruit. A strong mineral component - it's all lifted by the fresh acidity. Drinking range: 2023 - 2033L&S (Oct 2020)

Half-bottles, case of 24
In Bond