Côte de Nuits PART 2
2020 was a fascinating vintage for many reasons - a year in which the rules seem to have been re-written, or at least heavily amended. Whilst the year was warm and there were some big heat spikes (inviting comparison to 2003), temperatures in June & July were actually 2 degrees lower than in 2019. Couple this with the fair rainfall in both April and May, then the above average amount in June, and it's perhaps easier to begin to understand why the PHs of a lot of the reds from the Côte de Nuits are lower than they've been across the past two vintages.
The time at which producers picked also re-opens the question as to whether this was a 'too hot' vintage, the simple answer being no, it was not. Although some vignerons began clipping grapes from vines as early as mid-August, it's important to realise that the growing season also began much earlier. It's difficult to recall an April in the UK which was so clement, and this extended to Burgundy, where it was not a surprise to see vines beginning their circa 100 day cycle at the start of the month
Whilst sweeping generalisations on particular communes are rarely helpful, it's worth singling out both Gevrey Chambertin and Clos Vougeot this year, Typically cooler terroirs in which the warm weather provided a boost.
---

Domaine Henri Boillot
A domaine which dates back to 1885, but which began properly in the early years of the 20th century under the current Henri's grandfather (also Henri). His son, Jean, was the one who really developed it. Henri arrived in 1975 and worked his way up, becoming the winemaker. In 2000 he began the building of the new winery at the bottom of Meursault, and he then bought out his brother and sister to keep the domaine as one, renaming it from 'Domaine Jean Boillot' to 'Domaine Henri Boillot' to avoid confusion with his brother Jean-Marc's domaine.
After six years working alongside his father, Guillaume is the 'chef de culture', i.e. heads up the vineyard team, and has been entirely responsible for the vinification of the reds since 2012. Henri continues to make the whites which he likes to be 'straight, taut, precise, pure and elegant'. Guillaume's input has resulted in red wines that have gained in definition and energy, without losing the luxurious velvety richness and fruit depth that they have always had. From 2018 he expanded his use of vinification intégrale in which the reds are vinified in the barrels they will be aged in - the cellar being equipped with 140 barrels with stainless steel doors in the ends, all made of wood they bought for the purpose, which has been dried for three years. Labour-intensive and time-consuming though it is, Guillaume clearly believes it is the way to more precision in the wines, and the difference is noticeable.
The Domaine has roughly equal surfaces of red and white, and of which just under 4ha is the Monopole vineyard of Clos de la Mouchère, a walled enclave within the premier Cru Puligny Perrières. After the 2018 acquisition of small parcels in Latricières and Échezeaux, the Boillots bought the vineyards of Domaine Henri Darnat early in 2019, bringing in a new monopole Clos in Meursault, the Clos Richemont, part of 1er Cru les Cras.
This year the whites have an incredible freshness that usurps the 2019s in terms of energy and drive. Guillaume's reds – which improve every time we visit – are a triumph in 2020. Bright and pert with tremendous depth too.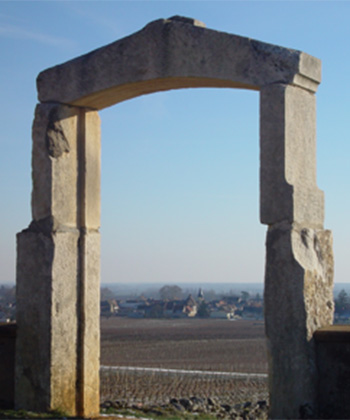 2020 CLOS VOUGEOT Grand Cru Henri Boillot
When the Boillots' previous source started to bottle his own wines in 2015, it was necessary to switch to another source which seems to be equally good. Rich deep purple black. This is certainlyWhen the Boillots' previous source started to bottle his own wines in 2015, it was necessary to switch to another source which seems to be equally good. Rich deep purple black. This is certainly ripe, perhaps even a gamey quality. Freshens up in the glass. Huge fruit weight here, dark notes but actually a core of pure red fruit beneath. Strong but fine tannins, this is going to be quite impressive. Tasted: 10/1/2021 Rating: 93-95 Jasper Morris - Inside Burgundy (Dec 2021)

75cl bottles, wood case of 6
In Bond

75cl bottles, wood case of 3
In Bond

2020 ÉCHEZEAUX Grand Cru Domaine Henri Boillot
The sample we tasted was quite closed on the nose. Not giving much away but on the palate you could tell there was some power. Blackberry, blueberry & sweet spice with grippy & ripe tannins. Lots ofThe sample we tasted was quite closed on the nose. Not giving much away but on the palate you could tell there was some power. Blackberry, blueberry & sweet spice with grippy & ripe tannins. Lots of get stuck into here. Quite chewy but plenty of ripeness & acidity. Needs time in bottle. One to watch. Drinking range: 2035 - L&S (Nov 2021)

75cl bottles, wood case of 3
In Bond

2020 BONNES MARES Grand Cru Henri Boillot
Two suppliers covering both terroirs. Ultra-intense imperial purple. There is a seductive first wave of the bouquet which I find each year here and love every time. Super ripe in 2020 with a littleTwo suppliers covering both terroirs. Ultra-intense imperial purple. There is a seductive first wave of the bouquet which I find each year here and love every time. Super ripe in 2020 with a little touch of minerals graphite behind. This dances on the palate, not as heavy as the start would suggest, slightly drier tannins, but the balance still works. Tasted: 10/1/2021 Rating: 94-96 Jasper Morris - Inside Burgundy (Dec 2021)

75cl bottles, wood case of 3
In Bond

2020 LE CHAMBERTIN Grand Cru Henri Boillot
50% new oak. A bit more generous on the nose than the Echezeaux. There's elegance, again, but lots of power too. Plenty of sweet spice, red berries, dark cherry & blackberry. Superb tannins with a50% new oak. A bit more generous on the nose than the Echezeaux. There's elegance, again, but lots of power too. Plenty of sweet spice, red berries, dark cherry & blackberry. Superb tannins with a long & persistent finish. Full of energy. I really enjoyed this. Drinking range: 2031 - 2048L&S (Nov 2021)

75cl bottles, wood case of 3
In Bond

Domaine Chicotot
A 7 hectare domaine in Nuits Saint Georges currently run by Pascale and Clément Chicotot, who describe themselves as 'vignerons...simplement'. They say that only natural methods have been used for several generations and the domaine is certified organic.
Vinification is traditional, the fermentation beginning after 5 to 6 days of cold maceration and lasting around 15 days, with remontage or pigeage as necessary and aged in barrel with a maximum of 25% new wood. SO2 levels are very low. The wines are well-coloured and well-defined and expressive - lots of personality here, with the village wines (which are all on the Vosne side of Nuits) near 1er Cru quality.
The picture shows Clément and Pascale with the graphic design they've used as the label for the old-vine cuvée 'Papillon de Nuys'.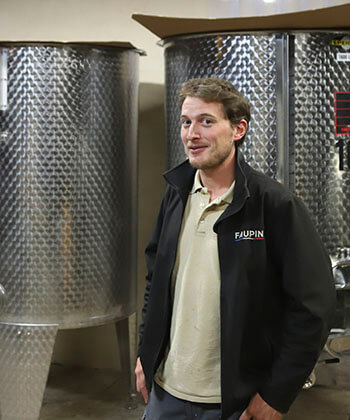 Domaine Anne Gros
Anne Gros joined her father François at the family domaine in Vosne Romanée in 1988, having given up her arts studies in favour of viticulture and oenology at Beaune and Dijon, she took charge of the domaine in 1995 and has been joined now by 2 of her children Julie since 2015 and Paul since 2017. The Domaine now has 7 hectares of Pinot and Chardonnay. Anne describes herself as being 'wary of certainties and keen to preserve her freedom'.
In the vineyards Anne practises viticulture influenced by organic and biodynamic principles, and the vineyards are ploughed and fertilised with compost, but although she believes that the long-term health of the vineyards are best preserved by such methods, she likes to maintain the freedom to use conventional treatments when necessary.
In the cellar, the wines are classically made, in cement tanks for the reds, and stainless steel for the whites. They are then aged in barrel for up to fifteen months, with 80% new wood for the grand crus, 50% for the village wines and 30% for the regional wines. Anne is quietly meticulous and almost obsessive about cleanliness in her cellar, which perhaps is reflected in the delicacy and restrained tension in her wines, which have aromatic clarity, limpid precision, sheer joie de vivre, lively balance and persistence.
Another very small crop is going to make allocations difficult once again.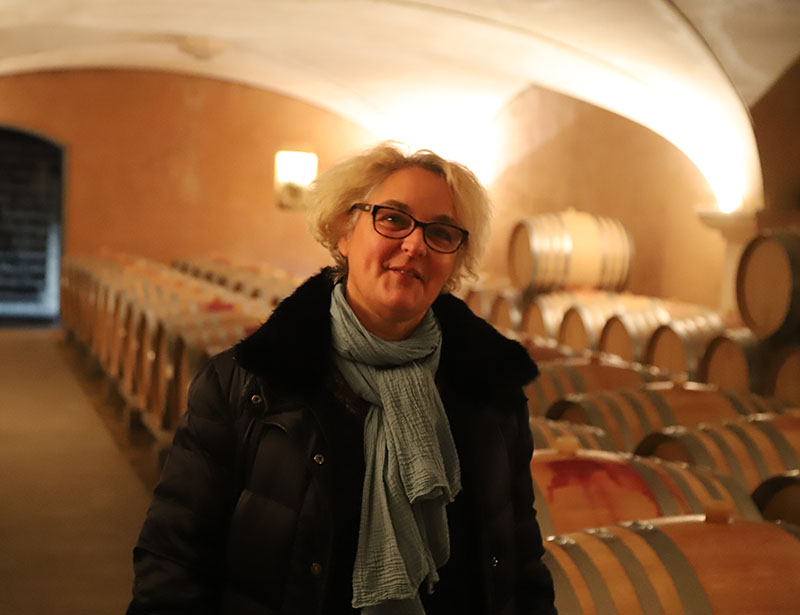 Domaine Faiveley
The Faiveley family are the largest vineyard owners in Burgundy, owning around 120ha, spread across the Côtes de Nuits, Beaune and Chalonnaise and encompassing everything from generic Bourgogne up to the grandest of Grand Crus. Their own holdings supply the grapes for 5 out of every 6 bottles made by Faiveley, the balance being bought in from carefully selected contract growers.
Faiveley has been more and more impressive in recent years, and the combination of winemaker Jerome Flous and an entirely new winery are taking them onwards and upwards year after year.
In 2020 they had their earliest ever harvest, starting on the 19th of August. This followed a seven week spell where not a single drop of rain fell and a late frost on the first of April. Because of an unfortunately timed cold damp spell on 23rd of March the flowering of the later Pinot was badly affected. It was therefore their Reds that were really hit this year in terms of volume - tragically they have harvested almost just half the yield they got with the Whites.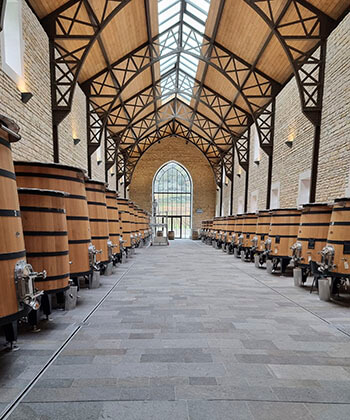 Domaine Joseph Drouhin
Joseph Drouhin, founded in 1880 and still family owned, are one of the most well-respected names in Burgundy, especially through their flagship wine, the iconic Clos des Mouches.
A huge part of the Drouhin production comes from their own domaine fruit (78 hectares), and much of the rest comes from contracts such as that with the Marquis de Laguiche, who shook hands with the grandfather of the current generation, agreeing to let him manage his vineyards which included an important part of Le Montrachet; this collaboration endures. Today, the fourth generation is at the helm
Small refinements continue to be made here. The presses have been changed - a reversion to basket pressing for the reds, and for whites the presses are open - along with a number of other growers they are following the trend to think that slight oxidation of the juice before fermentation is not a problem and may add complexity as well as avoiding later problems of premature oxidation in bottle.
For the reds there has been the introduction of selective whole-bunch fermentation in the Côte de Nuits wines. The house style remains one that 'emphasises the natural elegance of great Burgundies' as they describe it. The domaine is all cultivated with an organic and biodynamic approach.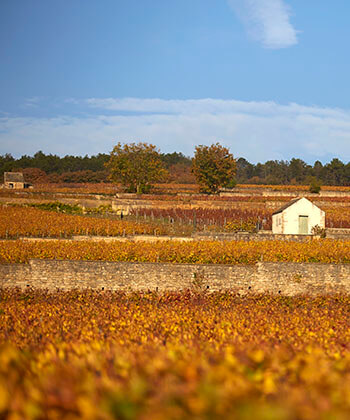 Domaine Jean-Jacques Confuron
Domaine 'JJ' Confuron is named after the father of Sophie Meunier, who now runs the domaine with her husband Alain Meunier. Gradually they are handing it over to their son Louis.
The domaine goes back to the marriage in 1926 of Jean Confuron de Vosne and Anne-Marie Bouchard de Premeaux, starting with the vines that they both inherited. Together, they acquired more and started selling their own bottled wine in the early 1930s. Jean died in 1965. They had two sons, Christian and Jean-Jacques, who worked together until 1980. Jean-Jacques set up his own estate in 1981, but he died in January 1983. From then on it was his wife Andrée Noëllat and his daughter Sophie who took care of the estate. Sophie met Alain Meunier at the Lycée agricole in Beaune and from the 1985 harvest they worked together. In 1988, Andrée received one hectare of vines from her grandfather Charles Noëllat's domaine, which included the important parcels in Romanée St-Vivant, Nuits Boudots and Vosne Beaux Monts.
Since Louis has taken over the winemaking there have been some changes, but as they have no fixed 'recipe' it is hard to be precise - the levels of new wood seem to have dropped slightly, and like a lot of growers Louis has used some whole-bunch fermentation. On the whole they are relatively early pickers, and the wines have a generous depth of fruit. Although they have been organic since the 1990's Louis is concerned that the soils are still not in the best of health, so he is trying grassing over - but is concerned that this can mean competition for the vines and lower yields. In general he's trying to improve biodiversity in the vineyards, but says that they are going at it by feel, with small changes to see what works - a very practical hands-on approach. He spends 80% of his time tending the vines, and is working to make the plants more resistant to disease and rot.
In 2020 they picked between the 22nd and 30th of August, the different plots coming in at 12.8-13.8% alc.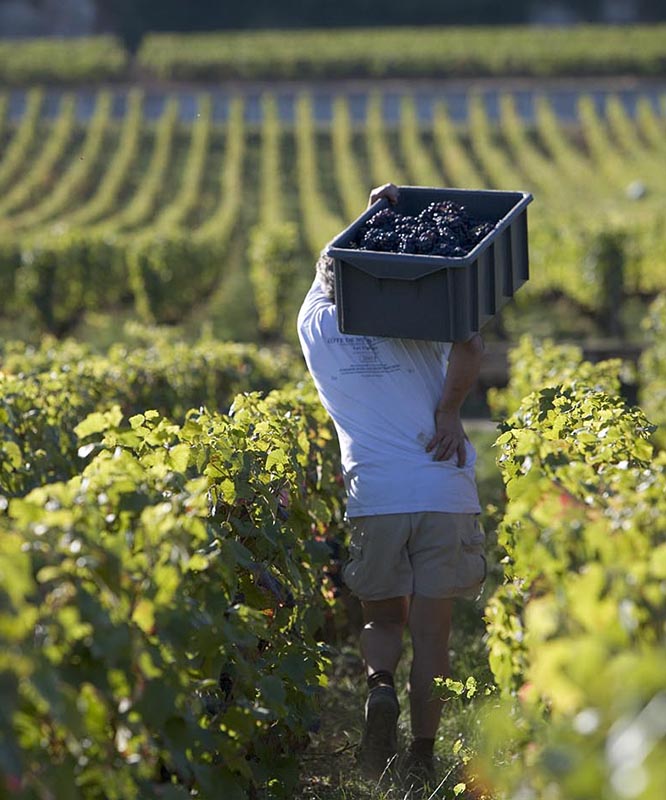 Thibault Liger-Belair Successeurs
The lack of the word 'domaine' in the name signals that this is a négociant wine from Thibault Liger-Belair. Thibault buys the grapes he picks having tended the vines with his own team, so that the wines are domaine wines in all but name.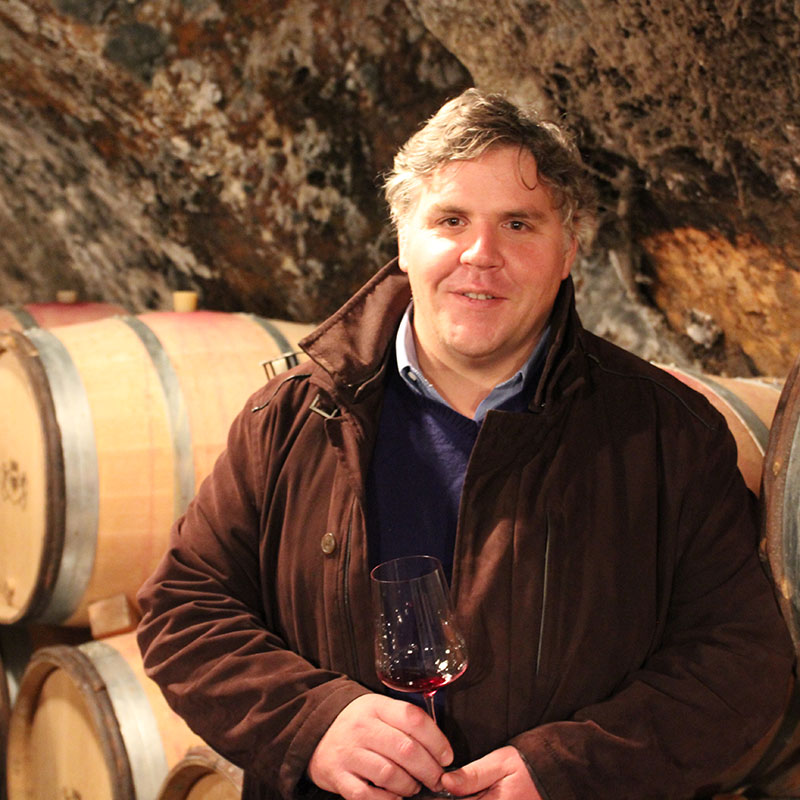 Domaine Thibault Liger-Belair
The steady progression of this domaine has been fascinating to watch as Thibault gradually refines his approach to each parcel of vines with the help of cellar-master Eric. Viticulture is biodynamic (since 2005), yields low but not ludicrously low, everything is pragmatic, so that he should be doing just what is necessary and no more. He uses 40-50% new wood maximum, with wood chosen and aged by him, and barrels made with almost no toasting.
The wines are bright, pure, focused, aromatic and elegant without lacking anything in the way of stuffing. The range of wines produced from rented vines or from bought grapes, sold under the separate 'Thibault Liger-Belair Successeurs' label, seems to grow with each vintage and the new cellar which Thibault moved to in 2016 is already stacked in the aisles. To each parcel the team brings great experience and there is a coherence across the range, so that the whole enterprise can be regarded as one.
Thibault told us that the 2020 harvest had been enormously complicated as the pots all ripened at once and in a different order to the norm. He described his 2020s as looking a bit like his 2010s at the beginning, perhaps with not huge differences between the wines at the outset, but those differences were revealed in the élevage. 'I think it's a vintage that needs a lot of ageing', he told us.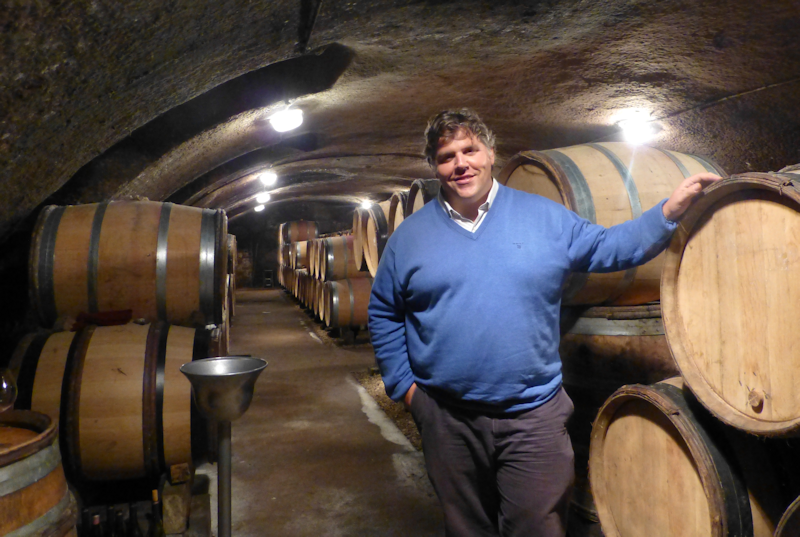 Domaine Georges Mugneret-Gibourg
Sisters Marie-Christine and Marie Andrée have been firmly in control of this exceptional domaine since their mother Jacqueline retired in 2009. With one a pharmacist and the other an oenologist, the domaine was always going to be in safe hands as far as the wine-making was concerned. In 2017 Marie-Christine 's daughter Lucie joined the domaine, and in 2019 the sisters celebrated their 30th vintage - and Marion and Fanny, daughters of Marie-Andrée also joined the team.
These are top-flight Burgundies with that elusive balance of enough concentration allied with delicacy of expression and the capability of ageing well.
Since 2016 they have put a small amount of whole bunches in some of the cuvées, more as a way to have sufficient volume in the vats than because they like the effect. They picked the 2020s between the 25th and 31st of August.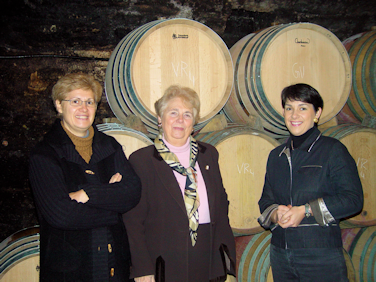 Domaine Christophe Perrot-Minot
Christophe is now the fourth generation of his family producing wine on the estate after his great grandfather Amédée Merme devoted himself to the management and production of wine over 130 years ago. The estate has gone from strength to strength – always keeping the highest standards. Integrated viticulture has been practiced for many years now which has been adapted especially for the terroir. No herbicide or chemical fertilizer is used, instead, Christophe prefers to 'stand back and listen to this terroir, only intervening when necessary or when the weather requires it, never systematically.' This is one of the star domaines of the whole of Burgundy.
Christophe said simply that 2020 'is a historic vintage'. 'The combination of concentration, balance and acidity is rare.' He only did pump-overs and no pigeage, and was very gentle with the press. Picking was done in six and a half days starting on the 4th September. The Clos de Bèze is the highest alcohol at 13.4%. One depressing statistic he gave us was the sizes of the recent harvest illustrated by the number of barrels he has made from the same vineyard area - 170 in 2017, 115 in 2019, 105 in 2020, and a pitiable 55 in 2021.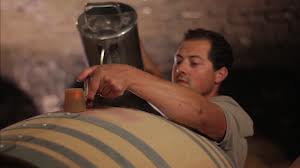 Domaine Dugat-Py
Domaine Dugat-Py's wines are far from shy and retiring, but they do require patience to show their best. Old vines, tiny yields, viticulture with minute and constant attention, all lead to a magnificent concentration and purity in the raw material. Without extracting harsh tannins, Loïc (who despite his youthful good-looks, has overseen the wine-making since 2012) gets an astonishing density into the wines, and they take on the high percentage of new oak quite casually. Nevertheless, Loïc has reduced the amount of new wood (The village wines get 50% max., while the Premiers Crus and Grands Crus get up to 75%.) and the more recent vintages have shown great elegance and sophistication as well as the concentrated depth of their old vines.
This is the second vintage with the new (but very old) vines from what used to be Domaine Newman, bought by a French investor and entrusted to Loïc to manage. So Beaune village from the lieu-dit Fougets, as well as Beaune 1er Crus Clos des Avaux and Grèves, Monthélie and Pommard Vaumuriens (above Rugiens) are all in the range again. We also tasted for the first time his Chorey-les-Beaune, from a small parcel of 80-year-old vines which they bought (the first vintage being 2017). They again had a picking team of sixty in order to get the harvest in more quickly. In these recent hot vintages sugars go up and acids down so quick they need to be picking 2-3 hectares a day. They started very early on the 20th August and were finished on the 28th, the earliest harvest ever. Loïc remarked that their very old vines have such deep roots that none of them showed signes of stress from lack of water. "The wines average 13 to 13.5% maximum, with an ideal balance of acidity and ripeness - making for great freshness and purity" was Loïc's take on the vintage "it's a hot vintage with lots of acidity, not the cold acidity of 2016 - we've never had wines with such perfect balance."