Domaine Fernand & Laurent Pillot
The origins of the Pillot family in Chassagne can be traced back to the eighteenth century, when they seem to have been coopers more than vignerons. In the nineteenth century they abandoned barrel-making in favour of enlarging the property in Chassagne. Fernand and Laurent, who is the fourth generation, added to it again in 1992, and then in 2001 Laurent's wife Marie-Anne inherited half of her family's property, the Pommard domaine of Pothier-Rieusset, and Laurent and his father bought the other half. The domaine now stands at 14.5 hectares of vines across almost the whole length of the Côte de Beaune from Santenay to Beaune.
The Domaine is worked according to organic principles and is ploughed – no chemical weedkillers are used. They have also been members of the Dephy-ECO-phyto group, which works to reduce the number of treatments using copper sulphate, since 2012.
Laurent has always managed to pack in a lot alongside his running of the vineyard. He has his own plane which he flies to all corners of France, used keep and hunts hawks, and conducts the Chassagne brass band as well as dabbling in Mayoral duties - on top of being a father of three, Anaïs, Adrien and Eugène. They are all mad about the alps and disappear up the mountains at regular intervals.
Laurent's eldest son Adrien has been travelling the world making wine all over the place for the last few years having completed his training in Beaune. Bringing back lessons learnt in Australia, South Africa and California (and from a stint at Lea & Sandeman). During harvest Adrien is now the one in the winery while Laurent takes charge of the picking team. The wines have long been L&S favourites in both red and white - they represent excellent value, and they age very well too, despite being attractive young. The whites are precise and pure, and not lacking for body and generosity, while the reds are velvety and juicy, beautifully balanced even if drunk young on their expressive Pinot fruit. The domaine was rightfully heralded in Decanter Magazine as 'an address that deserves to be better-known'. Great value and real pleasure across their range.
The Pillots 2019 harvest was not that bad in white, they said, down 15%, but the reds are down 30%. In general they are happy with the balance in the wines because it was very hot, but the acidities are still good. We discussed Adrien's wish to do a longer élevage for the whites, but the problem that if you take the wines out of barrel that means keeping them in vats with floating tops, and they are not mad about the practicality of that. For now most are bottled after a year, but the Vide Bourse and Grandes Ruchottes will stay in barrel until the spring. They use little SO2 to begin with, gradually stabilising the levels once the wines are back in tank, and still finishing with low levels. They like ripe grapes: 'there's a kind of fashion to be the first to pick in Burgundy - they want to keep the freshness but all they get is acidity and tannin'. For the reds, they don't do massive extraction - 3 pigeages only in the middle of the fermentation, but they do a lot of pump-overs.
With Adrien in the winery and Laurent orchestrating the picking - 2020 was a swift and early harvest here - all done by the end of August - for the first time in their history. Quantities are down across the board, but Adrien is not too worried - as their losses are minor, particularly in White. Above all they are pleased that the quality is high this year. These are charming, crowd pleasing wines - that will immediately please, for their joyous open-knit fruit - but there is so much matter here that these wines should live well for a good long stretch too.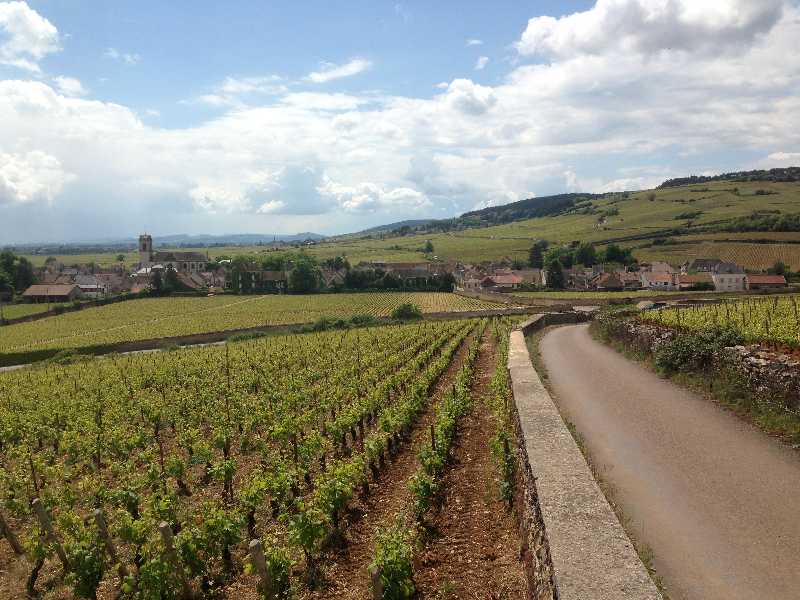 2020 POMMARD Tavannes Domaine Fernand & Laurent Pillot
The 2020 Pommard Tavannes is excellent, unfurling in the glass with aromas of cherries, sweet spices, licorice and loamy soil. Medium to full-bodied, rich and fleshy, with tangy acids and chalkyThe 2020 Pommard Tavannes is excellent, unfurling in the glass with aromas of cherries, sweet spices, licorice and loamy soil. Medium to full-bodied, rich and fleshy, with tangy acids and chalky tannins, it will age with grace. Drinking range: 2025 - 2045 Rating: 90+ L&S (Jan 2022)

Half-bottles, case of 12
In Bond

Domaine Rémi Jobard
Rémi has been making small qualitative changes ever since he took over here. The entire vineyard is cordon-pruned, so yields are naturally limited. There has been no use of fertiliser since 1994, and the vineyard is grassed-over to encourage the vine roots to go deep. The domaine has been certified organic from 2008. He says that the two most important things are the absence of weedkiller (and thus the necessity to plough, which cuts any surface roots and makes the vine go deeper) and not adding any fertiliser which again makes the roots go deeper to find nutrients.
Rémi has two vast presses, to enable him to press very slowly over six hours, and this has resulted in a big jump in finesse. The élevage now lasts nearly fifteen months, so as to allow the wines to develop slowly and to avoid fining. As a result these are wines which take a moment to show, but which reward the patient with complexity and great depth of flavour.
Rémi made a move from traditional barrels to foudres made of a mix of French, Austrian and Slavonian oak, constructed by Austrian cooper Stockinger, and having added a new one (or two) each year, there's barely a normal barrel left. He likes the way the wines develop in these large volumes, in which the 'oaking' effect is minimised.
In 2020, says Rémi, there was a phenomenon of concentration by the lack of water, so that while there are some aromas of a hot vintage, the acidity stayed well. He started picking on the 27th August with a small team, and then the full team got going on the 1st of September. The wines remain citrussy and bright - and very concentrated in every aspect. Alcohols are in the range 13-14%.
We are again very excited about Rémi's two red wines this year, both of which are excellent.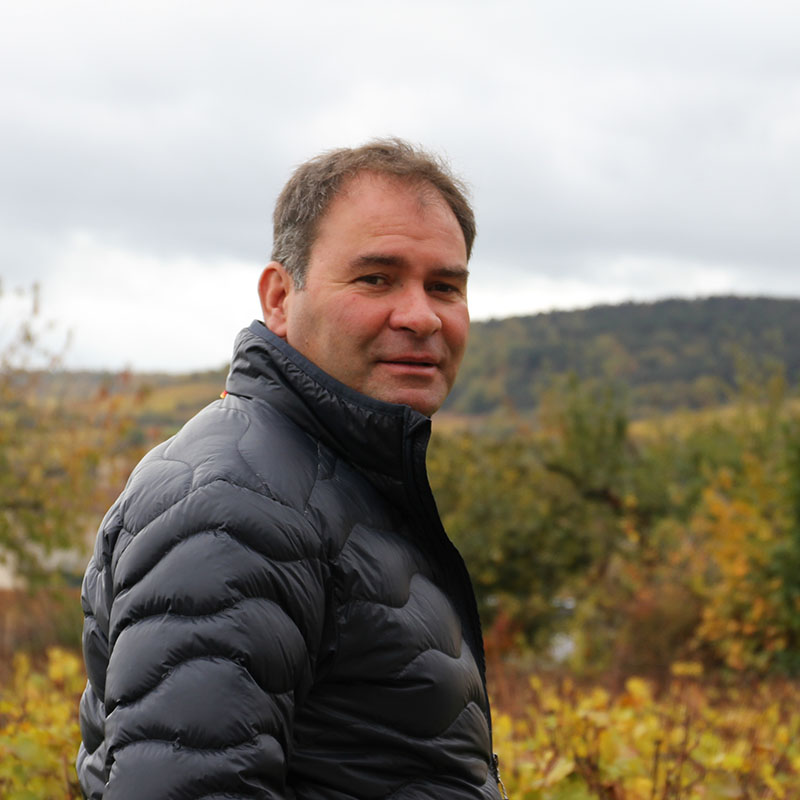 Domaine Nicolas Rossignol
With good-sized harvests from 2017 and 2018, it was good to see Nico's cellar full, but the 2019 and 2020 vintages are rather smaller. Still, for now the smile is still in place. Now in its fourth year, he could not be happier with his new winery. A fantastic bespoke build on the outskirts of Beaune, which he recognises is not ideal for the folklore aspect, but it is a perfect tool for the job, and does have a good view of all 'his' bits of the Côte - from the roof.
Nico immediately said that he much prefers his 2020s to either his 2019s or his 2018s. He is about 50% down in terms of juice - and what he has is rich and intense. This is another vintage that pushes him to a more extreme end of the spectrum when it comes to restraint. Nico is very much a winemaker who likes full phenolic maturity, and determines harvest dates by eating grapes from each plot. This gives him the body and density which he likes - these are not weedy wines - at the same time remarking that 'I think the new cellar (this is the fourth vintage in it) has brought greater elegance'. In 2020 that full phenolic ripeness took a while to get to a point, particularly with the skins, where he was happy to harvest. These are wines with no astringency - but great power and intensity. He says - 'if the 2018s were Syrah-like in stature, the 2019s are more Grenache and the 2020s have the structure more akin to Carignan and Mourvèdre.' They are certainly big wines that reflect the vintage and retain that wonderful balancing acidity and fresh tannins - built for a long and promising future.
Nico is keen to let us know in advance that he regards this very much as primeur pricing, and says that once on the 'deliverable' price list will be 30-40% more expensive, so this really is the moment to get stuck in.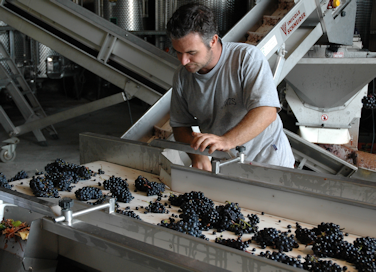 Domaine Comte Armand
A domaine totalling nine hectares, of which the most important part is a magnificent five hectare monopole of the Pommard Premier Cru Clos des Epeneaux, which was put together by Nicolas Marey in the eighteenth and nineteenth centuries (along with the DRC Romanée Saint Vivant 'Marey-Monge'). These vineyards were all sold, except for the Clos (now been enclosed by a wall), which came to Jean-François Armand as a dowry when he married Nicolas' daughter in 1826. The Volnay vineyards were added in 1994, followed by parcels in Auxey Duresses.
The current Comte Armand is a lawyer living in Paris, but very supportive of the régisseurs who have looked after this domaine for the thirty years or so that L&S have been buying here. The 1980 vintage, made by one of the many Rossignols of Volnay who was in charge at the time, was for us a great introduction to the possibilities of the great Clos des Epeneaux vineyard. Then came the era of Pascal Marchand, a young Quebecois who came to do a harvest with Domaine Bruno Clair and just never left. He began a period of radical restructuring and the introduction of organic and then biodynamic farming, while making very dark, dense and long-lived wines. Benjamin Leroux, hugely respected amongst growers who approach things from an organic or biodynamic point of view, then took over, and refined this approach and changed the way the parcels of vines are divided up for harvesting, paying less attention to just the age of the vines, and more to the underlying soil types. Claude Bourguignon was employed to provide a full geological survey of the Clos as the basis for this. Under Benjamin the wines of the Clos gained in finesse and precision, while still having the depth and richness expected of a great Pommard.
Both Pascal and Benjamin were keen to expand beyond the confines of the Clos, and the Domaine also has vines in Volnay, and, a particular enthusiasm of both Pascal and Benjamin, in Auxey Duresses, where they are convinced of the great potential of some of this village's undervalued and neglected terroirs. Paul Zinetti, who had worked with Ben for four years, took over in 2014.
The vineyard is cultivated organically (ECOCERT certified) and biodynamically. The grapes are entirely de-stemmed, but left intact, for a five to eight-day cold maceration before the fermentation, which lasts five to ten days, and then the wine remains in the fermenters for between three and fifteen days, depending on the vintage. In most years, the total time with skin contact will be around four weeks, which is longer than most. The wines will then be aged in barrel for between eighteen and twenty-four months, with new wood limited to 30% for the wine from the old vines of the Clos, down to none at all for the village wines.
Paul said from the outset that he wanted to make a less tannic wine in the Clos, and one which is more about aromatic length. In this he is continuing the route that Ben was following, but perhaps taking it even further.
Once again, all the wines here are a triumph in 2020, with a cleverly highlighted lift and elegance keeping the ripe density of the vintage lithe and poised.

Domaine de Courcel
One of the great domaines of Pommard, with a 400 year history in the same family. The domaine produces a small amount of Bourgogne Chardonnay, a completely over-performing Bourgogne Rouge, a village Pommard (Vaumuriens, 1.44 ha), but the biggest part of the domaine consists of four great Premier Cru expressions of the terroir of Pommard, Fremiers (0.79 ha), Croix Noires (0.58 ha), Grand Clos des Epenots (4.89 ha) and Rugiens (1.07 ha). These represent a very different style to the Clos des Épeneaux of Comte Armand, for example. Yves Confuron, the régisseur, describes the difference between the two top wines by saying that the Grand Clos is 'terreux' while the Rugiens is 'aérien'.
The aim is to limit yields to around 25hl/ha, to attain optimum ripeness. The vines are ploughed, and pruned carefully to suit each one, then de-budded in spring and green-harvested in August to keep the fruit load balanced. Following Yves' usual practice the harvest is late and the vatting is long - usually around a month, with a cold maceration leading into a cool fermentation, and a long post-fermentation soak under the protection of the carbon dioxide given off by the fermentation. The wines are developed in barrel over 21 to 23 months, with a third of the barrels being replaced each year. After racking they are bottled without fining or filtration.
The domaine produces wines with astonishing depth and density that still retain the freshness, just like Yves' own wines at Domaine Confuron-Cotetidot. They are classic vins de garde and patience is advised - and will be amply rewarded.
There's no question that Yves' 2020s will be controversial, and there will be some critics who just won't be able to get their heads round them. Certainly if you are looking for pale ruby wines which 'pinote', this is not where you will find them - nor at Confuron-Cotetidot either. Yves has stuck to waiting for physiological ripeness, and has made, as he describes them 'des vins Baroque'. The 2020s all have extraordinary levels of richness and density, with a surprising freshness brought by the character of the tannins which were not as ripe as a vintage like 2018 or 2019, and which he says would be awful if associated with a 'classic' vintage, but with the 2020s they provide a freshness which the relatively low acidity does not. It's a different kind of balance, and much closer to wines from the Rhone valley both in aroma and structure, so you need to find a different way to understand them. If you do get to taste these wines at this stage, please bear in mind that unlike some growers (including DRC) whose wines are currently (November 2021) being prepared for bottling, all of Yves wines are only at the half-way stage of their élevage, and the finished wines will be in a different place when they are being prepared for bottling after the 2022 harvest. This was amply illustrated by a taste of the 2018 Grand Clos des Epenots 2018, which as predicted is shaping up to be a grandiose wine with extraordinary density and richness, and now aromatically 'in place'. See also all the notes on Domaine Confuron Cotetidot, as all of this applies to both domaines.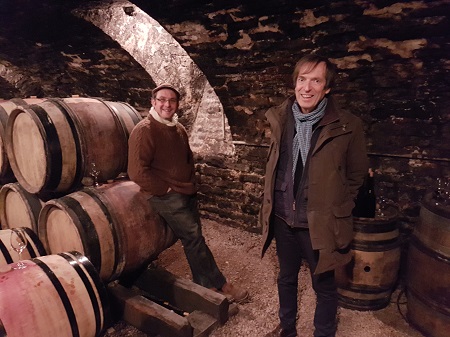 Domaine Faiveley
The Faiveley family are the largest vineyard owners in Burgundy, owning around 120ha, spread across the Côtes de Nuits, Beaune and Chalonnaise and encompassing everything from generic Bourgogne up to the grandest of Grand Crus. Their own holdings supply the grapes for 5 out of every 6 bottles made by Faiveley, the balance being bought in from carefully selected contract growers.
Faiveley has been more and more impressive in recent years, and the combination of winemaker Jerome Flous and an entirely new winery are taking them onwards and upwards year after year.
In 2020 they had their earliest ever harvest, starting on the 19th of August. This followed a seven week spell where not a single drop of rain fell and a late frost on the first of April. Because of an unfortunately timed cold damp spell on 23rd of March the flowering of the later Pinot was badly affected. It was therefore their Reds that were really hit this year in terms of volume - tragically they have harvested almost just half the yield they got with the Whites.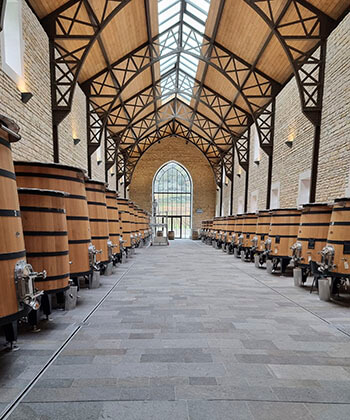 Domaine Joseph Drouhin
Joseph Drouhin, founded in 1880 and still family owned, are one of the most well-respected names in Burgundy, especially through their flagship wine, the iconic Clos des Mouches.
A huge part of the Drouhin production comes from their own domaine fruit (78 hectares), and much of the rest comes from contracts such as that with the Marquis de Laguiche, who shook hands with the grandfather of the current generation, agreeing to let him manage his vineyards which included an important part of Le Montrachet; this collaboration endures. Today, the fourth generation is at the helm
Small refinements continue to be made here. The presses have been changed - a reversion to basket pressing for the reds, and for whites the presses are open - along with a number of other growers they are following the trend to think that slight oxidation of the juice before fermentation is not a problem and may add complexity as well as avoiding later problems of premature oxidation in bottle.
For the reds there has been the introduction of selective whole-bunch fermentation in the Côte de Nuits wines. The house style remains one that 'emphasises the natural elegance of great Burgundies' as they describe it. The domaine is all cultivated with an organic and biodynamic approach.