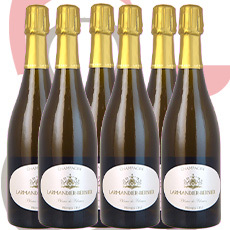 *CHAMPAGNE OFFER: LARMANDIER-BERNIER 'LATITUDE' - 6 BTLS - JUST £30.95 EACH!
IN STOCK
Very dry blend of 100% Chardonnay from Vertus (this is in fact an extra-brut), elegant and pure flavours, making for an interesting contrast to the Egly-Ouriet style. Breathtaking wine at this priceL&S
6 x LARMANDIER BERNIER 'Latitude' blanc de blancs:£32.95 £30.95 per bottle
Save £22.80 on six bottles!
L&S
We offer free nationwide* delivery for all orders over £100. For orders under £100 please call 020 7244 0522
Order & Collect from any of our 4 London shops. Order by Midnight for collection the next day from 11am
For full delivery details see our Delivery page.
CONTENT