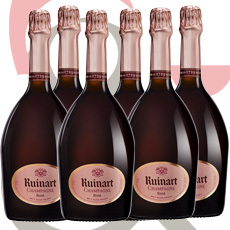 *CHAMPAGNE OFFER: RUINART ROSÉ BRUT - 6 BTLS - £43.95
IN STOCK
Possibly the most elegant of all the rosé champagnes, with a lovely combination of fruit and freshness.L&S
6 x RUINART Rosé Brut: £43.95 per bottle
Save £54.00 on six bottles!
L&S
We offer free nationwide* delivery for all orders over £100. For orders under £100 please call 020 7244 0522
Order & Collect from any of our 4 London shops. Order by Midnight for collection the next day from 11am
For full delivery details see our Delivery page.
CONTENT

RUINART Rosé Brut
Champagne Non Vintage Rosé France
Bottles of this are reduced from £55.00
Possibly the most elegant of all the rosé champagnes, with a lovely combination...
6 x 75cl bottles