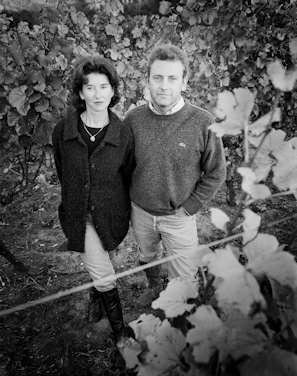 Château Tirecul la Gravière
France, South West
Monbazillac is well-known in French history. The vineyard is planted with a high percentage of Muscadelle (50%), along with Semillon (45%), and Sauvignon (5%). These grapes are picked grape by grape (as they develop the noble rot), not by bunch. The proprietors, Claudia and Bruno Bilancini, actually pass through the vineyard a minimum of four to five times a day. It is an understatement to say these are the greatest wines I have ever tasted from Monbazillac; in fact, they are among the greatest sweet wines I have tasted ... from anywhere! "Robert Parker"
Other reviews and comments
France has another sweet white wine producing region dependent on ultra-ripe Sémillon, Sauvignon Blanc and Muscadelle grapes just inland and north of Sauternes and Barsac. For years the Dordogne languished, making rather ordinary, sticky and often sickly wines because standards were set too low. But today in the sweet white wine vineyards south of Bergerac there are some truly ambitious producers who are slowly dragging their neighbours uphill with them, making great sweet wine that matures rather faster than top-quality sweet white bordeaux. Most notable among these are Bruno and Claudie Balancini at Château Tirecul La Gravière in Monbazillac. On green slopes in the lee of the woods that separate them from the famous old Château de Monbazillac, they farm just over 20 carefully tended acres which they may pick through as many as 11 times in a single harvest in order to have every grape at optimal ripeness and concentration. Unusually, their predominant grape variety is Muscadelle. Their average yield is often below 10 hectolitres per hectare (less than a fifth the average in Bordeaux's great red wine district the Médoc, for example). It is hardly surprising therefore that their top wine, the liquid gold Cuvée Madame made only in seriously successful vintages (so no 2000), costs 80 euros for half a litre at the cellar door, when there is some to sell.
Jancis Robinson MW OBE - www.JancisRobinson.com
(May 2002)