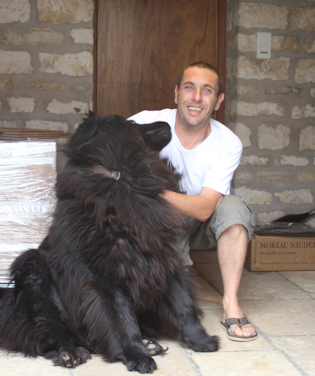 Domaine Moreau-Naudet
France, Burgundy
RIP Stéphane, you will be missed. Our deepest condolences go out to all your family and friends.
Stéphane Moreau, is not related to the other Chablis Moreaus. His father was from Brittany, and that it is from his mother's Naudet side of the family that he has inherited his sizeable (22 hectare) domaine of very well-placed vines.
He is obviously influenced by Vincent Dauvissat, who recommended him to us. Superhuman work has been done in the vineyards to bring yields under control (no herbicides or anti fungal treatments are used), pressing technology has been brought up to date, and harvesting is by hand (sadly rare in Chablis, if not amongst the growers we work with).
In the cellar he uses barrel-élevage, but not in such a way that oakiness can readily be detected in the wines (all his barrels are steamed rather than charred and he uses no new oak except for in the straight Chablis, and then only one barrel per 100hl in order to age it prior to using for the Premiers Crus).
He also keeps the wines for a much longer period on the lees than most in order for them to gain more complexity and flesh.
Other reviews and comments
Lea & Sandeman is a merchant which chooses impeccably – Italy and Burgundy are among the stars in a brilliant world-spanning firmament, and of the latter Chablis from Domaine Moreau-Naudet sets a very high standard at sensible prices, even if the label design provokes heated debate. Petit Chablis 2013 is big in quality, and all the Moreau-Naudet crus are memorable.
Liz Sagues, Hampstead & Highgate Express
(Dec 2014)