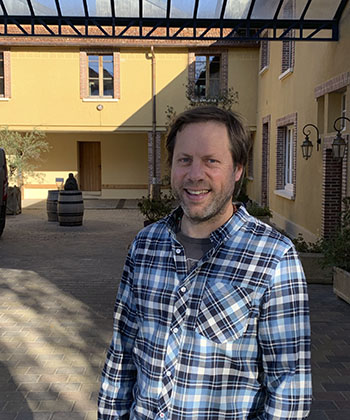 Champagne Marguet
France, Champagne
https://champagne-marguet.fr/en/
Champagne Marguet was founded in 1870 and is located in the Grand Cru Village of Ambonnay. Today the 5th generation of the Marguet family, Benoît, is in charge, and he has changed things dramatically, bringing his own philosophy to the work in the vineyards and cellar. The estate has 8 ha under vine which are all Grand Cru, 7.30 ha in the village of Ambonnay (Lieux dits: Les Saints Remys, Les Beurys, Les Crayères, La Grande Ruelle, Les Bermonts and Le Parc), and 0.70 ha in the village of Bouzy (Lieux dits: Les Loges, Les Hannepes). The average vine age is over 40 years, and plantings consist of 58% Pinot Noir and 42% Chardonnay.
Benoit converted the entire estate to biodynamic farming in 2009 and has used Claude & Lydia Bourguignon to consult on all things biodynamic. The health of the soil is a priority and since 2010 all the vineyards have been worked by two horses. He also uses homeopathy and aromatherapy.
In the cellar work is done by gravity, with fermentation undertaken plot by plot in wooden vats and small barrels with extended aging on the lees. Use of SO2 is extremely limited and some cuvées have no added sulphur.
As Bettane and Desseauve put it 'Benoît Marguet works 7 hectares in Ambonnay and 1 hectare in Bouzy, in biodynamics. The very beautiful quote from René Char sets the tone desired by the family: "Impose your luck, hold on to your happiness and go towards your risk. Looking at you, they will get used to it". Indeed we have become accustomed to an increasingly refined style both in the purity of expression and in the complexity of the most prominent vintages of the estate. In a subtle style, refined but not sterile, we take an obvious pleasure in tasting. There is, without a doubt, class in the champagnes of Benoît Marguet'. (bettanedesseauve.com)