DELIVERY
FREE DELIVERY FOR ORDERS OVER £150
We offer FREE UK mainland delivery for all orders over £150 - Highlands and Islands can be arranged on an individual basis.
We deliver to Central London postcodes next day - check the postcode list below.
For orders under £150 please contact one of our shops - a supplementary charge of £10 will be added for orders within the M25 and £15 outside the M25 and delivered with our own vans.
ORDER AND COLLECT: You can order online and collect from your local shop. Just select your local shop's address in our website checkout and your wines will be available to collect from 11am the following day

Monday to Friday

.
* Please note that we do not deliver on the weekend or bank holidays *
DELIVERY SCHEDULE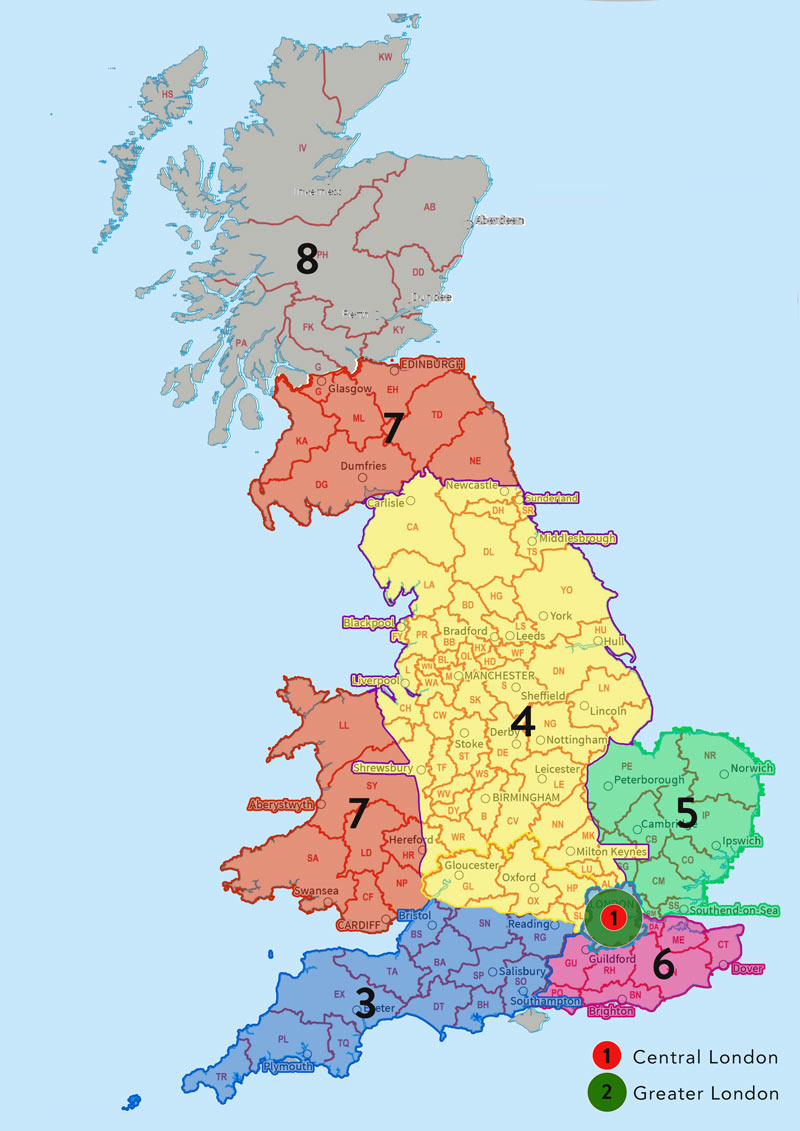 CENTRAL LONDON
1. NEXT DAY CENTRAL LONDON POSTCODES:
ALL EC Postcodes
ALL WC Postcodes
All SW Postcodes
SE1, SE11, SE17
N1, NW1, NW8
W1, 2, 3, 4, 6, 8, 9, 10, 11, 12, 14
2. GREATER LONDON:
Usually next day, but some areas can take up to two days.
NATIONWIDE-WIDE DELIVERY SCHEDULE
Order cutoffs for same week delivery:
3.
South-West |
Monday 11:00am
4.
The North via Oxford |
Tuesday 11:00am
5.
Norfolk/Essex |
Wednesday 11:00am
6.
Surrey/Sussex/Kent |
Thursday 11:00am
7.
Scotland & Wales |
Monday 11:00am

8. HIGHLANDS & ISLANDS:
*Deliveries to Scottish Highlands and Islands, Isles of Man and Wight are currently not accepted through the website, but we are happy to arrange delivery via one of our shops for a small surcharge.
NORTHERN IRELAND:
We regret that we cannot provide a reliable or cost-effective delivery service to Northern Ireland.
EXPRESS DELIVERY OPTIONS
Express 24hr delivery options are available for an additional charge starting at £15.00 per case of 12 and then £5 a case thereafter - please place your web order and then reply to the email confirmation and or call 0207 244 0522 to arrange payment of the charge. (We will be adding these options to our website checkout soon).
SPECIAL INSTRUCTIONS: If you have special delivery requirements e.g. by a specific date, or deliver to a neighbour if out - please add them to the delivery instructions during checkout and we will endeavour to fulfil them within reason (and our standard delivery terms.)
EXPORTS
The website will only accept UK delivery addresses, for export orders please email us directly at so that we can arrange a quote on a bespoke basis.
OUR VANS & OUR DRIVERS:
As many orders as possible are delivered using Lea & Sandeman drivers and vans so as to provide the best hand delivery service possible. Couriers are only used when we cannot get to you within our targeted delivery time.
DELIVERY TIMES:
We cannot specify exact delivery times, but if you have a particular request or deadline to meet, do let us know by giving us a call or sending an email to admin@leaandsandeman.co.uk and we will do our best to accommodate all requests. Please make sure we have your correct contact telephone number with your order.
If you need your wine by a particular date, please let us know when ordering by replying to your order confirmation email. If you are in any doubt about when you might receive your order simply email or call us and we will let you know.
RECEIVING YOUR DELIVERY:
If there is not likely to be someone to receive and sign for the goods at the delivery address, please give us details of a safe place or alternative address where we can leave your order. If your order is left somewhere at your request and subsequently goes missing we regret that neither we nor our couriers can take responsibility.