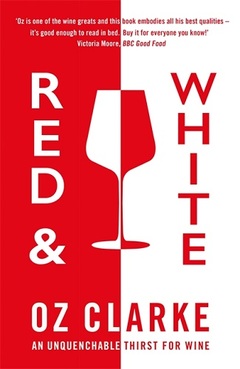 RED & WHITE
Oz Clarke An unquenchable thirst for wine Hardcover
Oz is one of the wine greats and this book embodies all his best qualities. It's the first wine book I've ever wanted to read in bed. Buy it for everyone you know. Victoria Moore, The Daily Telegraph (Oct 2018)
*Case price discount: Mix any 12 bottles (or 9l equivalent) of wine or 6 bottles of Champagne, Spirits, Sweet Wine or Fortified to get the 'case price' for each bottle.
Food & Drink was compulsive viewing because it opened a nation's palates to the joys of wine, opened their eyes to a rapidly expanding world of winemaking. Oz Clarke democratised wine. Once the preserve of middle-aged men in pin-striped suits pretentiously swirling their Claret, Oz demonstrated that wine can be enjoyed by everyone. Even posh wine. Oz was like 'us' and, if he liked wine, 'we' could like wine as well. Oz's sheer love of, and infectious enthusiasm for, wine have made him an educator and communicator without equal over many years. His knowledge, razor-sharp palate & humour are driven by a resolve to help as many people as possible to drink better wine Neal Martin, www.vinous.com (Oct 2018)
Red and White is a unique contribution to wine writing - something totally out of the ordinary: by the greatest wine taster of his - or any - generation. With Red & White, Oz Clarke has reinvented wine writing. This is a book to read for pleasure, rather than merely refer to. Combining fast-paced witty memoir with passionately opinionated guide, Oz pops the cork on his life-long love affair with wine. The best loved wine communicator of our time, Oz Clarke is the guest you want at your table, the person to select the wine, and the ideal drinking companion. He explains how, why & where he fell in love with wine; he explains the essentials of how wine is grown and made today; then takes you into the world's wine regions and introduces you to the wines he loves. Oz reveals how he tastes wine and how you can enjoy wine whatever the budget. He covers with equal care & attention all categories of wine, from the blue-chip to the most affordable. With Red & White, you are in the hands of the best-informed and the most inspirational guide, and you will pick up, without even trying, a wealth of knowledge that Oz is bursting to share with you. With climate change and the move to organic & sustainable practices, wine is evolving faster than ever before. And hundreds of local grape varieties, until recently facing extinction, are also being rediscovered.Winemaker's notes (Nov 2018)
This wine isn't currently part of a mixed case, but you can always browse our full selection of mixed cases
here.
For full delivery details see our Delivery page.
We offer free nationwide* delivery for all orders over £150 with our own vans. We also offer an express delivery service for an additional charge.
Order & Collect from any of our 5 London shops. Order by Midnight for collection the next working day from 11am.
Private wine storage: we offer a full In Bond and Duty Paid private wine storage service - find out more here.
ORDER COLLECT
ORDER ONLINE AND COLLECT FROM ONE OF OUR SHOPS