2017 Brunello | Pre-Shipment Offer
VINTAGE REPORT
We are not going to tell you that 2017 was the vintage of the decade, that would be disingenuous - but what we can say with absolute certainty is that they're totally delicious.
These aren't cases of wine you will want to buy for your children, grandchildren, or to sit on patiently for them to mature. These are cases you will want to buy for yourself to have a wonderful time drinking in the next few years. Unlike the ethereal 16s, the bold 17s can be tucked into on arrival, and will be at their peak in a couple of years.
2017 was a hot vintage, there's no getting away from that. Expect to find wine which is richer and more giving than normal, but as with any 'imperfect' season, those that know their terroir, vines and wine making still triumphed. You'll probably have heard the phrase 'it was a winemaker's vintage' before, which goes to explain half the story, but the in reality, it's probably better to call it an 'estate' vintage.
In the great years, almost anyone can make good wine - nature simply provides, but as soon as challenges present themselves, it demonstrates the true ability of both wine maker and viticulturalist.
If the vignerons left ample leaf matter to shade their grapes, didn't thin bunches too much and were rigorous in their selection at harvest, then it gave the wine makers something outstanding to work with. In the winery, anyone willing to be quality focussed and declassify wine which wasn't up to snuff (part of the reason we have less wine this year), used gentler extraction processes and cooler ferments, turned this raw material into something wonderful.
All things considered; it was a vintage where hard work paid off.
We're exceptionally pleased with how our producers coped with 2017 and the Brunello they've made is pleasurable and forward, if still very well balanced. If we can't speak for them, the raft of high scores do.
Please take your time to browse below and email your account manager of privateclients@leaandsandeman.co.ukif you have any questions.
CHOICE REVIEWS
Eric Guido – Vinous.com
'This is not a vintage to skip, nor is it one to go deep on. As a lover and collector of Brunello, I would be doing myself a disservice by missing out on some of the exotic and wildly successful wines of this unique vintage.'

Walter Speller – JancisRobinson.com
'Ignore the critics, because the overall result is remarkable, with many wines defying 2017's image as an exceptionally hot and dry year.'

---

Casanova di Neri
Casanova di Neri was founded in 1971 by Giovanni Neri, a grain merchant from the town of Montevarchi, south of Florence. In 2021 they celebrated their 50th anniversary. He had a long-standing dream to make a great Italian red, and though the region of Chianti Classico was on his doorstep, it was the remote and relatively unknown Brunello di Montalcino that piqued his interest. Achieving DOC status just four years previously, and with only around 30 producers in the area compared to around 250 today, it offered the perfect opportunity for a man with a clear vision. After the great Giovanni died in 1991, his son Giacomo took the reins, and is now accompanied by his sons, Giovanni and Gianlorenzo.
'Gianlorenzo Neri (Giacomo Neri's son) described 2017 as "the most Mediterranean vintage ever". The property experienced a 35% loss of production to maintain integrity of the wines, so the family decided to place all of the Cerretalto fruit into the "White Label" Brunello, giving it a serious boost in character. Not afraid of technology, the Neri family also depended on rigorous selection through optical sorting. In the end, whether you consider their more modern leanings a blessing or a curse, this family is making some of the best wine in Montalcino.'
Eric Guido – Vinous.com (Dec 2021)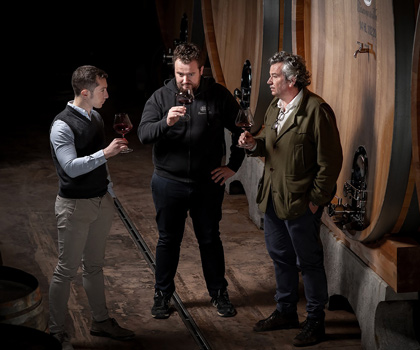 2017 BRUNELLO DI MONTALCINO Casanova di Neri
The Casanova di Neri 2017 Brunello di Montalcino delivers unexpected grace and a floral profile that is not common to find in this scorching-hot and dry vintage. In faithful Casanova di Neri fashion,The Casanova di Neri 2017 Brunello di Montalcino delivers unexpected grace and a floral profile that is not common to find in this scorching-hot and dry vintage. In faithful Casanova di Neri fashion, the wine is bold and dark in appearance, and although the bouquet is dominated by purple and black fruits, there is a brief interlude of fresh garden rose or lilac. That little moment changes up the momentum of this wine in a most positive way by allowing for a harmony of low tones and high tones that are well matched here. The wine is robust, structured and velvety to the palate, but ultimately this expression is far more delicate than I would have ever expected for a 2017 Brunello. This is a nice surprise. Drinking range: 2024 - 2038 Rating: 94+ Monica Larner, The Wine Advocate (www.robertparker.com) (Feb 2022)

75cl bottles, case of 6
In Bond

2017 BRUNELLO DI MONTALCINO Tenuta Nuova Casanova di Neri
The 2017 Brunello di Montalcino Cascina Nuova lifts up with a layered display of peppery herbs, musky plums, black raspberry, crushed stone, tobacco and smoke. It's silky yet juicy, pliant andThe 2017 Brunello di Montalcino Cascina Nuova lifts up with a layered display of peppery herbs, musky plums, black raspberry, crushed stone, tobacco and smoke. It's silky yet juicy, pliant and staining to the senses, offering violet and lavender tones balanced by cooling acids and hints of candied citrus. The 2017 really plays with the palate; it's spicy, long and intense, and lightly structured yet classically dry. Balsamic herbs, salted licorice – it goes on and on like a spice box menagerie. An elegant pleasure bomb. Drinking range: 2024 - 2029 Rating: 93 Eric Guido, www.vinous.com (Dec 2021)

75cl bottles, case of 6
In Bond

Collemattoni
This tiny, seven hectare, estate in San Angelo in Colle, on the warmer clay of the southern side of the hill of Montalcino is run by Marcello Bucci. A fantastic winemaker who studied oenology under Roberto Fuligni's aunt. He works organically and is making wonderfully good wines which keep increasing in both quality and international recognition.
We all got to taste these with a Zoom tasting with Marcello this year, and just loved both the wines.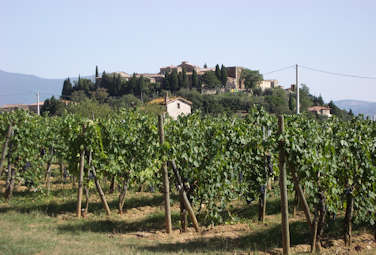 Fuligni
Our relationship with Roberto goes back to the mid-nineties. We have always loved the wines here, which combine the concentration and elegance of the best of Brunello. They can be drunk more or less from release, and are so perfectly balanced that they age beautifully.
Year after year Roberto and his team hit the highest heights of what is possible here. Truly classic Brunello is what they do best So fine, so poised with great tension and yet depth of fruit too - these are wines that make you think, stop you in your tracks and stun you in a way that very few producers can manage, The two current releases are nothing short of mesmerising.
Fuligni's vineyards are some of the highest and coolest in the area, perched on the slopes to the east of Montalcino and this gives them enormous advantage, ensuring a finesse and elegance that others struggle to imitate.
'In my opinion, the Brunello produced at this address are some of the classiest, most refined and long-aging wines being made in Montalcino today. They are extremely difficult to read in their youth, with a depth of fruit and minerality that is tightly clenched by a wall of tannin. In fact, it isn't rare that I'll check in on a bottle over the course of a few days to get a good read on it. However, as they mature and mellow, they transform into models of elegance and almost-sensual appeal. While at the winery, I was able to check in on the 2006, 2007 and 2016 Riservas; each one was simply stunning, with the 2016 in the running for wine of the vintage.'
Eric Guido – Vinous.com (Dec 2021)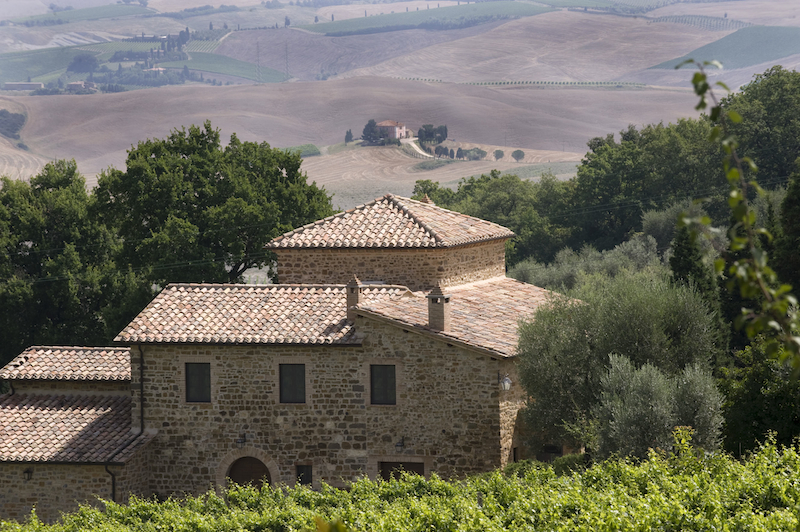 Padelletti
The Padellettis are one of Montalcino's oldest families, and one with an illustrious past, stretching back into the 13th century at least. In 1529, Giovanni Padelletti, an architect, was given charge of a section of wall and two gates for the defence of the city against the Spanish invaders, and his descendants still own them. Under the Medicis they had to lie low, but by 1576 they are again listed as owning land and vineyards.
From this six hectares they select less than a quarter of the grapes for Brunello, a production of 7-8000 bottles. The wine is fermented in cement tanks and aged in large Slavonian oak casks, in the original cellar in central Montalcino, in Via Guido e Dino Padelletti, under the family's historic house.
'For Padelletti, 2017 was very difficult, requiring extensive leaf management and working of the soils to help retain moisture. Like other producers in the north, it was the early September rain that was the saving grace here. In the winery, fermentation temperatures were kept down, and maceration was cut short, to also help maintain freshness. That said, miraculously, their production numbers didn't suffer, and they still managed to make one of the most balanced wines of the vintage. However, what was also an amazing treat from these recent tastings was my first chance to try the 2016 Riserva. This is a selection from the estate's fifty-plus-year-old vines that spends a year in small oak barrels prior to being completed for another two years in large botti. Simply stated, the 2016 is a stunner.'
Eric Guido – Vinous.com (Dec 2021)

Podere Giodo di Carlo Ferrini
'Eleganza, Eleganza, Eleganza' is the mantra of the enigmatic Carlo Ferrini who has once again crafted a beautifully focused, sleek Brunello from his own immaculate, small estate (just 5 Hectares) - Giodo. Since their first vintage in 2009 this estate has fast become something of a cult classic, right there - in amongst the established top producers here.
With limited production and incredible provenance, it is no surprise that these wines are in huge demand and heavily oversubscribed.
'Bianca Ferrini, Carlo Ferrini's daughter, is in charge of her father's Montalcino estate Giodo and its spectacular, secluded vineyards in Sant'Angelo in Colle, with stunning views of Monte Amiata. It doesn't need a lot of imagination to see that vines planted on what was once a cool slope of shrubs feel at home here. One of a growing number of Rosso di Montalcino refuseniks, Giodo produces an IGT Toscana instead, Quinta, from a plot of young Brunello vines. Quinta is not exactly cheap, but possesses what many Rossos do not: sheer class while stylistically inching pretty close to Brunello.Bianca Ferrini didn't seem impressed with the challenges 2017 posed. I wanted to know if the harvest time had to be pulled forward. 'Not really', came the succinct answer. 'We always harvest in the first 10 days of September.' While 2017 was no exception to what appears an iron rule here, a very strict selection was made. The result, a suave and elegant 2017 Brunello, has the stamp of smooth operator Carlo Ferrini written all over it.'
Walter Speller – JancisRobinson.com (Feb 2022)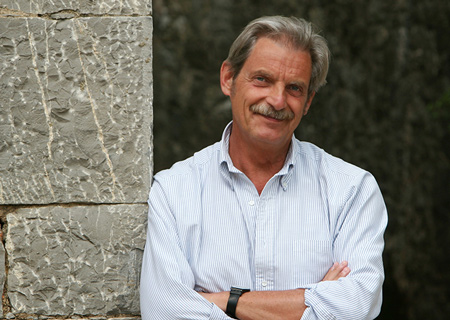 San Polino
Thirty years ago, Luigi Fabbro and Londoner Katia Nussbaum founded San Polino – Montalcino's first certified organic estate - with 4 (now 5) hectares of vines and 16 of forest, 9km from the town to the south-east on the way to Castelnuovo. They now have another site on the other side, 5 hectares of vines bordering Fuligni and Padelletti.
Katia, daughter of Romanian-Jewish father and brought up in Putney, had always felt a fish out of water in London, and had met Luigi ('Gigi') from Friuli in Katmandhu in her gap year. Having completed her education at SOAS, she went to join him in Italy. Luigi, a trained chemist and former computer scientist, brought his experiences mapping the biodiversity of the Amazon rainforest to this corner of Tuscany, and the couple aim to 'create wines as complete reflections of the biodiversity of the terroir'.
Blessed with an extraordinary range of soil types across their land – from ancient sea beds to volcanic minerals - they are self-proclaimed extremists when it comes to organic farming, using microorganisms in place of sulphur and copper in the vineyard. Their own compost is made from the stalks and skins from the grapes, and grasses and beans are regularly planted to add nutrients to the soil and increase biodiversity. The wines undergo spontaneous fermentation from indigenous yeasts, and see a 45-day maceration on skins, before being pressed and raised in large Slavonian and French oak for three years. 5% of the oak is new, for a hint of spice.
The vineyards have been organic since 1994 and are also certified biodynamic. The philosophy of biodynamics, with its emphasis on harmony and balance, plus obsessive care in the winemaking, lends the wines a phenomenal amount of elegance and purity of fruit, with a finish that seems to go on forever.