Last Friday, Colin Patch and I set off on the Eurostar for the tiny village of Chavignol, located within the Appellation of Sancerre in the Loire Valley. We were to be the guests of the wonderful Delaporte family, whose delicious Sancerre wines have appeared on our wine list every year since Charles and Patrick first started the company back in 1988.
 
Jean-Yves took over the running of the estate from his father Vincent in the mid 1980's. Having studied alongside the likes of Didier Dagueneau, Jean-Yves is very much one of the grandiosos of the Loire Valley (although he wouldn't like you to think that). His passion for wine and the continual improvements of his vineyards and cellar are paramount to him – not to mention his obsession for cleanliness!
 
Friday


 
Arriving into the tiny Cosne-Sur-Loire station we were greeted by the very friendly Nathalie Delaporte. A dinner party was all set for us at their house and we were introduced to Gilles, who is the assistant wine-maker, and his wife. We were treated to several vintages of Cuvée Maxime, red and white, as well as persuading Jean-Yves to pour a little glass of his 'vendange-tardive' with our dessert.
 
It was clear from our first meal with them that they were a young at heart family and definitely up for a laugh. Jean-Yves made sure that our glasses were always topped up and after the meal he was only too keen to show us how powerful his sound system was (nearly scaring that daylights out of Madame Delaporte at one point when he forgot the volume was on full). On that note, it is worth mentioning that Nathalie's food was to die for, we were treated like kings!
 
We were then taken for a night-cap in Sancerre itself, and what a surreal experience that was! This dingy bar, no bigger than one our shops, was seemingly the hub of Sancerre's night life, the warm up for the only two 'boites de nuit' in the area. It was the sort of place where everybody knew everybody, so of course Colin and I stood out like sore thumbs. Fortunately, Jean-Yves seemed to be a local celebrity, so much to our relief we were soon part of the furniture.
 
Saturday Morning
 
After a hearty breakfast Jean-Yves drove us around some of his 24 hectares of vines located on the hillsides around Chavignol.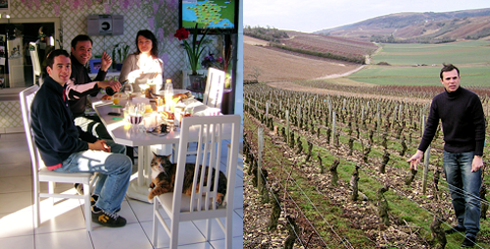 He was quick to point out that 80 percent of his vines are south facing. Of the 34 different parcels of land, 50 percent lie on flinty or 'Silex' soils (this is considered the soil type to have in Sancerre) with the rest made up on good quality limestone. Silex can give the wine terrific minerality and a very subtle gun-smoke character whereas the limestone gives the wine substance and rich fruit.
 
Jean-Yves pointed out that he does not use any pesticides on the land and moreover tries to work with nature as much as he can. He explained the great problems that the Appellation is going through at the moment, that of "Esca", a fungus which seems to have destroyed half the vines in some vineyards. "Catastrophe" was a word he mentioned a lot whilst explaining this to us.


 
We were then shown around his winery. Each of the parcels from Jean-Yves different vineyards are vinified separately using stainless-steel vats, he then blends these different wines into what he feels is a consistent Delaporte style. This blend is then bottled as his 'house' Sancerre. The wines used for the Cuvee Maxime are from only the best Silex soils and are from very old, gnarled vines. He matures these wines in oak barrels to add complexity and depth. Jean-Yves has been working since the 1990's to modernise his winery; and as he said proudly, "this is all for Matthieu". Matthieu is his oldest son and having done a short 'stage' at Lea & Sandeman last summer is currently touring the wine-making world as part of his studies before he comes back to work alongside his father.
Alongside the inevitable tastings we were put to work trying out 'batonnage' in the barrels of white Cuvée Maxime', which is barrel-fermented.