Basile Tesseron was rightly in ebullient mood as he made us taste his rosé after we had tasted the 2010 Lafon Rochet.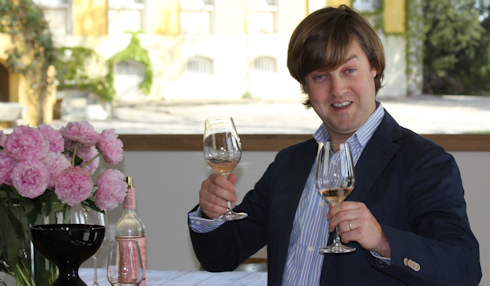 Reading the notes on Lafon Rochet this year makes it clear that this is the best Lafon Rochet ever, and it was not only we who thought so. It is offered at the same price as last year.
Two remarkable wines from Didier Cuvelier, owner of Léoville Poyferré, have now been released. Didier seemed pretty pleased with his wines this year.
The Cuvelier family own not only Leoville Poyferré, but also Château le Crock in Saint Estèphe, a vineyard between Montrose and Cos, well-placed and making better and better wines in recent vintages, it offers good value, in a bright and formidably juicy way. Possibly more in the style of a wine made by Didier than what one would expect from its site. The other one is Moulin Riche, the second wine of Léoville Poyferré itself, a round, supple and less intense version of Saint Julien elegance than its big brother.
Finally we have the release of Goulée, the top-performing Médoc owned by Cos d'Estournel, in what is also its best performance to date