Domaines Baron de Rothschild chose yesterday to release the 2011 Chateau l'Évangile, a wine which I am surprised to find myself the biggest fan of amongst the critics.
Today has seen another mini-avalanche of releases, including Talbot at a sensible price, and some at spectacular drops in price over their 2010 counterparts – Beauséjour Duffau Lagarosse was £2200 in 2010, and is £540 this year.
The biggest release is probably that of Ducru Beaucaillou, down to £795 from a release price of £1875 last year, and a spectacular wine which I certainly rated one of the ones I'd most like to own in this vintage. As you may have spotted in the press, Bruno Borie is pretty proud of this wine too (this is one of his advertisements which have been occupying full pages of the FT and other papers).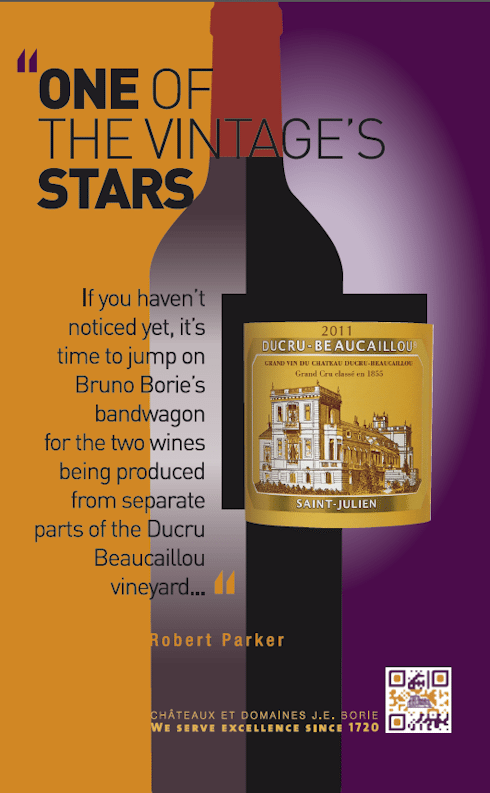 Also worth a look is La Croix de Beaucaillou, which used to be the 'second wine' of Ducru, but which is now from its own defined vineyrad – rather like Clos du Marquis' relationship with Leoville Las Cases.
Also out today is the subtle 2011 Brane Cantenac, a property very much on a rising curve at present, and a price which makes it look a good buy too.
Finally we have limited quantities of Alexandre Thienpont's very fine Vieux Chateau Certan, not only a cracking wine in itself, but also an en primeur allocation worth fighting for.