We had too many good wines to choose from when voting up the wine of the week, so we decided to draw up a short list of 4 our best value and affordable drinking Bordeaux between at £11.95 and £37.50. When we say 'value' we don't mean 'passing-off' stock, we mean seriously good wines with respectable prices that sport robust reviews and awards from some of the world's best wine critics and competitions, a combination hard to find in Bordeaux these days.
Our wine of the week is:
As a mature Grand Cru St Emilion in it's prime for under £40 this wine was our clear running favorite.  A balance of ripeness, seriousness, age and price put the Barde-Haut 2001 a good few lengths ahead of our other contenders.

The Wine Cellar Insider: Drinking at the perfect state of maturity, with ample notes of licorice, vanilla, black cherry, earth and stone. Soft, round and packed with sweet, ripe fruit, Barde Haut remains one of the best deals available from St. Emilion.
 91 points – Tasted Nov 20, 2012.
Followed closely in 2nd by:
Classic Margaux, this is a great wine from Monbrison which is just opening up for drinking now. We tasted this wine at our 2013 Great Southern Tasting at the Saatchi Gallery and all agreed that it was showing very well indeed. A length behind the Barde-Haut, this wine is very drinkable now, but also shows a lot of promise for the years ahead.

Decanter: Intense colour, fine floral and blackcurrant fruit, shows good lift and a lovely freshness and purity, good length, very good. 2012-20.
rating: ****
A highly impressive 3rd:
2008 CHÂTEAU VIEUX VERDOT Épigone Grand Cru Saint Emilion – £19.95
Made in an admittedly very modern style from a selection of the very best parcels this Grand Cru St Emilion is deep in colour, with really attractive fine creamy dark damson fruit. It remains balanced with a touch of oak and a nice dryness. Elegant and with lovely length it is a fabulous example of Saint Emilion.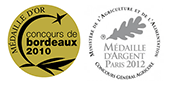 The Épigone has won two major French wine awards and just as importantly passed the stringent Lea and Sandeman taste gauntlet.
Shhhh! The tipster's tip-off:
Our 2009 Director's Cut Bordeaux hasn't won any official awards, but certainly between L&S staff and our customers we're happy to give it our own 'Medaille D'Or' given our 25 years experience of tasting and selecting wines.

The 'Directors' Cut' is a special selection made from the same vineyard as our Lea & Sandeman Bordeaux, and given a little longer in barrel, with a touch more new wood. A deeper expression of fruit and complexity put this a cut above, making it much favoured by the Directors and staff.
You can also see all the wines here.
Have a very good week.