Hail has been much in the news recently, with Tamlyn Currin making Raimond de Villeneuve's La Grêle 2012 Rosé the wine of the week last week on www.JancisRobinson.com. This wine was made by Raimond from grapes donated by 37 neighbouring estates after he lost his entire crop to a vicious hailstorm last year.
This year the hail struck ten days ago at Domaine Saint Lucie and Domaine des Diables, our makers of MiP and Rosé BonBon. For them this is is the second devastating hail damage in four years and seriously threatens the business itself. Depending on the weather from here to the harvest, they stand to lose between 40% to 100% of the crop. If the Mistral blows, the burst grapes could heal and dry up, but if not, and rot sets in, there will be nothing. Either way there is a good chance they will bottle little under their own name next year.
This week the news comes that there has been another appalling storm in Burgundy, seriously affecting a swathe from Pernand Vergelesses down to Meursault, and therefore affecting, for the second year running, growers who lost much of last year's crop in Volnay.
Nicolas Rossignol  and Laurent Pillot sent us these pictures from in and round Pommard:-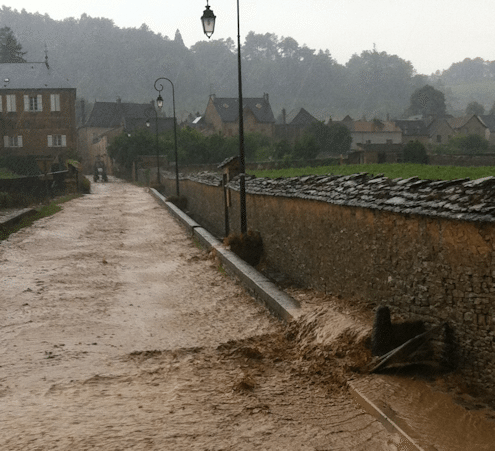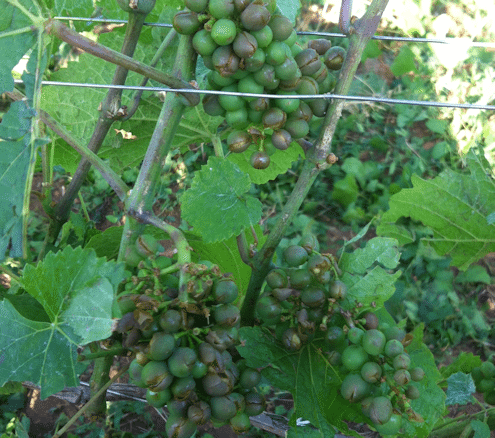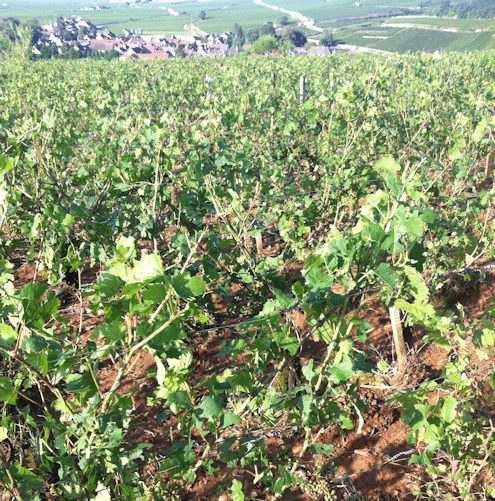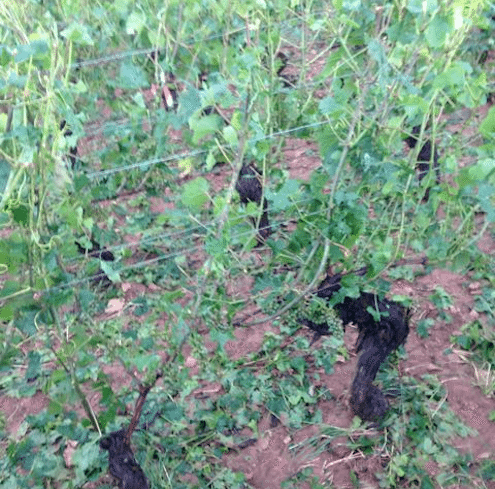 From Provence Guillaume Philip of Domaine Saint Lucie and Domaine des Diables writes:-
Because of the hard weather we had since the beginning of this year, the 2013 vintage already promised to be difficult. Winter was long while spring was cold and humid. As for summer, it took a lot of time to arrive.
Then, 45 minutes! That's how long it took to ruin once more one year of hard work. A violent storm of rain and hail fell down on our vineyards on Wednesday afternoon, destroying many grapes that were perfectly growing. More than 100 mm of water (100 liters of water per square meter) beat down on the vines in less than a hour. Around 40 % of the harvest is destroyed up to now, and if the weather doesn't get better, it is the whole harvest that is threatened. Indeed, damaged grapes can heal up thanks to the wind and hot temperatures, but can also be totally deteriorated in case of rain until the picking.
This is a real economical disaster for both Domaine Sainte Lucie and Domaine des Diables, that have suffered quirks of nature twice in 5 years.
By now, we think that we won't be able to produce all our cuvées in 2014, even if we are doing our best to save the last grapes. Unfortunately, new thunderstorms with hail are expected today and tomorrow. It is hard to admit but we prefer not to produce our usual cuvées if the quality of our wines doesn't deserve if for this year instead of deceiving the trust you have in our work since many years now.
Of cours we'll let you know the end of this sad story after the "harvest". You'll also be able to follow its progress through our Facebook page https://www.facebook.com/saintelucie.domaine
Hoping you understand our distress and our disappointment for, probably, not being able to satisfy your expectations in 2014.