50th Anniversary? – or just great Port
Taylor's, aided somewhat by the purchase in 2013 of Wiese & Krohn who had been specialists in tawny Port, hold larger stocks of old wood aged Port than any other producer. From this stock, there is a limited release of 1964 Single Harvest Port.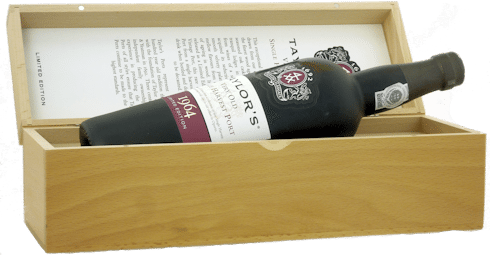 Taylor's 1964 Single Harvest Port  £150 per bottle (£145 if bought as part of a mixed case) inc. VAT and delivery.
N.b. This is a limited release and is, therefore, only available whilst stocks last.
Strictly speaking this is not Vintage Port. Vintage Ports spend just two years in wood and do most of their ageing in the bottle. The Taylors Single Harvest is the product of a single vintage, but aged in wood.
As Neal Martin has put it in his review:-
'This is the first in a series of single harvest Ports that will be released on their 50th anniversary, packaged in frosted bottles inside individual beech  wood boxes. Having undergone such prolonged wood maturation, these are not intended for the cellar, but rather "ready to go" as soon as you buy them. Therefore, they are ideal for Port lovers without huge cellars and/or the patience of a saint. Approximately 2,000 bottles of the 1964 are being released.'
Neal continues with this tasting note:-
'I allowed my glass of 1964 Taylor's Very Old Single Harvest Port a couple of hours to open up in the glass, monitoring its evolution along the way. It is not a shy or retiring Port. Clear mahogany in color with a slight green tinge on the rim, the nose races out of the blocks like a young terrier let free in the garden, with intense aromas of grilled walnut, smoke, brown sugar, hints of caramel and a fug of alcohol that ebbs with time. The palate is smooth and honeyed on the entry, a very seductive Port wine, quite sumptuous in style, but with enough volatile lift to maintain fieriness toward the viscous finish. I speculate that had the 1963s not been so prodigious, Taylor Fladgate would have elected to follow their 1960 declaration with a 1964. That is all in the past. It is a delicious Vintage Port firing on all cylinders, ready to drink and enjoy now rather than cellar. – 95 points' (Neal Martin, www.erobertparker.com)
'Amber-tawny in colour with an olive green rim; lovely, clear, slightly lifted caramelised aromas with a touch of butterscotch; soft and suave with rich, spicy flavours, full and round, quite sweet in style which just stops short of cloying on the finish. Fresh, delicate length. Beautiful balance and a remarkable wine at 50 years old. 18.5/20'
Richard Mayson, www.richardmayson.com