We've just 6 cases left of this superlative Pouilly Fuissé from Daniel Barruad. Lauded by Robert Parket, Jancis Robinson and Allen Meadows and by us, Daniel is another of our superb value under the radar Burgundy producers.
2011 POUILLY FUISSÉ Vieilles Vignes En Buland Domaine Daniel Barraud
'Daniel Barraud is one of the Mâconnais' superstars and this is why: a white Burgundy with lovely expressive aromas, a delicate subtle lees-derived nuttiness and behind it deliciously concentrated, peachy Chardonnay fruit with juicy acidity.' 92 www.thewinegang.com

Grapes: Chardonnay
Origin: France, Burgundy   Village: Pouilly Fuissé
Vineyard: En Buland
ABV: 12.5%
Pricing:
75cl bottles £29.25   Case price £26.50*

– Sold Out –
Lea & Sandeman review
'En Buland can be very massive, and this is, but also amazingly bright. Rich yet taut and tight and twangy. A real scrape of chalk. Very complete..' L&S (2012) 95/100

Other reviews and comments
'(65+ year old vines near Solutré that face north east). Here the nose is similar to that of the La Roche though slightly more reserved. There is excellent freshness and vibrancy on the tightly coiled, powerful and driving flavors that also enjoy remarkable reserves of palate staining dry extract. This is stunningly long and while not as overtly stony, there is even better depth. A qualitative choice.' 2017+ 92 Allen Meadows, www.Burghound.com
Domaine Daniel Barraud
'Barraud is unquestionably in the very top echelon of producers in Pouilly-Fuissé. [He] is crafting superlative wines that equal or surpass the finest offerings of the Cote de Beaune's grand cru vineyards'. Robert Parker, The Wine Advocate, www.eRobertParker.com
Daniel and Martine Barraud's vineyards have been in the family since 1890 and with their son Julien now helping to run the domaine – they represent the fifth generation of the family to be making wine here. Most of their 8.5 hectares vines are in Vergisson and are mostly high up under the famous rock (Vergisson lies between the two dramatic cliffs of the rocks of Solutré and Vergisson).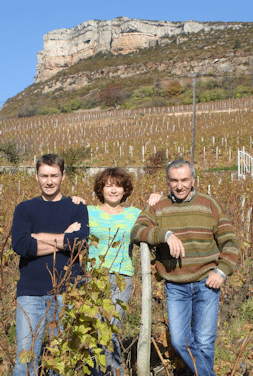 View Domaine Daniel Barraud's full wine list
The vineyards here are significantly higher than those of Fuissé, and consequently later-ripening, and the wines often have a more solid structure – but all Daniel's wines have their own character, from the Puligny-like directness of the La Roche to the fat, almost California-like 'en Buland', via the mineral force of the Crays
* Mix any 12 bottles from our website or shops to qualify for our case price discount. Free nationwide delivery on all orders over £100. Next day delivery to central London.