Barnes Summer Wine Tasting
Tuesday 28th, Wednesday 29th April 
Blue skies and sunshine have finally arrived, and this month we will be holding our BIGGEST ever Summer in-store wine tasting.
We will be showcasing 20 wines chosen to cover all of your summertime wine needs, from crisp fresh whites to chunky reds for the barbie.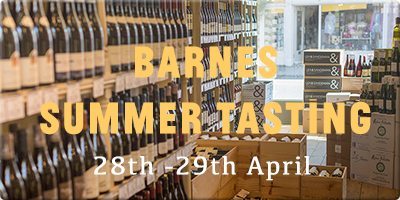 Please note that this is not a tutored tasting, though notes will be provided for all of the wines on show.
The Theme – Summertime Favourites
The Place – Lea & Sandeman Barnes – 51 Barnes High Street
The Dates – Tuesday 28th, Wednesday 29th of April 2015
The Time – 6.30 – 9.00pm
Tickets – Tickets are £15 per person, bookable in advance, and refundable against any purchase on the night of £50 +
In order to reserve your place on your preferred date please contact us as soon as possible, as we will offer places on a first come first served basis, with a maximum capacity of 20 people each evening.
We look forward to seeing you there.
Regards,
Derek & Emerson
LEA & SANDEMAN 
'MOST ORIGINAL WINE MERCHANTS'

51 Barnes High Street, London, SW13 9LN
T: 020 8878 8643
E: derek@leaandsandeman.co.uk
W: https://www.leaandsandeman.co.uk