In January I was fortunate enough to find myself in South Africa for a week which was a fabulous escape from the short, dark days of the UK winter but also a fantastic journey of adventure and learning about this beautiful country.  I left a chilly Heathrow at 4 degrees and touched down on a bright morning in Cape Town to a day that peaked at a wonderful 28.  This was no holiday however, so I'm not going to bang on about the country and the top spots to visit, where best to spy the Big Five – no, I was there for wine and found a brilliant top five of my own.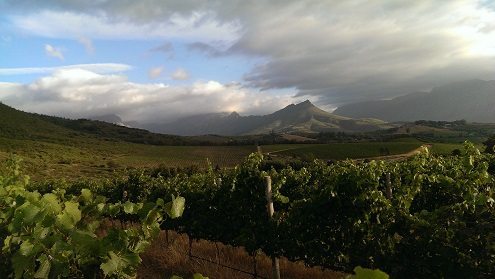 Beautiful Stellenbosch from amongst the Rustenberg vines, January 2015
The South African wine scene today is fascinating, there are great wines being made at almost every level.  The variety of styles and regional diversity is huge.  I started my adventure on the West Coast about 2 hours north of Cape Town in the very 'hip' wine region of Swartland.  This is home to the sell-out wine festival called the 'Swartland Revolution' a sort of Isle of Wight Festival circa 1970, but with more wine and less Jimi Hendrix. This is rugged country on the limit for making wine – but where there is some altitude or where the vines are close enough to the Atlantic to the West – there is some very exciting winemaking going on.  A super example is the Spice Route Winery.  This is a no frills, frontier out-post.  But the winemaking is fabulous and the results seriously sophisticated, but also brilliant value.  Try the 2013 SPICE ROUTE Pinotage (£12.50) – These vineyards are not irrigated and the grapes are left to reach good ripeness on the vines, this is clear in the lovely, juicy and fruit-driven style you find in the glass. Delicious, quite a rounded Pinotage, there is still some leather, some smoky notes but lots of glossy dark black berry-fruit too.  This is really attractive drinking and is currently the only Pinotage to pass muster and make it on to our list!
From here I headed inland and south – to the historic wine Capital of the Cape, Stellenbosch. The bustling university town is surrounded on all sides by beautiful, rolling, vineyard-laden countryside.  This is hemmed in by the enormous ridges of mountains, the various 'bergs' that seem to jut out of nowhere, straight up, almost at right-angles to the ground.  My first stop was at DeMorgenzon. This could not be more different to the set-up at Spice Route.  A mixed border of beautiful flowers line the mile long drive that take you up to the impressive, old winery building, set in acres of beautifully manicured lawns, ponds and flowerbeds.  The vines are immaculate, and the carefully selected wildflowers that grow between the vines add more colour still.  It is an idyllic spot, but what is most extraordinary here is that they pipe music into the vineyards to enhance growth.  After many years of ongoing research with comparative 'control' plots of vines some exposed to the music, others not listening to Bach – they have decided that music – and specifically Baroque music – really does affect the way the vines grow.  Whatever the reason, the quality of wine being made here is very impressive.  A personal favourite is the DEMORGENZON Maestro White (£13.95) – this is a delicious blend of Roussanne, Chardonnay, Chenin Blanc and Viognier. Winemaker Karl's aim with the Maestro is to touch every corner of the palate – to make a complete wine that delivers nuance and texture along with a great fruit rush and some grounding minerality – mission accomplished!  This is deliciously drinkable and a fascinating wine to drink on its own, but will happily accompany many dishes.

Demorgenzon's brilliant White Maestro, raised on Bach and Haydn!
Having hit the coast south of here I then headed up through the incredibly steep Sir Lowry's Pass to the rolling, green high ground of Elgin.  This is like another world, Elgin is traditional fruit growing country and the Cluver family's history is steeped in Apple production.  The conditions are cooler than in Stellenbosch which means varieties like Sauvignon Blanc and Pinot Noir thrive here, the 2013 ELGIN Village Pinot Noir Paul Cluver (£9.95) is an absolute steal.  Bright red fruit core with lovely restraint and a minerality that keeps it all beautifully high toned and perky – delicious, easy drinking without the wallop of so many thicker, more jammy new world Pinots.
From here I headed back north to Stellenbosch; to two neighbouring estates each similar in so many ways and yet producing such fascinating and contrasting wines.  First stop was Rustenberg.  One of the grandees of the South African Wine scene. Old school and traditional, but not stuck in the past at all.  It is one of South Africa's oldest estates dating back to 1682, and by 1781 it was producing 3,000 cases of wine each year. The impressive winery provides a great illustration of what is going on here – a beautiful, polished modern winery has been built within one of the original 'Cape Dutch' style winery buildings that dates back to 1814.  To do this the thatched roof was removed, the floor lowered and a two story winery built on its own free-standing skeleton, the lid was popped back on and from the outside you would never know how up to date things are here.
The winemaking too is forward thinking, yet classic.  A great example of what they do so well is the 2011 RUSTENBERG Buzzard Kloof Syrah (£15.75) this comes from the coolest part of the Rustenberg vineyards, high up the hill, just before the steep cliff of the Simonsberg that towers over Stellenbosch. The results are great – the grapes which are all French Syrah clones – have a long slow ripening that gives a lovely depth and complexity to the perfectly ripened fruit. There is lovely wood-spice too and a perfect bit of grip, surprisingly Rhone-like, think Gigondas, but with lovely South African suppleness.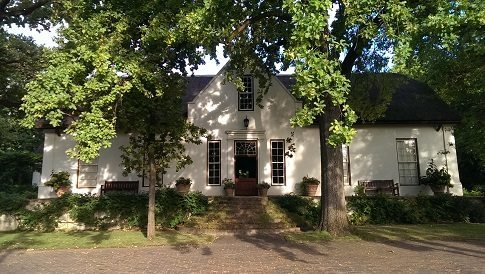 The classic 'Cape Dutch' manor house at Rustenberg
Final stop was just next door at the brand spanking new Glenelly winery. On approach this impressive glass box of a winery juts out of the hillside like Bond villains lair – all glass and steel – and impressive site.  This is super modern, but has a very classic, old-world spirit as it was bought in 2003 by May de Lencquesaing, famous for her 30 year tenure of Chateau Pichon Lalande, top drawer Claret from Pauillac.  At 78 she sold up in Bordeaux and started afresh here in Stellenbosch. Her faith in the potential of this land is being proved more and more with every vintage the 2009 GRAND VIN DE GLENELLY Glenelly Estate – (£12.50) is a fabulous local interpretation of classic Bordeaux.  Luke the winemaker substitutes the traditional Merlot that you would find in Bordeaux with Syrah, which blends beautifully and makes a remarkable, chic and polished red to rival anything at this price level from France. The amazing influence of Bordeaux 'royalty' on this South African wine is as clear as the joyous January skies here – brilliant, sophisticated drinking.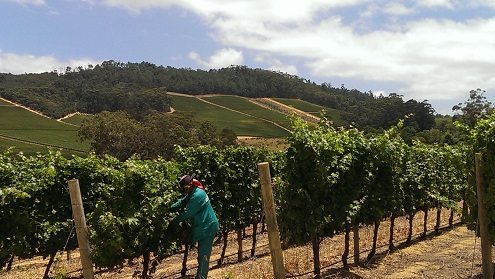 Trimming the vines at the impeccable Glenelly Estate
These 'Big Five' finds from my 'wine safari' of the Cape show the enormous breadth of exciting styles and the depth of talent, making such brilliant wines today in this part of the world. I would encourage you to overlook the jewels of South Africa for your future drinking.
All prices quoted here are the case prices, as per the usual T's & C's