With eager anticipation we gathered. On the day that marked Back to the Future Day, we were jouneying back before Marty McFly to a time when the height of sophistication was a cheese and wine party. But there were to be no cubes of supermarket cheddar and pineapple on cocktail sticks for us, we were going to do cheese properly. Matthew Bunch from The Rustic Cheese Company had selected a homeland selection of six English and one Irish cheese and we were going to match the lot with wines from the LEA & SANDEMAN range.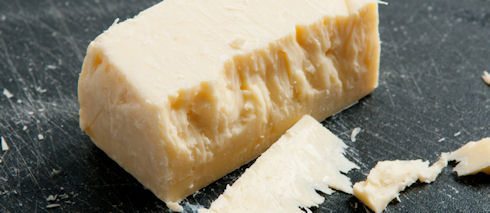 Kicking off proceedings was a dry mild hard ewe's milk cheese from the Midlands called Berkswell. Like a fine blank canvas, this felt like it would take almost anything well but we plumped for the crisp Tuscan cherry delight of Rosso di Montepulciano 2014 Dei (£12.95) and the gentle citrus zing of Maga 2014 Godello (£11.95) – a white wine, you may note with a raised eyebrow, but just how well white wines match with cheese was a familiar theme of the evening. Both proved excellent matches for the Berkswell.
On to an award winning Camembert-a-like from Hampshire – Tunworth. The creamy richness cried out for the clean cut of something fizzy and, thus, we were able to present our only English wine with English cheese pairing of the evening – Gusbourne Brut Premier 2010 (£29.95) – the brisk character being an ideal foil for the dense creamy mushroomy Tunworth.
"Fake Champagne with fake camembert" Antoine Frachon
One of the few absolutes in the world of food and wine matching is that Sauvignon Blanc goes well with goat's cheese and thus it was that the tingling delight of Les Sauterelles Sauvignon Touraine 2014 Lionel Gosseaume (£9.95) danced on the palate with the mild creamy Pablo Cabrito, both refreshing and enlivening as it went.
With Rollright – bouncy, buttery, soft and quite springy cheese from Oxfordshire that split opinion in the room – we served our new Tongue in Groove 2013 Riesling (£16.95) which, just as no-one could quite decide if the Rollright was strong or mild, opinions were mixed about whether the wine out-shone the cheese, or vica versa, or whether it was just right! I'm going with just right, 'cos it worked for me. We thought a Pinot Noir would serve as the ideal red and Barda 2013 Bodegas Chacra (£18.95) worked well but, perhaps, a juicier more New Worldy Pinot might have coped better.
Matthew's wild card, and the one he thought might not light up the crowd, turned out to be the most popular wine of the evening. Baltic from Northumberland, but washed with Liverpudlian ale, has quite a traditional English feel. It does, also, have quite a twang to it. And folks loved it. This, we felt, was more traditional cheese territory, so we went with some claret – the newly arrived and great value Château Civrac 2006 Bourg (£14.95) which was a superb match with its body and plump dark cassis.
The Lincolnshire Poacher, which seems to combine the best attributes of English Cheddar and harder nuttier Alpine cheeses and has a delightful buttery sweet start to it, was so perfect with Crozes Hermitage Papillon 2013 Gilles Robin (£15.95) with the sweetness of the cheese and the peppery spice of the wine coming together in joyful unison. We toyed with matching the Poacher with a New World Chardonnay, but company loyalty got in the way and we rolled out the LEA & SANDEMAN 2014 White Burgundy (£12.95) and company loyalty was right – it was a great match, with the little zip of acidity cutting the cheese beautifully.
Proceedings were wrapped up with our sole Irish representative – Crozier Blue – a blue sheep's milk cheese. We were originally planning on dusting off the Port decanter for our bluey but the bright, salty, Roquefort-like character of the Crozier demanded something a little crisper so we popped open Les Pins 2013 Monbazillac (£12.50) from Château Tirecul la Graviere which, with it's balance of intensity and brisk acidity, was a winner.
A great tasting. A cracking evening. To everyone's surprise even our resident Frenchman was impressed. And annoyed that everyone was surprised that he was impressed.
Huge thanks to Matthew for some astounding cheese, and to all the appreciative tasters who came along and nibbled and sipped with such studious alacrity.
To be kept informed of LEA & SANDEMAN tastings, speak to your local shop chaps or ping an e-mail to info@leaandsandeman.co.uk