'2011 is another great vintage which could easily have produced a high quality Riserva, but sadly there just wasn't enough fruit to be able to make it.'
These were the words of Roberto Fuligni, who was in London recently to present his new releases, the Brunello 2011 and the Brunello Riserva 2010. We were very proud to be hosting him for this first global tasting of these great wines, It was quite a packed schedule that included visits to meet sommeliers, a wonderful dinner for customers at Medlar Restaurant and a lunch for members of the wine trade at 67 Pall Mall.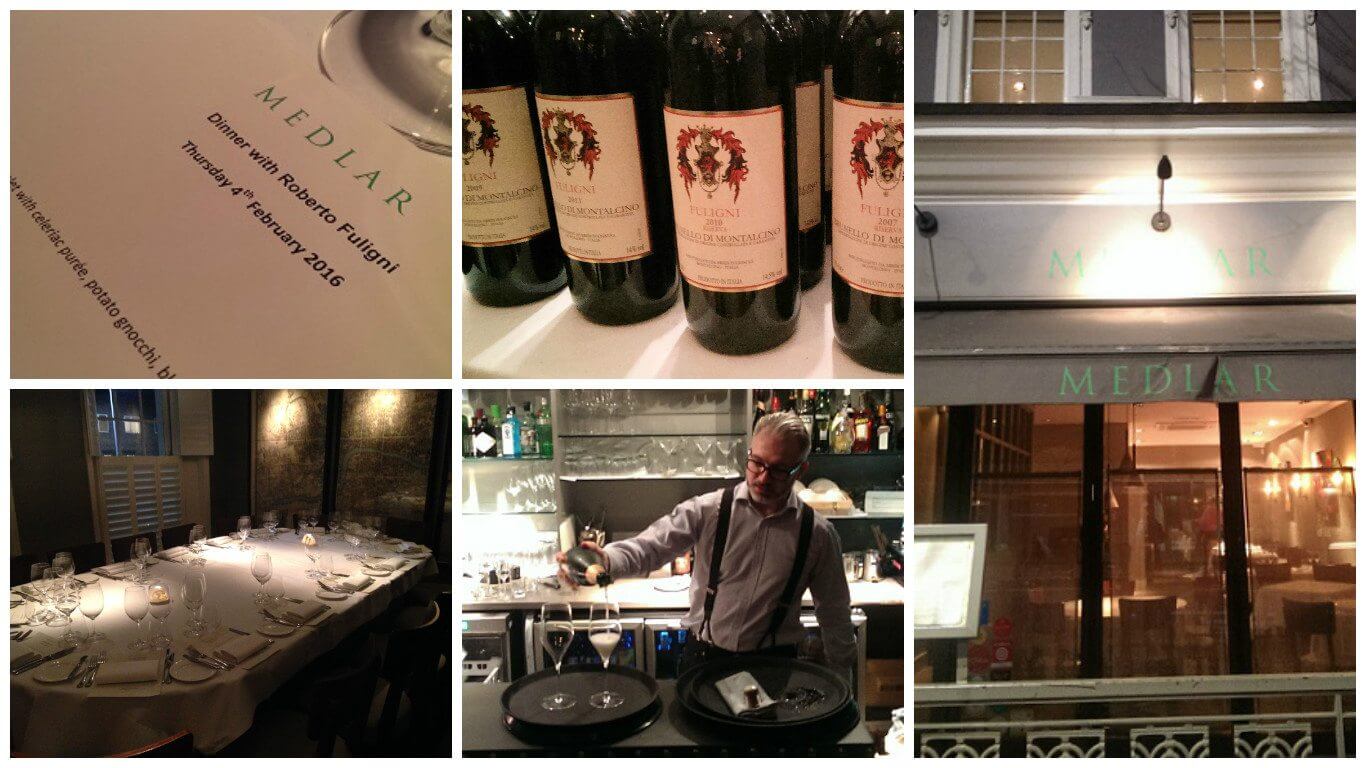 It was at the lunch that Roberto talked at length about the run of good vintages that they have been blessed with in Tuscany and in particular about the extraordinary 2010. Those in attendance were also treated to Roberto's Brunello 2009 and Brunello Riservas 2007, 2006 & 2004, it was fascinating to see the evolution of the wines in bottle and to hear Roberto's thoughts on the longevity of his wines, as a rule of thumb the straight Brunello will drink well from approximately 5 years of age up to 20 and the Riserva from 8 years up to 30 (although for the 2010 Roberto thought 50 years and beyond). What really shone out was the elegance and finesse of these super wines, there is no doubt they would make a great addition to any wine-lover's cellar.
Pre-shipment offer
This is the first UK release of the sensational 2011 Brunello from Roberto Fuligni.
2011 Brunello Di Montalcino – 12 x 75cl – £270.00 IB or £294.60 DP
Bright ripe fruit nose, blackberry, black cherry, nice intensity and freshness. The palate is well endowed with dark fruit richness, blackberry, cherries, elegant with some rich dark chocolate on the long finish.
Not surprisingly there was huge interest in these latest releases – we were able to offer the 2010 Riserva just before Christmas which was scooped up quickly by many avid fans, but we are pleased to be able to still offer this at release price for anyone who missed the opening offer.
2010 Brunello di Montalcino Riserva – 12 x 75cl – £625.00 IB or £649.60 DP
Very fine, bright perfume of herb, black fruit, spice and dark chocolate. Lovely delivery on the palate, richness, bags of dark fruit, lovely texture, nice tannic grip, long with an elegant sinew on the broad finish.

For immediate reward please see the Fuligni wines currently available on our website & in all our branches:
2009 Brunello di Montalcino – £39.50/35.75 
Good intensity of cherry, damson and liquorice with some balsamic notes. Nice weight in the mouth with some fleshy blackberry fruit, darker more sinew and grip, with coffee and tobacco good length.
2007 Brunello di Montalcino Riserva – £66.50/59.50 
Lovely nose of pencil lead, leather, coffee and tobacco, undercut by ripe black fruit. On the palate there is coffee, leather, meat juices, liquorice and developed rich fruit intensity. Gorgeous grip and weight, fleshy length.
2006 Brunello di Montalcino Riserva – £72.95/63.50
Very meaty, aromatic with coffee, balsamic, meat juices, blackberry and liquorice. Haunting grip and weight on the palate with layered meat, leather, coffee and liquorice, great delivery and length.
 (Also available in Magnum)

CHELSEA | KENSINGTON | BARNES | CHISWICK