Côte de Nuits PART 1
Like in the Côte de Beaune, trying to decide when to pick to have optimum phenolic ripeness meant having to accept high potential alcohols, but there was a wide variety of picking dates and as usual, growers have their own ways of working and adapt all their viticulture and winemaking to these ways, so there's no obvious right of wrong time to pick.
As we have seen in many recent vintages, there has been a distinct upswing in the number of vignerons including some whole bunches. The inclusion of ripe, properly lignified stems has given back an elegance that might having otherwise been missing on some terroirs. Morey Saint Denis, which just had a critical amount of extra rain in August, does seem to have made remarkable wines, but other than that it's very hard to make any generalisations about which villages fared best, other than to say the results in some of the deeper soils and traditionally colder sites have been remarkable.
As we said last year, it's worth paying particular attention to the Hautes Côtes, and to the simple Bourgognes, as it is these vineyards that benefit disproportionately from the extra ripeness of a very sunny year.
---
Domaine de la Douaix
Mark and Gilles Moustie are Belgians, huge fans of wine and in particular Burgundy. The family rented a gite for many years in the Hautes Côtes village of Arcenant, straight up the hill to the west of Nuits Saint Georges, and gently graduated from buying wines at domaines up and down the Côte to wanting to make the wine themselves. Eventually they bought some vines and a house with cellars, and set to.
Most of their wines are from vines they own, but they do make a little wine from bought-in fruit to supplement what is still a tiny domaine. It is his Gilles who is hands-on on a daily basis and is really running the domaine now with ever-growing confidence and the wines seem to improve year on year. He is now working organically across the domaine.
The extra ripeness of 2018 has been particularly beneficial in these relatively cool terroirs, and the results are impressive. Gilles told us that they'd made a good volume of wine, and that there had been just enough rain, and little to do in the way of treatments as the vines remained healthy through the season. He has extended the élevage, and is now keeping all his wines in wood for two winters: " I really like how the wines stabilise in the last six months."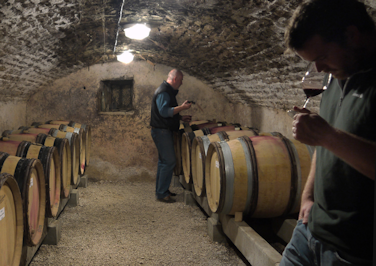 2019 HAUTES CÔTES DE NUITS Clos des Fervelots Domaine de la Douaix
Very thin soil before the rock. Bright and defined with the normal distinctive blueberry/blackberry juice and finely cut crunchy fresh, cool, dark expression. Lifted by the wood too - although itVery thin soil before the rock. Bright and defined with the normal distinctive blueberry/blackberry juice and finely cut crunchy fresh, cool, dark expression. Lifted by the wood too - although it does not taste 'oaky'. Dense and will keep well. Drinking range: 2022 - 2028L&S (Oct 2020)

75cl bottles, case of 12
In Bond

2019 CÔTE DE NUITS VILLAGES Terres Nobles Domaine de la Douaix
From four plots in Corgoloin. Very dark fruit. Juicy and energetic - lots of body and concentration, and long too.From four plots in Corgoloin. Very dark fruit. Juicy and energetic - lots of body and concentration, and long too. Drinking range: 2025 - 2030L&S (Oct 2020)

75cl bottles, case of 12
In Bond

2019 CÔTE DE NUITS VILLAGES Vieilles Vignes Domaine de la Douaix
Very old vines - 102 years old in one plot, 86 in another - got their fruit very ripe and definitely contribute to the powerful density. There's tannin on the finish, and this is again a keeper.Very old vines - 102 years old in one plot, 86 in another - got their fruit very ripe and definitely contribute to the powerful density. There's tannin on the finish, and this is again a keeper. Drinking range: 2025 - 2032L&S (Oct 2020)

75cl bottles, case of 12
In Bond

75cl bottles, case of 12
In Bond
Domaine Huguenot
The Huguenots can trace their history in Marsannay and working in the vines back to 1789. Currently the domaine is run by Philippe. His father Jean-Louis expanded the domaine from five to twenty-two hectares (twelve in Marsannay, six in Fixin, and four in Gevrey) before handing over the reins. Philippe took the bold step of taking all twenty-two hectares into organic production (the conversion was completed in 2010), but immensely sadly he was forced to do a single non-organic treatment in 2016, because of the terrible conditions, so he was back to square one - three years to re-qualify for the organic label - but this should be in place for 2020. Philippe was initially unsure if he would try for the certification again - but for all that is not planning to change the way he works - it is, he assures us, better for him and the environment and and his workers as well as for quality, and the domaine will continue along organic lines. The 2019s are once again lovely wines with more or less structure and weight depending on whether they are from clay or more rock-dominated soils. The yields were down 25-30% - 35-40hl/ha depending on the soil. The vines on clay suffered less from the drought and the yields there were better. Harvested between the 16th and 25th September. There's been a lot of work done here on the winery, with new double-skinned vats for better temperature control and more space to work. Philippe is using around 20-25% new wood on his Premiers Crus and 50% on the Grand Cru.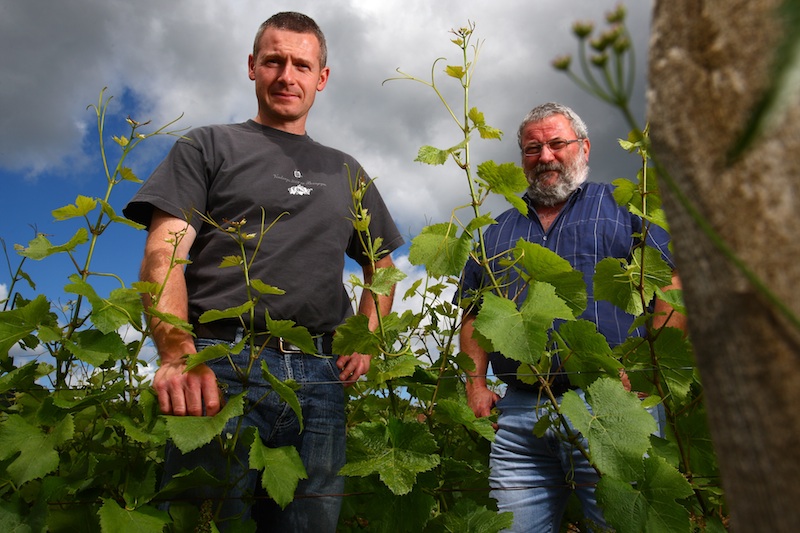 Domaine Thierry Mortet
The domaine dates back to 1992, when Domaine Charles Mortet was split between Thierry and his brother Denis, and Thierry set up on his own with just 4 hectares of vines. Today he has 7.3 ha, of which 6 are red and 1.3 white. Only 4.36 hectares are Gevrey or Chambolle, the rest being a small parcel of Marsannay Blanc and regionals - Bourgogne Rouge and Blanc, Aligoté and Passetoutgrain.
Thierry continues to be praised in the French press without ever quite seeming to crack the influential American journalists. It may be simply because he is a bit short of fancy appellations - one little cuvée of Grand Cru would no doubt do his reputation a lot of good - but might also put his prices up, and these remain very modest.
In the vineyard, Thierry has been certified organic since 2007, but really this was just an official stamp on what had been the practices of the domaine since the beginning, and he is working towards biodynamic certification. In the cellar, the grapes are entirely de-stemmed, and given four or five days of cold maceration are followed by the fermentation, with just a touch of cooling to keep the temperature around 31-33C (below 35, at least), and two pigeages a day. The total time in vat can be as little as 17 days. The wines then go into barrel, all second use or older for the Bourgogne, with 30% new wood on the Gevrey, and 50% on the Clos Prieur, for a period of around sixteen months.
Thierry's wines are fine and precise, tangy and long, never massive, but not insubstantial all the same. Thierry describes the 2019s as 'not as powerful as 2018, but fresher... frank and pure, virile'.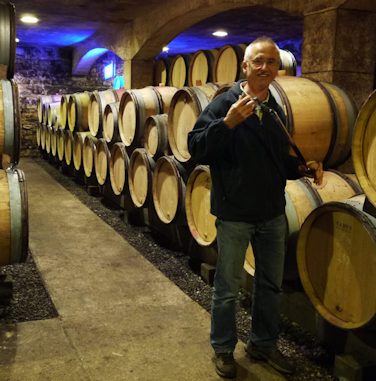 Domaine Stéphane Magnien
Stéphane's is a small domaine, a mere 4.5 hectares, with one full hectare of that in regional wine - Passetoutgrains and Bourgogne - but it is blessed with two Grands Crus and also a long history of not messing with nature. No pesticides have ever been used on this land, and the plants are nearly all the old 'Pinot tordu' - twisted Pinot with its gnarly stems which are less vigorous than the modern clones and said by many to make wines with more finesse.
Stéphane chaptalizes only to extend fermentations - these are wines which his father Jean-Paul used to describe as 'sage en alcool' - from 12 to 13% - the old vines do not make much alcohol. Wood use is also discreet, never exceeding 20% new wood on the Grands Crus, 15% on the Premiers Crus and on the village appellations, 10% new wood for one year only, then all into older barrels.
Stéphane says that he aims to make wines with more richness than his father's, 'but not black angular wines which have less relief. Wines which leave your mouth clean and clear, refreshed and revived and, above all, wanting another glass'. He destems 100%, gives the grapes a six-day maceration, then a classical fermentation with just two pigeages, and a little remontage (pumping over) at the end.
Stéphane told us that the two hot dry periods (end of June and end of July) had really stopped the maturation of the grapes, but that the 20mm of raid that fell on Morey in the third week of August really got everything going again. He also remarked on the high levels of tartaric acid.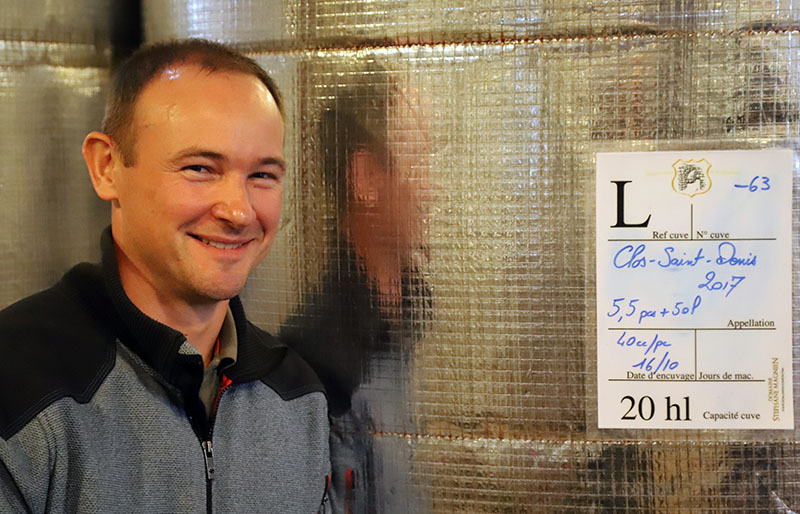 Domaine Christian Clerget
A domaine of 6 hectares, with 8 appellations, run by Christian, Isabelle and their daughter Justine Clerget from their house in the northern end of the little village of Vougeot, which is really in the commune of Chambolle. They have been organic (certified) since 2017, Justine having insisted on it when she joined them, but it sounds as though she was pushing at an open door, because Christian is entirely committed to this approach and clearly believes that good wine starts with the vines.
At harvest the grapes are picked into small cases for the short trip to the winery which really is right in the middle of their holdings. They adapt to the vintage conditions, so that they did 2 pigeages in total in 2019, whereas in 2017, they did one a day throughout the fermentation. In 2018 they did some whole bunch fermentation, but reverted to their normal complete destemming in 2019. At the end of the alcoholic fermentation Christian decants into tank, allows the wine to settle for ten days, then puts the wines into barrel where they stay without racking until bottling. They are using about 30% new wood on the villages and 40% on the Chambolle Charmes and the Échézeaux, and the wines say in barrel for a long élevage of 18-20 months.
2020, Justine told us, was in some ways more like 2017 that 2018 or 2019 - lots of sun but not the same heat.>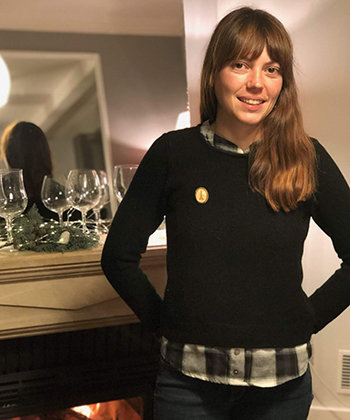 Domaine Lignier-Michelot
A domaine of 11 hectares, 25% regionals, 50% Villages, 20% Premiers crus and 5% Grands Crus. Virgile Lignier worked at the domaine with his father Maurice from 1988, beginning to bottle some of the wine from 1992 (it had previously been sold to the négoce), taking over in 2000, which was the vintage when he first bottled all the domaine's production.
In the vineyard Virgile made significant changes, stopping the use of herbicides, and beginning to plough instead. Green harvesting to limits yields followed, along with greater attention to grape selection. The domaine works organically except in extremis.
The wines have a lovely combination of enough body and richness, combined with a lively clarity of expression. The old vines village cuvées are seriously good, and great value too. Going up the scale each site seems to speak very clearly of its source and there is a brightness and energy along with full, seamless fruit.
In 2019, Virgile told us, he is down 15% in volume, but that 2020 is 25-30% down. '2019 is an excellent vintage - it's very fine and elegant and pure' he said at the outset, and then when we got to the Grands Crus in the tasting, he said 'everything is at a super level, but the Grands Crus are way out ahead - the mark of a truly great vintage'.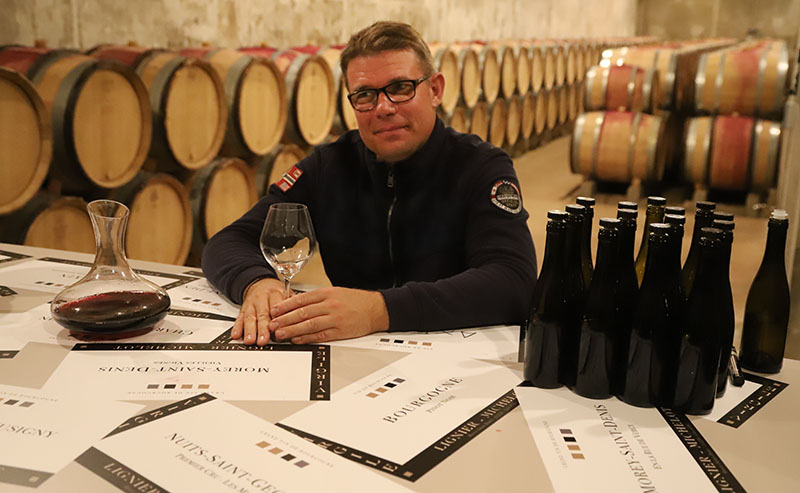 Domaine J. Confuron Cotetidot
Vignerons since the seventeenth century, the Confuron family has always selected and propagated vines to ensure that their plant material produces the highest quality, and they even have a clone of Pinot named after them - 'Pinot Confuron'.
The domaine has several Grands Cru vineyards as well as two hectares of the great Vosne Romanée Premier Cru 'Les Suchots'. There are around 12 hectares in all. The vines have never seen chemical weedkillers, and are ploughed and managed organically.
The Confurons have always used whole-bunch fermentation, picking very late, which really is a necessity if the stems are to be properly ripe and not give green flavours to the wine. A bit like the Thévenets with their whites in the Maconnais, they pick so much later that they can seem to have different vintages to everyone else. Yves thinks that 2007 was their great vintage of the first decade of this millennium, and he'd probably be the only grower in the Cote de Nuits who would say that. Yves also makes the wines at Domaine de Courcel in Pommard, in the same way.
'An exceptional vintage', says Yves. 'Not ripe but concentrated - like dried tomatoes.' They need extensive élevage to sort them out, but time in barrel will do that. But it is an extraordinary vintage, in which the fruit is supported not by acidity but by the tannins. As he says, the tannins are not elegant, but the carry the wine and bring freshness and balance. The vigour from the tannins is great in the concentration of 2020, but would be awful if alongside a vintage of more normal density. As for the 2020s from the other domaine that Yves manages, de Courcel on Pommard, these are exceptional, 'baroque' wines which some critics will struggle to understand, especially if they taste them alongside early-picked and infused wines which are ready for bottling already - as opposed to these which have another year in barrel to go. Yves defends his decision to pick when fully ripe - 'you miss the differentiation between vintages' if you don't - making 'cut-and-paste' wines which are the same every year. These wines are not heavy, but concentrated and rich. As Yves says 'if you pay for a seat at the opera, you don't want to hear a variety singer'.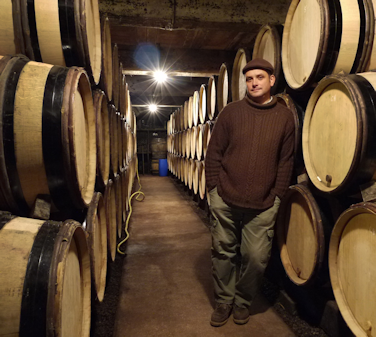 Domaine Faiveley
The Faiveley family are the largest vineyard owners in Burgundy, owning around 120ha, spread across the Côtes de Nuits, Beaune and Chalonnaise and encompassing everything from generic Bourgogne up to the grandest of Grand Crus. Their holdings supply the grapes for 5 out of every 6 bottles made by Faiveley, the balance being bought in from carefully selected contract growers.
Faiveley has been more and more impressive in recent years, and the combination of winemaker Jerome Flous and an entirely new winery can only build on that.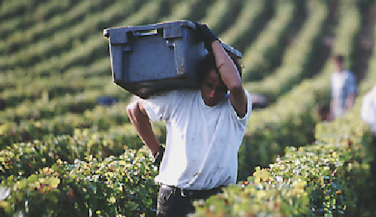 Domaine Joseph Drouhin
Joseph Drouhin, founded in 1880 and still family owned, are one of the most well-respected names in Burgundy, especially through their flagship wine, the iconic Clos des Mouches.
A huge part of the Drouhin production comes from their own domaine fruit (78 hectares), and much of the rest comes from contracts such as that with the Marquis de Laguiche, who shook hands with the grandfather of the current generation, agreeing to let him manage his vineyards which included an important part of Le Montrachet; this collaboration endures. Today, the fourth generation is at the helm
Small refinements continue to be made here. The presses have been changed - a reversion to basket pressing for the reds, and for whites the presses are open - along with a number of other growers they are following the trend to think that slight oxidation of the juice before fermentation is not a problem and may add complexity as well as avoiding later problems of premature oxidation in bottle.
For the reds there has been the introduction of selective whole-bunch fermentation in the Côte de Nuits wines. The house style remains one that 'emphasises the natural elegance of great Burgundies' as they describe it. The domaine is all cultivated with an organic and biodynamic approach.