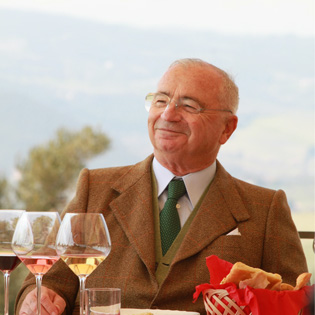 Castello del Terriccio
Italy, Tuscany
The Castello del Terriccio estate is one of the most beautifully situated along the entire coastal region, some miles north of Bolgheri. The 60 hectares of vines enjoy wonderful exposure, overlooking the sea, benefitting from its warmth and brightness. The vineyards are surrounded by 'maquis' and eucalyptus trees, which as well as protecting them, also contribute to the aromas and scents that so characterise the Terriccio wines.
Planted predominately with Cabernet Sauvignon, Sangiovese, Merlot, Petit Verdot and Syrah, the wines are made by consultant oenologist Carlo Ferrini, who has to date brought thirteen 'Tre Bicchiere' awards to the estate.
These are wines that can be approached almost immediately and yet age so well over a decade and more.
Owned by the extraordinarily charming Cav. Gian Annibale Rossi di Medelana Serafini Ferri, once a talented horseman and still a passionate breeder.
Castello del Terriccio is a large, sprawling estate located in the north of Maremma. These hillside vineyards overlook the ocean, which contributes to the unique microclimate at the property. A recent vertical of the estate's flagship Lupicaia going back to 1993 found the wines in great shape, with tons of freshness as well as notable complexity and nuance. That tasting will be posted on www.erobertparker.com in the near future. The winemaking team, led by consulting oenologist Carlo Ferrini has done a fabulous job with these 2005s. The vintage wasn't an easy one, as rainfall was greater than normal and temperatures were on the cool side. Still, all of these wines show exceptional balance. Over the years the use of new oak in the top wines has come down, and what had begun to emerge is a wonderful clarity of the fruit that is grown on this remarkable property. The entry-level Tassinaia can be considered the second wine of Lupicaia. Robert Parker, The Wine Advocate, www.RobertParker.com