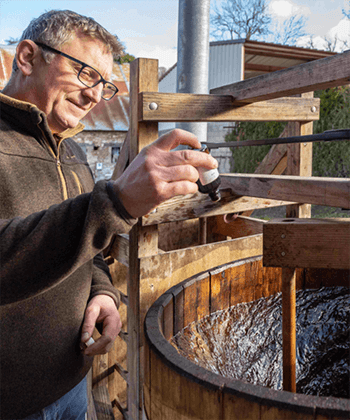 Champagne Christophe Mignon
France, Champagne
https://champagne-christophe-mignon.com/en/home/
Christophe Mignon is a fifth generation vigneron working in the Marne valley on 6.5 hectares of vines between Le Breuil and Festigny, with his wife Laurence and Loann, one of their two sons. Although a small domaine there are still around 30 different plots helping to give complexity to the wines, which, apart from a small cuvée of Blanc de Blancs, are all pure Pinot Meunier.

Christophe believes in working alongside nature as he perceives it even if this turns out to be the harder way. Although not certified, his commitment to biodynamic, homeopathic and geobiological farming clear to see on any visit.

Having harvested the ripest fruit possible, the grapes are pressed quickly and fermented slowly, with no malolactic, nor filtration, and very limited SO2. The wines that result are very dry (he does some cuvées with no dosage) and rather dramatic, even quite extreme.