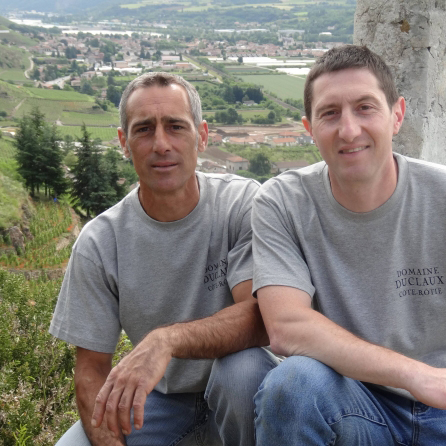 Domaine Benjamin et David Duclaux
France, Rhône
https://www.coterotie-duclaux.com
Founded by Frédéric Caillet, the great-grandfather of brothers Benjamin and David, in 1928, and then developed by their father Edmond, the domaine consists of 5.8 hectares of vines above Tupin et Semons, in the southern end of the Côte Rôtie appellation, where the bedrock is gneiss and granite. Production is limited to a total of around 2000 cases a year for the whole domaine.
The brothers are aiming to make the elegant style of wine which this rocky vineyard produces - and they certainly succeed. The Chana (Syrah with 7% Viognier) is a cuvée that is simply a 'gourmandise', supple, aromatic, fresh, pure. The Germine (Syrah with 3% Viognier) and the Maison Rouge (100% Syrah) are more structured, and while they can be drunk young, they will give their best with some age. The Domaine has also produced a small volume of Condrieu since 2014.
The wine-making is gentle, there is 20% whole-bunch in the Germine, but otherwise the grapes are de-stemmed. The Chana is aged in demi-muids, the others in smaller barrels - the Maison Rouge getting 40% new wood.