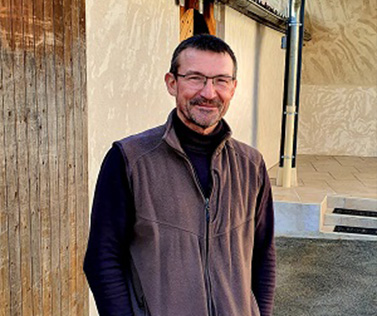 Domaine Chevalier-Métrat
France, Beaujolais
Sylvain et Marie-Noëlle Métrat work their immaculate vineyards traditionally in this beautiful corner of Odénas just on the southern side of the Mont Brouilly. This family farm is on a small scale just 9 hectares now, but done with real passion and much hard work.
When we last visited, Sylvain did not want to waste a moment waiting around for us to arrive, so we found him working away in the vineyards nearest the winery - the best place to wait for us without missing a moment amongst his old bush-vines where there is always something to do!
In an effort to not over extract flavour or tannins Sylvain avoids any pigeage during fermentation instead he gently submerges the cap and creates more of an infusion. This gives delicacy and an elegant complexity to the juice. The wines are the best we have tasted from this part of the world and offer incredible value for gorgeously crafted, serious wines from beautiful old vines. These are pretty, complex and really joyous.