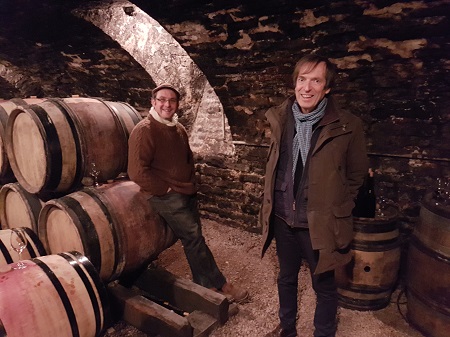 Domaine de Courcel
France, Burgundy
One of the great domaines of Pommard, with a 400 year history in the same family. The domaine produces a small amount of Bourgogne Chardonnay, a completely over-performing Bourgogne Rouge, a village Pommard (Vaumuriens, 1.44 ha), but the biggest part of the domaine consists of four great Premier Cru expressions of the terroir of Pommard, Fremiers (0.79 ha), Croix Noires (0.58 ha), Grand Clos des Epenots (4.89 ha) and Rugiens (1.07 ha). These represent a very different style to the Clos des Épeneaux of Comte Armand, for example. Yves Confuron, the régisseur, describes the difference between the two top wines by saying that the Grand Clos is 'terreux' while the Rugiens is 'aérien'.
The aim is to limit yields to around 25hl/ha, to attain optimum ripeness. The vines are ploughed, and pruned carefully to suit each one, then de-budded in spring and green-harvested in August to keep the fruit load balanced. Following Yves' usual practice the harvest is late and the vatting is long - usually around a month, with a cold maceration leading into a cool fermentation, and a long post-fermentation soak under the protection of the carbon dioxide given off by the fermentation. The wines are developed in barrel over 21 to 23 months, with a third of the barrels being replaced each year. After racking they are bottled without fining or filtration.
The domaine produces wines with astonishing depth and density that still retain the freshness, just like Yves' own wines at Domaine Confuron-Cotetidot. They are classic vins de garde and patience is advised - and will be amply rewarded.
On the 2018s and vintage styles: "In 2018, like in Vosne, he picked the grapes at full phenolic ripeness and the wines are, as he decribes them, plus Rhodaniens que Bourguignons (comparing them to wines from the Northern Rhône). Yves says that it is hard to know what the 1947s were like at the time, as no one can remember, but that he'd wager that they were like this. He compared the 2018s to the last very hot vintage, 2003; the difference, he says, is that in 2003 the lack of water caused both blocage de maturité, when the vines shut down for lack of water, and also the grapes shrivelled as they dried in the unrelenting sun. 2018, he says, is different - there was in most places enough water stored in the ground, and the ripeness is more developed - and so are the wines, which for him are very complete and so well-balanced that they will age for decades." (Charles Lea, November 2019) L&S (Nov 2019)