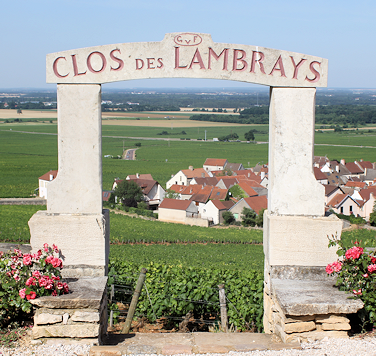 Domaine des Lambrays
France, Burgundy
The 'Clos' consists of 8.66 hectares of land enclosed by a wall in which there is the original milestone marking its founding in 1365, confirmed in the records of the Abbaye de Citeaux (those monks knew where to place a vineyard). The Clos owes much of its current fame to the nineteenth and twentieth century proprietors who reconstituted it after the fragmentation of ownership which followed the French revolution. Despite always having been considered a Grand Cru site, the Clos was in fact classified Premier Cru in the original 1936 appellations contrôlées.
The Rodier family which owned it from the 1930s fought to regain its Grand cru status, with eventual success only in 1981, when it became the last of the thirty-three Grands Crus of Burgundy, although by then it had passed to the Saier family. Recently under the benign ownership of the Günther Freund and his family, who gave a very free hand to régisseur Thierry Brouin, who had been employed by their predecessor Rolland Pelletier de Chambure, the quality of the wines here has pushed up again. In 2014 it was bought by the LVMH group.
It has been all rather quick change here as Jacques Devauge has taken over here after a short interregnum under Boris Champy. The legacy of Thierry Brouin can still be felt, Jacques decribing him as having been 'clairvoyant' in his approach to the domaine, which has set it up well to deal with challenges of warmer vintages. Jacques seems set to take this estate onward - 'every domaine has to challenge itself to do better', he says. 2019 marks the second year being fully organic - if all goes well they will be certified after another two.
2019 was Jacques Devauges' first vintage in full charge, with two major changes to past production: the vineyards were run organically, which is not easy to organise on steep slopes where the vines run across the hillside rather than up and down slope: a special tractor which can be stabilised had to be devised. The other principal change was to vinify on a 'parcellaire' basis. I tasted each of the blocks which was a fascinating exercise. Jacques will keep them separate until the wines are racked to tank a couple of months before bottling. He will use all the components except the youngest vines which have already been declassified to the Morey St Denis 1er Cru. Early days yet, but Jacques' first vintage shows great promise for his vision of Clos des Lambrays. The reds were picked from 13th September through to 18th. Yields were very low at 22 hl/ha in village and 1er cru, 15 hl/ha for the Clos. Degrees were fine varying between 13% for the village wine to 13.6% for the grand cru. Jasper Morris - Inside Burgundy (Nov 2021)