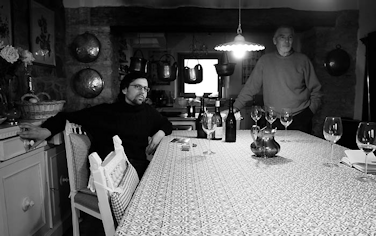 I Clivi
In the early 90's Ferdinando Zanusso acquired two ancient vineyards - twelve hectares of very old vines on steep, terraced hills in two of Friuli's best sites: eight in the Corno di Rosazzo, in the 'Colli Orientali del Friuli DOC district, and four in the Brazzano di Cormons, in the Collio district. Although the vines were in pathetic conditions, he saw that they could be saved.

Ferdinando's aim was to make as 'transparent' a wine as possible, in which soil, climate and tradition show through the wine without interferences, intervention or 'improvements', giving, in short, the purest expression of 'terroir'. This is achieved through organic cultivation in the vineyard, with naturally low yields (seldom reaching 20 hectolitres a hectare), and spontaneous, non-interventionist winemaking to ensure absolute integrity.

The first wine produced was in 1996. The wines are fermented using the vineyard's own yeast cultures, undergo subsequent malolactic fermentation and are matured in stainless steel tanks for two years, with no racking or filtration.

The Brazan and Galea vineyards are on the sea-facing slopes of Collio and Collio Orientale del Friuli, on a mixture of limestone, clay and sandstone. The Brazan vineyard has steeper slopes and more humid soils giving characteristics of licorice and spice. The Galea is a cooler vineyard but with more sunshine producing earthier wines with honeyed and mineral notes. For such 'simple' wines these are in fact quite intellectual.