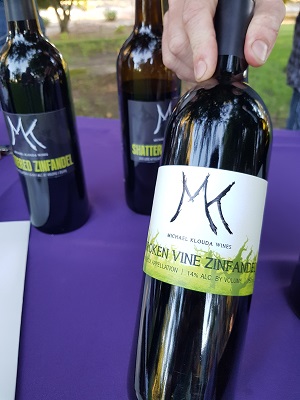 Michael Klouda Wines
USA, California
http://drinkmkwines.com/
We were delighted to meet Michael on a recent trip to Lodi, the Californian heartland for great Zinfandel. Fresh faced and gently spoken Michael is a natural talent, crafting subtle, elegant wines from some prize plots in Lodi. His day job is with the brilliant Michael David winery, but the real magic happens with his own small scale project where he selects plots and picks early as he strives for freshness in the juice and some lift in the wines.
Incredible natural ability and a fresh, open-minded attitude mean his wines are some of the very best we have tasted with impressive tight lines for wines from this part of the world.
Surely a star of the future Michael is one to watch.
I'm told my story is a unique one. I was born and raised in Ohio and have worked outdoors all my life. In Ohio it gets rather cold so I would have to find work indoors for the winter months. I started to cook for money, this is where I fell in love with wine.

Great friends, good food, amazing wine and long nights, you know how it goes. One year I said the hell with it, I'm going to make wine. I came out to California to work in the vineyards. I flew into Los Angeles, bought a car for $500 and drove it up to Lodi. It took me a while to make it to town in a $500 car but I had some great times along the way.

I could not be any more thankful for the town I landed in. The people in the wine industry here have opened their arms and welcomed me into their homes. I am proud to provide to you with a taste of what this town has to offer.

Winemaker's notes (Aug 2016)