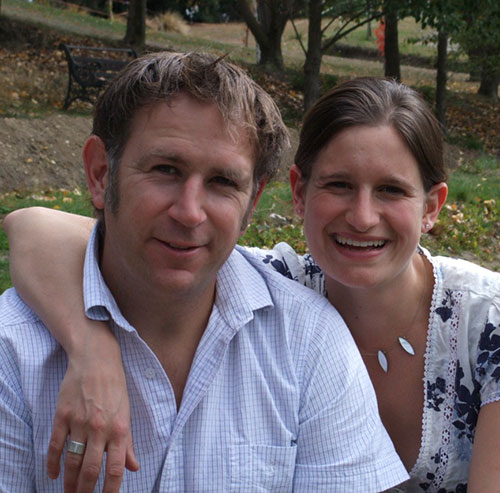 Rippon
New Zealand, South Island
Nick Mills returned home after several years away, working with the likes of Alain and Sophie Meunier at Domaine JJ Confuron, and Pascal Marchand (late of Domaine Comte Armand and then at Domaine de la Vougeraie). This experience with some of the leading players in Burgundy has fired him with enthusiasm, and we are already seeing the fruits of his experience in the changes in viticulture (to bio-dynamism) and the increased depth of mineral complexity in the wines.
Nick Mills on Biodynamics: 'Granted custodianship over this very special piece of land, the family's principle goal is to create vins de terroir, wines that are an accurate reflection of their surroundings. It is the micro-life in our soils which, in their ability to metabolise minerals into a form that vines can assimilate, are the link in between plants and the earth. This simple biology is the essential framework in producing a wine which is true to its soil and site. With this understanding comes an absolute respect for the land and life therein and it is for this reason that Rippon is run biodynamically.
Decisions made in the vineyard and winery first consider the effect the outcome may have on the micro-flora of the soils, vines & wines. Rippon does not use herbicides, fungicides, pesticides or soluble nitrogenous fertilisers on the property. All the property's organic waste matter is recycled to make around 40 tonnes of fungal dominant compost every year. This is spread back over the land during the first descending moon after harvest as an inoculation of beneficial micro-flora for the whole property...and thus starts a diverse and vital web of life on which to live and produce.
Nick Mills' Rippon Pinots can appear a bit austere and taut when they're young as he refuses to bow to the trend for earlier drinking styles and is unrelenting in his aim to produce terroir expressive wines built to age. These wines really open-up after a few years in bottle, developing gracefully into some of the longest living Pinots coming out of New Zealand. Though this estate may be somewhat under the mainstream radar, it comes highly recommended by me! Lisa Perrotti-Brown, RobertParker.com
It was only when I looked around the table that I knew for certain this was what everyone else saw too: that the paradox of a great pinot is that it is virtually impossible to produce but exudes an air of perfect ease. That's why the only way to taste pinot is to put your brain to one side and respond with your most atavistic emotions. I was thinking about this recently as I tasted the pinot noirs made by Nick Mills, an earnest, detail-obsessed winemaker from New Zealand. Mills grew up in the vineyards – ''I helped to plant them as a boy'' – and before immersing himself in wine as an adult spent five years as a competitive skier on the New Zealand ski team. ''Then I blew my knee four months before the 1998 Olympics, going at a control gate far too fast,'' he explained. ''Oh, I had a far nastier accident the year after,' he continued cheerfully, ''that's when I split my kidney in half… there was blood everywhere and…'' All right, that's enough. It's fair to say that Mills wasn't exactly coming across as a dreamer, but then I got him on pinot noir and he went a bit funny, just like everyone else. ''I'm not trying to make a pinot noir, I'm trying to deliver a pinot noir from the site. The main thing is to make it into something that's not pinot noir.'' Like de Villaine, he's talking about ghosts again, and the grape's ability, as its vines grow older and as the wine it makes ages, to conjure a part of the landscape in the glass. Victoria Moore, The Daily Telegraph