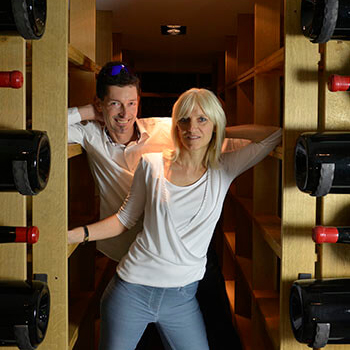 Weingut Kollwentz
Austria, Burgenland
https://www.kollwentz.at/
The Kollwentz estate is on the Leithabirge in Burgenland, where there is a long history of winemaking. The region has a very specific 'Pannonian' climate, marked by cold dry winters, hot dry summers and also, critically, often benefits from 'Indian' summers - a long fine autumn in which the grapes ripen fully and can be harvested at the optimum moment. The nearby Neusiedlersee lake, which is over 320 sq.km. is an important factor in regulating the temperatures.
The Kollwentz family cultivate 25 hectares of vines in sites that were already known for wine production in the 16th century. The vineyards stretch from the foot of the Leithabirge, at 170m above sea level, up to the Gloria vineyard at 325m. Generally the reds are grown below 200m, in the deeper soils, while the whites are above.
Viticulture is traditional, by hand, and all the wines are hand-picked. They are proud to say that 'botryicides, no insecticides and no herbicides' are used, but also that they don't make orange wine. All the wines are aged in barrel for between six and thirty months.
Anton Kollwentz, who took over at the age of 18 in 1940, is responsible for the much of the success of the estate. Starting with the sweet wines, then moving on to establishing a reputation for the dry whites, then taming the rude tannins of Blaufränkisch with malolactic fermentation and barrel ageing, he paved the way. The current winemaker is his son Andi, who, with his wife Heidi, took over in 2004. Recent vintages have won a impressive roster of awards in both colours - indeed in every category in which they make wine.