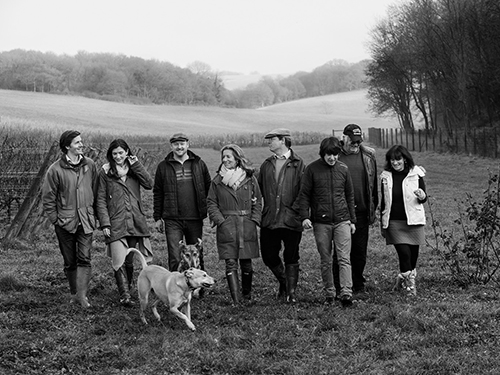 Wiston Estate
United Kingdom, English Sparkling Wine
https://www.wistonestate.com
The beautiful family-run Wiston Estate is nestled in the heart of England's rolling South Downs in West Sussex. The vineyard lies on an exceptional, south-facing chalk escarpment similar to Champagne, and planted to the classic grape varieties Chardonnay,Pinot Noir and Pinot Meunier. Employing time-honoured methods, Wiston produces sparkling wines of exceptional finesse and quality.

Wiston Estate has been in the hands of the Goring family since 1743 and is presided over today by Harry and Pip Goring. The estate is managed by their son Richard and both he and his wife, Kirsty, are now involved in the day to day running of the vineyard and winery. It was Pip's long-held conviction that the estate held the potential to grow high quality grapes. The 16-acre vineyard, planted in 2006, was the fruit of her dream and tenacity. Wiston Estate is a family venture, small in scale, impressive in aspiration and unrelenting in pursuit of quality. Under the aegis of award-winning winemaker Dermot Sugrue, the tight-knit team spares no effort in the vineyard or winery.

As part of a larger agricultural estate with the utmost respect for nature, Wiston's vineyard is run according to a strict philosophy of sustainability. The team's pioneering efforts include the installation of solar panels at the winery as a source of renewable energy. Similarly their use of a Boisselet cultivator allows them to manage root and weed growth by returning them gently to the soil, rather than resorting to 'quick fix' chemical herbicides and synthetic fertilisers.

The vineyard is planted on an escarpment of pure chalk, similar to the renowned 'Côte des Blancs' in Champagne. Wiston Estate's vintage wines are picked by hand and gently pressed in England's only traditional Coquard press, one of the few outside France's Champagne region. The tiny yields (15 hl per hectare) are critical to Wiston Estate's purity, focus and elegance, and their aspiration to create a new benchmark for English sparkling wine.
DWWA Trophy winning winemaker Dermot Sugrue's wines are consistently exceptional. Susie Barrie MW (Jun 2019)
Dermot Sugrue is the best winemaker in England. Steven Spurrier (Jun 2018)