Domaine Fernand & Laurent Pillot
The origins of the Pillot family in Chassagne can be traced back to the eighteenth century, when they seem to have been coopers more than vignerons. In the nineteenth century they abandoned barrel-making in favour of enlarging the property in Chassagne. Fernand and Laurent, who is the fourth generation, added to it again in 1992, and then in 2001 Laurent's wife Marie-Anne inherited half of her family's property, the Pommard domaine of Pothier-Rieusset, and Laurent and his father bought the other half. The domaine now stands at 14.5 hectares of vines across almost the whole length of the Côte de Beaune from Santenay to Beaune.
The Domaine is worked according to organic principles and are ploughed – no chemical weedkillers are used. They have also been members of the Dephy-ECO-phyto group, which works to reduce the number of treatments using copper sulphate, since 2012.
Laurent has always managed to pack in a lot alongside his running of the vineyard. He has a sophisticated microlight which he flies to all corners of France, he keeps and hunts hawks, and conducts the Chassagne brass band as well as dabbling in Mayoral duties - on top of being a father of three, Anaïs, Adrien and Eugène. They are all mad about the alps and disappear up the mountains at regular intervals.
Laurent's eldest son Adrien has been travelling the world making wine all over the place for the last few years having completed his training in Beaune. Bringing back lessons learnt in Australia, South Africa and California (and from a stint at Lea & Sandeman) - he now helps Laurent with all aspects of the wine-making and viticulture at the domaine. The wines have long been L&S favourites in both red and white - they represent excellent value, and they age very well too, despite being attractive young. The whites are precise and pure, and not lacking for body and generosity, while the reds are velvety and juicy, beautifully balanced even if drunk young on their expressive Pinot fruit. The domaine was rightfully heralded in Decanter Magazine as 'an address that deserves to be better-known'. Great value and real pleasure across their range.
Read more about Adrien here in this recent Forbes article here.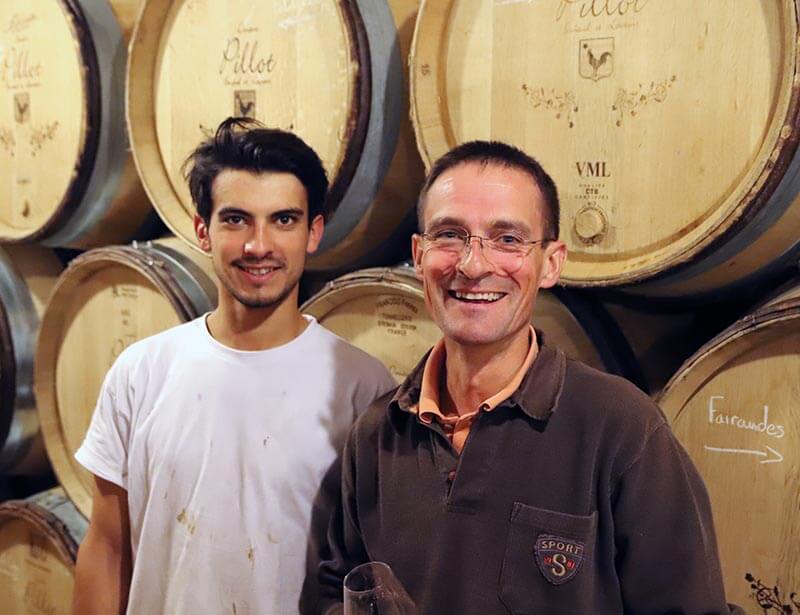 2018 POMMARD 1er Cru Rugiens Domaine Fernand & Laurent Pillot
100% de-stemmed. Very silk-velvet texture, a lovely coolly-stated juicy fruit. This is so pure and has terrific body and texture and balance - it will keep a long time on this balance. 2 buds on the100% de-stemmed. Very silk-velvet texture, a lovely coolly-stated juicy fruit. This is so pure and has terrific body and texture and balance - it will keep a long time on this balance. 2 buds on the 'taille', 3 on the 'baguette' for a low yield - not much of it but they want it to be a true Rugiens.L&S(Oct 2019)

Magnums, case of 6
In Bond
Domaine Huguenot
The Huguenots can trace their history in Marsannay and working in the vines back to 1789. Currently the domaine is run by Philippe. His father Jean-Louis expanded the domaine from five to twenty-two hectares (twelve in Marsannay, six in Fixin, and four in Gevrey) before handing over the reins. Philippe took the bold step of taking all twenty-two hectares into organic production (the conversion was completed in 2010), but immensely sadly he was forced to do a single non-organic treatment in 2016, because of the terrible conditions, so he was back to square one - three years to re-qualify for the organic label - but this should be in place for 2020. Philippe was initially unsure if he would try for the certification again - but for all that is not planning to change the way he works - it is, he assures us, better for him and the environment and and his workers as well as for quality, and the domaine will continue along organic lines. Philippe's father Jean-Louis died suddenly just before the 2019 harvest and Philippe was clearly still in some shock about it when we came to taste in last October. The 2018s are once again lovely wines which, while richer than some years still have have a lightness of tread and great purity and length, with more or less structure and weight depending on whether they are from clay or more rock-dominated soils. Philippe called it a 'very rich vintage', and said the wines were a little 'on their reserve' in the autumn. 'They need the patination of élevage', he finished.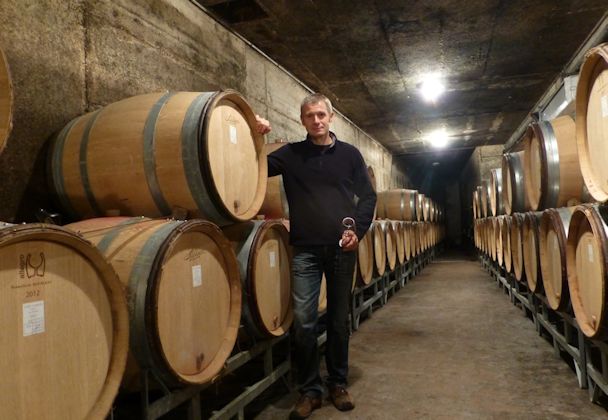 Domaine Lignier-Michelot
A domaine of 11 hectares, 25% regionals, 50% Villages, 20% Premiers crus and 5% Grands Crus. Virgile Lignier worked at the domaine with his father Maurice from 1988, beginning to bottle some of the wine from 1992 (it had previously been sold to the négoce), taking over in 2000, which was the vintage when he first bottled all the domaine's production.
In the vineyard Virgile made significant changes, stopping the use of herbicides, and beginning to plough instead. Green harvesting to limits yields followed, along with greater attention to grape selection. The domaine works organically except in extremis.
The wines have a lovely combination of enough body and richness, combined with a lively clarity of expression. The old vines village cuvées are seriously good, and great value too. Going up the scale each site seems to speak very clearly of its source and there is a brightness and energy along with full, seamless fruit.
In 2018 Virgile picked from the 5th to the 14th September (for the reds). The potential alcohols went up 1.5% in the week, he reported, mostly by concentration from the berries drying up rather than extra ripening. Fermentations were long and slow, with very little pigeage. The wines are then aged for 13 months in barrel, with about 30% new wood. It was a generous harvest - he made 48hl.ha on the Morey Vieilles Vignes even after doing a vendange verte. 'For me the key to the vintage was whole bunches and very light extraction' We repeat what we said last year: this domaine is in our view one to follow very closely as the prices have not yet caught up with the growing quality.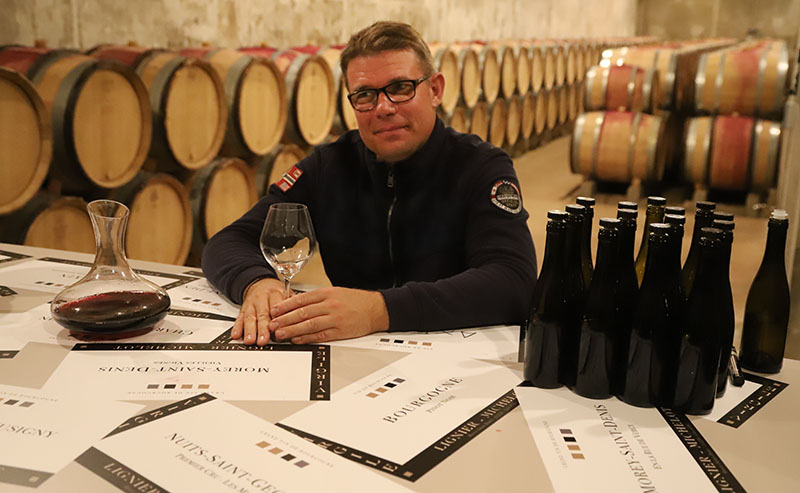 Domaine J. Confuron Cotetidot
Vignerons since the seventeenth century, the Confuron family has always selected and propagated vines to ensure that their plant material produces the highest quality, and they even have a clone of Pinot named after them - 'Pinot Confuron'.
The domaine has several Grands Cru vineyards as well as two hectares of the great Vosne Romanée Premier Cru 'Les Suchots'. There are around 12 hectares in all. The vines have never seen chemical weedkillers, and are ploughed and managed organically.
The Confurons have always used whole-bunch fermentation, picking very late, which really is a necessity if the stems are to be properly ripe and not give green flavours to the wine. A bit like the Thévenets with their whites in the Maconnais, they pick so much later that they can seem to have different vintages to everyone else. Yves thinks that 2007 was their great vintage of the first decade of this millennium, and he'd probably be the only grower in the Cote de Nuits who would say that. Yves also makes the wines at Domaine de Courcel in Pommard, in the same way.
Yves, opinionated and laconical as ever, dismisses those who make pale wines by 'infusion' and says that failing to get the whole bunches properly ripe - and using all the bunch - is failing to get everything the terroir can offer. The wines he makes are dark, richly concentrated, and often hard to taste in their development, but experience shows that they age brilliantly. He is sure that, if anyone could remember, the 1947s when young would have tasted like these young 2018s. He says that the vintage was exceptionally hot, with a hot wind from the north, so very concentated berries, and the result is a Rhonish profile - which seems logical to him. Flavours of black cherry and dark chocolate coming from the sucrosity of the ripe tannins. "I say the opposite of everyone else - a wine can be rich and durable - rich and balanced." He mentions the 2003s, which were wines we discussed along similar lines at the time and which frightened some buyers. We agreed that although the acidity was on the low side, there was plenty of tannin and the wines would age on the tannin rather than the acidity - and opening 2003s now proves this point, as his are still fresh and youthful. But the 2003s were always less well-balanced than the 2018s - the drought of the year resulted in tannins that remained dry, and while they may soften more with time, some will remain. The 2018s, by contrast, have tannins ripened to perfect sweetness and the resulting liqueur-like wines are in an extraordinary balance and will age unbelievably. Like the 1947s?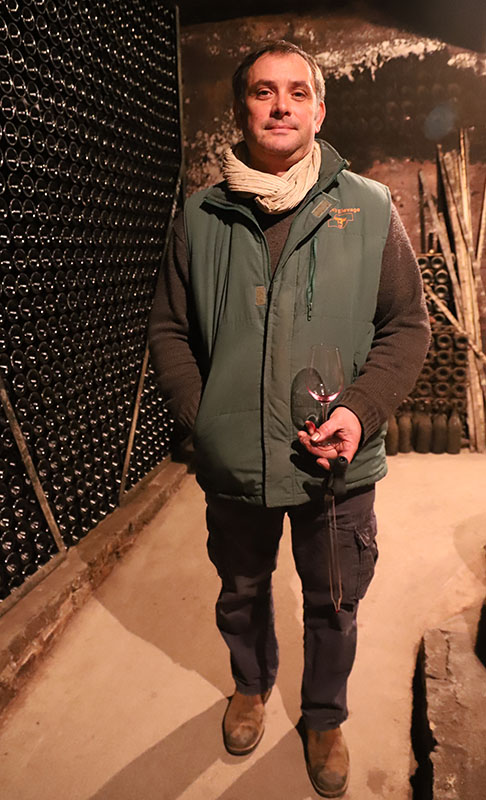 Domaine Faiveley
As we tasted with winemaker Jerome Flous he was keen to point out that this is a far more serious vintage than it may first appear. Yes there was a hot summer, but that is not the only story - these wines have great intensity too and are full of promise for the medium to long-term - despite the apparent up-front richness.
2018 is his 12th vintage at the helm of Faiveley and there is a reassuring confidence about him - these certainly all look very accomplished wines in the vintage. It has not been straightforward in 2018 - tricky climatic challenges aside. A stop-start fermentation in the cellar lead to some difficult, wild elements in the young juice. The lees were potentially quite 'dangerous' he says. So he racked all the 1er and Grand Cru wines very early to preserve clean and fresh fruit. He intends to give all the reds two winters in the cellar as they need a long élévage to 'finish off'. He'll start the bottling in March 2020.
Tasting them we were struck by quite how measured and tightly-wrapped they seem for now. Smart and sophisticated on the whole with good restrained power and intensity, impressive drive for 2018.
As is so often the way here each wine really has a sense of place and knows its spot on the pecking order. There are some real delights for drinkers.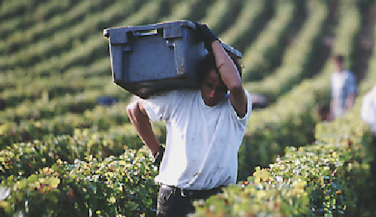 Domaine Georges Mugneret-Gibourg
The sisters Marie-Christine and Marie Andrée have been firmly in control of this exceptional domaine for some years now. With one a pharmacist and the other an oenologist, the domaine was always going to be in safe hands as far as the wine-making was concerned and in 2017, Lucie, Marie-Christine's daughter has joined the team officially. These are top-flight burgundies with that elusive balance of enough concentration allied with delicacy of expression and the capability of ageing well.
This year Marie-Christine spoke of 'new parameters' in Burgundy with higher fermentation temperatures up to 38C as opposed to the old maximum of 36C, which killed all the yeasts. The finished wines range from 13.6% to 14.4%. They picked from the 4th September and finished in five days. As usual everything is entirely de-stemmed.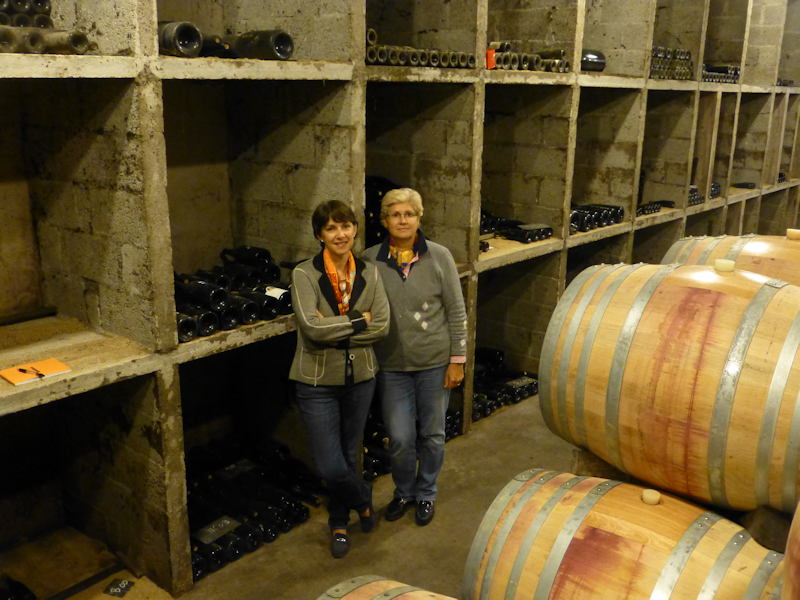 Domaine des Lambrays
The 'Clos' consists of 8.66 hectares of land enclosed by a wall in which there is the original milestone marking its founding in 1365, confirmed in the records of the Abbaye de Citeaux (those monks knew where to place a vineyard). The Clos owes much of its current fame to the nineteenth and twentieth century proprietors who reconstituted it after the fragmentation of ownership which followed the French revolution. Despite always having been considered a Grand Cru site, the Clos was in fact classified Premier Cru in the original 1936 appellations contrôlées. The Rodier family which owned it from the 1930s fought to regain its Grand cru status, with eventual success only in 1981, when it became the last of the thirty-three Grands Crus of Burgundy, although by then it had passed to the Saier family. Recently under the benign ownership of the Günther Freund and his family, who gave a very free hand to régisseur Thierry Brouin, who had been employed by their predecessor Rolland Pelletier de Chambure, the quality of the wines here has pushed up again. In 2014 it was bought by the LVMH group.
It has been all rather quick change here as Jacques Devauge has taken over here after a short interregnum under Boris Champy. The legacy of Thierry Brouin can still be felt, Jacques describing him as having been 'clairvoyant' in his approach to the domaine, which has set it up well to deal with challenges of warmer vintages. Jacques seems set to take this estate onward - 'every domaine has to challenge itself to do better', he says. 2018 marks the first year being fully organic - if all goes well they will be certified after three.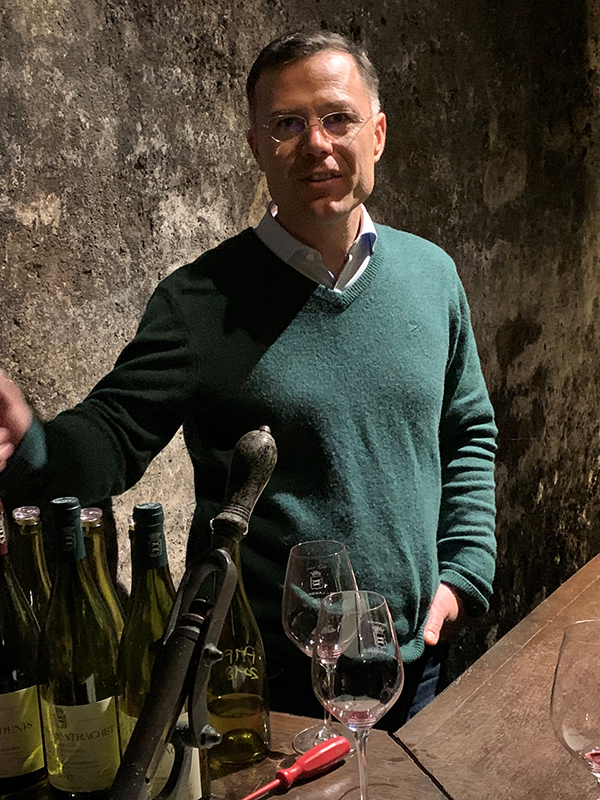 Domaine Christophe Perrot-Minot
Christophe is now the fourth generation of his family producing wine on the estate after his great grandfather Amédée Merme devoted himself to the management and production of wine over 130 years ago. The estate has gone from strength to strength – always keeping the highest standards. Integrated viticulture has been practiced for many years now which has been adapted especially for the terroir. No herbicide or chemical fertilizer is used, instead, Christophe prefers to "stand back and listen to this terroir, only intervening when necessary or when the weather requires it, never systematically." This is one of the star domaines of the whole of Burgundy.
In 2018 he picked 'not early, not late - the 5th September to the 14th was the right time for us'. He wanted to keep as much freshness as possible so painstakingly cut out all overripe bunches - and berries from bunches. There were a lot of parcels which suffered from hydric stress, so he kept the best bits and delassified the rest. About half of his Beaux Monts is in the village Vosne (so we are sorry if you don't get any this year), and the top part of Combe d'Orveau also suffered from lack of water and did not make the cut - so the village Chambolle is 40% Combe d'Orveau. He used 50% to 60% whole bunches throughout - almost no pigeage, just remontage, and only 20% new wood, or, on some of the smaller cuvées, no new wood at all (as it's not possible to put only 20% new wood in a two or three-barrel quantity). The alcohol levels are 13.2% to 13.5% across the range, but the bits he left out made ten barrels of Bourgogne rouge that is at 15.4%, so leaving that in would have raised the average.