Last night over twenty top city names hosted tables at what has become one of the NSPC's top annual fundraisers, the City Fine Wine Challenge.
A Champagne Barnaut reception was followed by an interactive quiz, with me acting as quiz master, and almost the entire Lea & Sandeman staff helping to pour wines throughout the evening.
Questions relating to the wines, as well as more general wine knowledge taxed the audience who were given the opportunity to buy 50/50 clues as well as outright answers.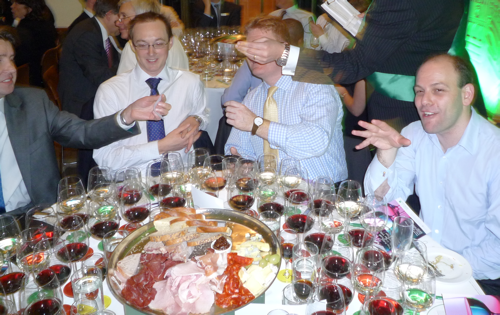 The white wines included two Kiwis, 2008 Gladstone Sauvignon and Rippon Gewurztraminer, followed by a not-so-classic rich white Burgundy from the incredibly talented Jean Thevenet, 2005 Viré Clessé Quintaine. The red wines were Emmanuel Reynaud's old vines Grenache-based 2005 Château des Tours Côtes du Rhône, a beefy  2006 Greenock Rise GSM from Maverick in the Barossa, and a classic Pomerol in the form of 2000 Seuil de Mazeyres. The quiz was rounded off with a glass of the rich and raisiny sweet Pedro Ximenez 'El Candado' from Valdespino, accompanied by raisin and Rivesaltes flavoured dark chocolates from Demarquette.
A lively auction, conducted by Allsop's most ebullient auctioneer Duncan Moir, kept everybody on the edge of their seats, raising over £30,000.00 to add to the evening's total.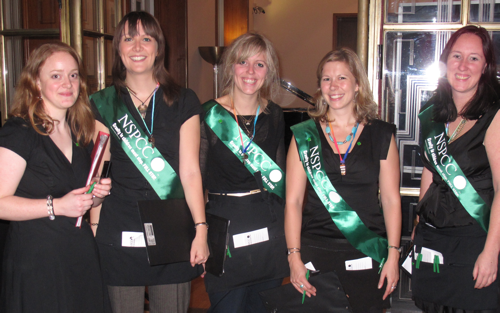 On the back of the evening's great success I launched my own Marathon bid, pledging to run the 2010 Virgin marathon (my very first marathon, and on the wrong side of fifty) on behalf of the NSPCC – look out for my sponsorship appeal in February 2010!