Ophelia Hirst's Wine List
At this time of year, with the temperature dropping and nights drawing in, I find myself gravitating towards weightier whites and hearty reds. However, there is always space for fizz, and GONET-MÉDEVILLE Blanc de Noirs Brut 1er Cru NV is just the ticket. With a coppery pink hue from gentle skin contact, this is rich and delicious and elegant, with enough depth to warm the cockles this Autumn.
For a quintessential Autumnal white wine, Tim Hillock's Chenin Blanc has everything I'm looking for. Gorgeous weight and structure, delicious fruit and incredible value - this is a real banker. It's also the time to start tucking into some southern White Burgundies, and the 2019 SAINT VÉRAN La Fournaise from Domaine Frantz Chagnoleau is in a very good place. And for a real treat, why not go for a delicious 2020 CONDRIEU Chéry Domaine Rémi Niero, from the true heartland of Viognier.
I don't know if it's some sort of pathetic fallacy, but with the leaves changing colour and falling from the trees, but I look for something 'mulchy' in my reds. Be this the delicious 2017 RIPPON 'Rippon' Mature Vine Pinot Noir, just showing a sign of that tertiary maturity, or a trifecta of Grenaches - the delicious pinoté A Dos Manos from just outside of Madrid, the 2020 REBELLIE Grenache Van Niekerk Vintners, a jewel-like, transparent beauty, or Albert Jane's 2019 BRAO Vinyes Velles Nobles Acústic Celler for a bit more power and oomph - these all really are hitting the spot for me. And it would be rude to ignore Italy, and I find myself consistently returning to 2015 TERRAZZE CHIANTI CLASSICO Riserva Castagnoli, and with only a few cases left, I'll be snagging as many as I can carry!
Ophelia Hirst, Buyer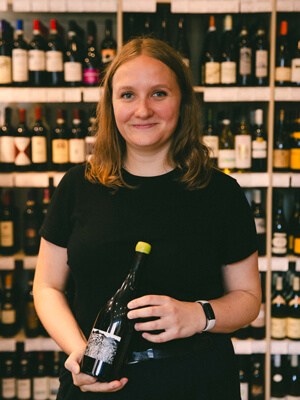 ORDER
COLLECT
ORDER ONLINE AND COLLECT FROM ONE OF OUR SHOPS