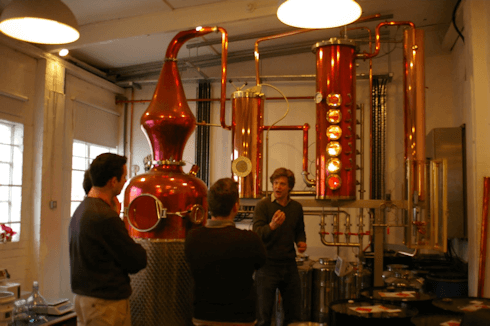 You'd think a distillery would be an easy thing to find but, as we turned into Nasmyth Street in Hammersmith, obvious signs of a distillery there weren't.  Nasmyth Street is a pretty urban street adorned with pleasant looking, respectable houses.  An industrial quarter it doesn't possess, there are no chimneys billowing pungent smoke into the atmosphere, no gin laden lorries trundling away with vital supplies for far-off places, no bright neon signs loudly proclaiming the home of London's newest and most original gin distillery.
We were just reaching the point of deciding who's fault it was that not one of us had made a note of the house number that we needed when, from behind an anonymous blue shed door, emerged the head of Sipsmith co-founder Sam Galsworthy.  "Hello, chaps!" the head said, a hand was proffered for shaking, and we were summoned inside.
The Sipsmith Distillery is the brain child of Sam, who was showing us around, and long time friend Fairfax Hall.
The distillery occupies a space the size of a large garage.  Despite having the air of a much loved garden shed, this building has quite an alcoholic history.  Apparently it once functioned as the brewery for a pub in the next street.  More recently it was the office for Michael Jackson, the beer and whisky writer.  But now, in its finest hour surely, it houses one of only two gin distilleries in London, and the first new gin distillery in England for 200+ years.  It also has within it the smallest bonded warehouse in the UK.
A new gin distillery in England is such a rare thing that Sam and Fairfax virtually had to invent the process of applying for a Distiller's Licence on behalf of HMC&E and, even then, the local office gave up and passed the matter on to their office in Glasgow!
At the back of shed, sorry distillery, is the most glorious Heath Robinson looking piece of equipment – Prudence, a Bavarian-built copper still.  Prudence, aside from being a thing of beauty, is an astounding device designed with many future projects in mind, capable of distilling all types of spirit including two very different styles of gin, whisky or even brandy.  Some colourful years lay ahead.
After explaining the science of the still, Sam moved onto a table spread with assorted different sized jars filled with all manner of dried roots, powders, seeds and peels.  For a brief moment we thought Sam and Fairfax had taken up Chinese medicine too but, just as I was about to run them through some rather embarrassing symptoms, Sam explained that these were the botanicals that give Sipsmith Gin its haunting flavour.
We were invited the crush juniper berries between our fingers – the finest Bulgarian juniper I'll have you know, none of the cheaper Italian juniper used in "other" gins.  We ground up coriander and dissected the aromas, we opened our mouths to inhale powdered liquorice that was wafted from a jar like some bizarre High Mass.  Each of the ingredients in the surprisingly unsecret recipe was explained, along with the unique processes.
Sipsmith is England's only "one shot" gin.  Most gins are made with a very high concentration of botanicals – the gin equivalent of Ribena, Sam described it as – before being 'diluted' down to the required flavour concentration with neutral spirit.  At Sipsmith, what comes off the still is what goes in the bottle.
Except, that it's a touch on the strong side at this point and needs to be massaged down to just over 40% abv.  De-mineralised tap water is good enough for most distillers, but, then Sam and Fairfax, are not most distillers.  A long, winding story told of Sam's search for the source of the Thames and ended up in a bore hole at the Lydwell Spring with pure water being extracted before it's had a chance to become a river and chucked into the back of a van driven by Mr Galsworthy.  Only this pre-Thames water is good enough for Sipsmith Gin.
And then came the tasting.
The first nectar past our lips was the Barley Vodka.  There wasn't any original plan to make a vodka – it sort of just happened.  In the making of the gin there is an initial, purifying fermentation, before all the botanicals are added.  The result of this is a very pure, smooth barley spirit – a vodka, in fact.  Sipsmith's rigorous selection of only the very heart of the spirit, and Prudence's clever design which only yields slowly distilled clean spirit, means that what is produced is pure and textured, with a gentle sweetish feel, and warming without any burn.  Too good to miss, so Sipsmith Barley Vodka was born.  About 40% of the spirit remains as vodka (teased down to sipping strength with Sam's pre-Thames water), whilst 60% goes on to enjoy a close relationship with a couple of kilos of juniper and other botanicals and another rattle round the inside of Prudence.
So, having eased down the vodka, we moved on to gin.  Beautiful aroma, lovely texture and a pure feel.  Again, warmth but no burn.  How many gins could you sip neat and enjoy?
But, isn't gin supposed to go with tonic?  Of course.  So young Sam, who was by now becoming one of our favourite people, rustled up a Sipsmith and tonic each – made with lime, not lemon, good call.  Delic'.
That should have been it except for an intriguing large glass jar full of something deep ruby red that sat on a table nearby.  "What's in there?" quoth one of our number.  Within an admirably short number of seconds we were each in possession of a small glass of experimental Sipsmith Sloe Gin.  Wow!  Such pure, crunchy, almost but not quite tart, berry fruit.  "Bottle it!  We'll sell it!" we demanded, Sam smiled an enigmatic, non-committal smile.
That should have been it (again) except the words "What's mustard vodka?" escaped from my lips, and the experimental mustard vodka bottle came down from the shelf and decanted itself into some more small glasses.  This the first distillate re-distilled with a tin of English mustard powder.  It's part of an experiment to perfect the Bloody Mary.  Mustard vodka – what can one say?  The smell was a little plain, but the palate…You know those occasions when you've put too much mustard in your ham sandwich and the mustard ignites on the insides of your nostrils?  It was like that, only it stopped short of ignition – the mustard equivalent of the Sipsmith warming without burning.  A unique and awesome experience.
Your advice, if haven't already partaken at some point, is to place your laughing gear around the something Sipsmithesque at some point soon.  Not only are they superb products, but made with passion and flair.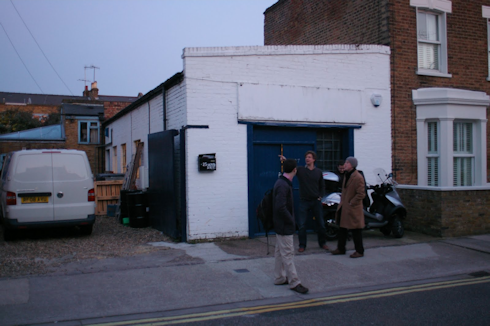 That was it, we felt unable to blag any more samples and, anyway, Sam had run out of glasses!  We were ejected into the Hammersmith early evening feeling that the best thing we could do was to seek out a local hostelry and sink pint or two of Timothy Taylors Landlord – what were we thinking?!