We are delighted for all L&S staff to have been made winners of the award for London Wine Merchant of the year for 2011/12. This is inevitably the most hotly contested of the 'regional' awards and we are mightily chuffed to have won for the third year running.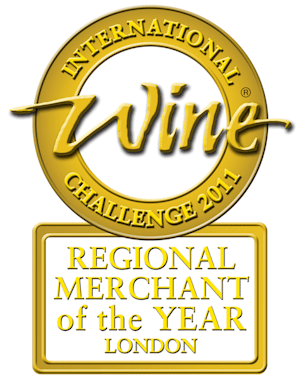 The Awards Dinner this evening celebrated the year-long achievements of many of our colleagues as well, including Bunch members who won specialist awards (for which we, as 'generalists' do no really expect to be considered), so congratulations to Jason Yapp of Yapp, as Rhone specialists, and to Berry's as Bordeaux specialists).
Knowing how radical the flavours of the Trophy Winners can be (they have to be assertive to stand out in long blind tastings, as well as being available in certain volumes), I took along a couple of bottles. The Awards dinner interestingly included a fish main course, which was difficult to match with the New World red Trophy winning reds, but it went sublimely with the 2002 Macon Pierreclos 'Tri de Chavigne' from Guffens-Heynen (if you have any of this left it's probably time to go for it) and a chocolate pudding of fanciful form and intense flavour and sweetness which went just about OK with Stanton & Killeeen's Aussie port-style Muscat, but was otherwise an impossible combo with any of the wines. Anne Gros' 2003 Clos Vougeot, which I chose for it's lack of sediment, since it had to accompany me in a cab, was fascinating – it has all the silk of any of Anne's wines, but it is just so ripe – and put in the northern Rhone by both my immediate neighbours. Cannot decide whether to advise drinking it now for this slightly thick lushness or keeping it 6 years+. I think I'll keep any I have left.