WE NOW OFFER FREE UK MAINLAND DELIVERY!
Take advantage of our NEW FREE UK MAINLAND* delivery this Christmas on all orders over £100. *(some exclusions apply).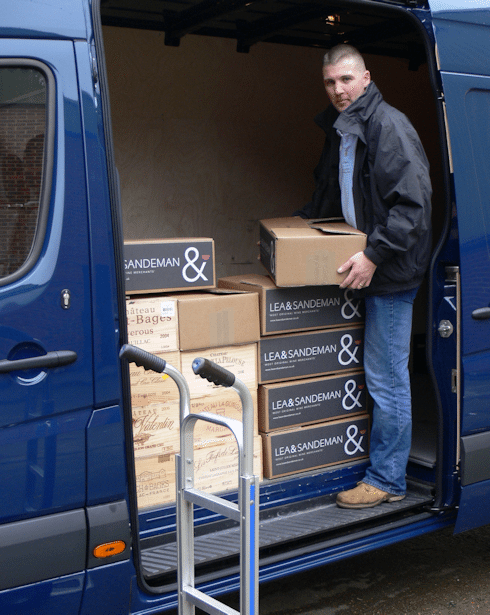 All orders received up until midnight on Sunday 18th December are guaranteed for delivery before Christmas (unless the country grinds to a standstill with snow and ice).
FULL DELIVERY TERMS HERE
WINES RECENTLY IN THE PRESS
The Evening Standard, Andrew Neather:
Having said that he was going to 'slate Beaujolais Nouveau' in his column he rather liked ours!
2011 BEAUJOLAIS VILLAGES NOUVEAU Domaine Rochette
The exception that proves the rule: a Nouveau from a top producer in the cru village of Regnié – bright, ripe, silky fruit, fresh and very moreish.
The Independent, Anthony Rose:
2008 CHASSAGNE MONTRACHET Domaine Fernand & Laurent Pillot
This luxurious, superbly crafted dry white Burgundy balances exotically opulent ripeness with a seductively complex richness of chardonnay fruit enlivened by taut crisp acidity and a nutty, dry mineral finish.
FINO Dos Palmas Gonzalez Byass
One of Gonzales Byass' four stunning new limited edition sherries, this eight year old fino is smoky, intensely nutty and moreishly bone dry, finishing with a sea-salt tang.
The Telegraph Weekend, Victoria Moore:
2009 GIVRY Pied de Clou Domaine François Lumpp
'Upmarket pinot noir for the turkey'. Yes, this burgundy's still a baby but 2009 produced such lush wines that you can get away with it. And Lumpp's Givry is a revelation: supple, flowing and ripe.
2009 CHIANTI DON GUIDO Fattoria La Collina
'A taste of Italy'. Awful label, brilliant wine. I'm tricky about Chianti. It has to be right – not too heavy, redolent of dust, incense, mushrooms and cherries. This blend of sangiovese, canaiolo and malvasia nera ticks every box. It's slightly leathery (a wee bit of what I call 'good brett')and at under £10 it's also superb value.
2009 LANGHE NEBBIOLO Andrea Oberto
The barolo grape in a more thirst quenching incarnation. This has freshness and fluency and its tannin prickles pleasingly on the tongue. Think roses and polished mahogany rather than roses and tar. Fabulous with veal saltimbocca, egg pasta with mushrooms or truffles.
The FT 'How to Spend It' magazine – Jane Parkinson
'Popping the Question' – an authoritative article about Champagne Disgorgement, by Jane Parkinson (winner of Louis Roederer International Award 2009 for writing champagne), with both Larmandier Bernier 'Terre de Vertus' and Egly Ouriet ' Brut Tadition' highlighted as two top examples.
NSPCC CITY FINE WINE CHALLENGE 2011 –The Result
Our sixth year of hosting the NSPCC City Fine Wine Challenge was great fun and a huge success, resulting in a record sum of £195,000.00!
If you our your business would like to get involved in next year's event do contact us and we will put you in touch with the NSPCC.
LEA & SANDEMAN NEWSLETTER
Our latest newsletter should by now have slipped through your letter box and we very much hope that you will enjoy reading it.
If you have not received one then you can download it from our website, pick one up from any of our shops or call us and we will happily post you a copy.
Caption competition.
We have so far had only three publishable entries, each winning a bottle of Valdespino's 'Contrabandista' Amontillado, as follows:
"Bring out the sherry, senorita, I've just heard from Madrid that the ECB is going to buy Spanish debt!" Christopher Walker
"Look what I won in a caption competition" Simon Dicketts
"Next time I'll wear a glove !" Charlie Arkwright
Crossword competition.
So far only one correct entry – from BPM Logic, the computer software writers we pay vast sums of money to on an hourly basis!
Send us your completed entry and you could win a magnum of Lea & Sandeman Bordeaux!
CHAMPAGNE OFFERS – All of our champagne offers are available through until Saturday 31st December 2011, or while stocks last!
REMEMBER – OUR DISCOUNTED CASE PRICES ARE AVAILABLE ON ALL MIXED CASES – any mix of any twelve bottles or more including champagnes!