An Estuarine Christmas with the Sandemans

The Sandeman family are heading to the depths of South Devon to spend another Christmas in the Goodshelter estuary, inland from Salcombe. Not actually 'in' the estuary, of course, but in the beautifully secluded and remote cottage which sits on the edge of the water at the head of the creek.
Forward planning is essential, since the chances of buying decent wines locally are limited, and access to the cottage is either by water (tide dependent and not fun at this time of year) or down a perilous slope, and once you have risked life and limb carrying cases of wine down the hill, you do not want to carry them back up. So, we take with us whatever we plan to drink, and make sure we do so.
Christmas Eve sees the start of festivities with a glass of fizz before dinner, and because it is such a very pretty, pale pink, yet packed with wild strawberry fruit, Legras Rosé is the choice. Dinner will be seared fillet of beef with salad, and for once a very affordable, quite modern Merlot based claret makes it into my Christmas choice in the form of Chateau Montfollet 'Valentin' 2007, from a small property in Blaye. After dinner a bracing two mile walk up and over the hill to South Pool, for those of us feeling strong enough, for carol singing in the Millbrook Inn. I suspect the others will settle into the first bottle of Sandeman Twenty Year Old Tawny, hopefully leaving a glass or two for 'Santa' having braved it back across the estuary from the pub.

After a slightly fuzzy start to Christmas morning last year, when I looked out to see what I thought was seagulls walking on the water, it turned out that the entire estuary was frozen solid and the landscape a sea of white ice. As stunning as it was, we are hoping for a milder start this year. Our tradition of salmon fishcakes for breakfast will continue, and I look forward to starting the day with  a wonderful magnum of Larmandier-Bernier's 'Terre de Vertus', which has been hidden away in the boathouse since last year. Not only will it taste awesome, but it helps to put that feeling of crepe soles under ones feet for the rest of the morning.
It is a healthy walk along the estuary to church at East Portlemouth, and I continue to embarrass everybody but myself by walking in my Ramsay tartan kilt, which I will wear for the entire day. Last year it was especially bracing, but I also like to believe the kilt only enhanced the spirit of Christmas at both the packed church and the pub, as it was much admired, by grown-ups and children alike. Furthermore my sporran neatly and discreetly carries a hipflask, filled with Foxdenton's Sloe Gin, an especially dry version that warms the parts others cannot reach when sitting in a cold pew.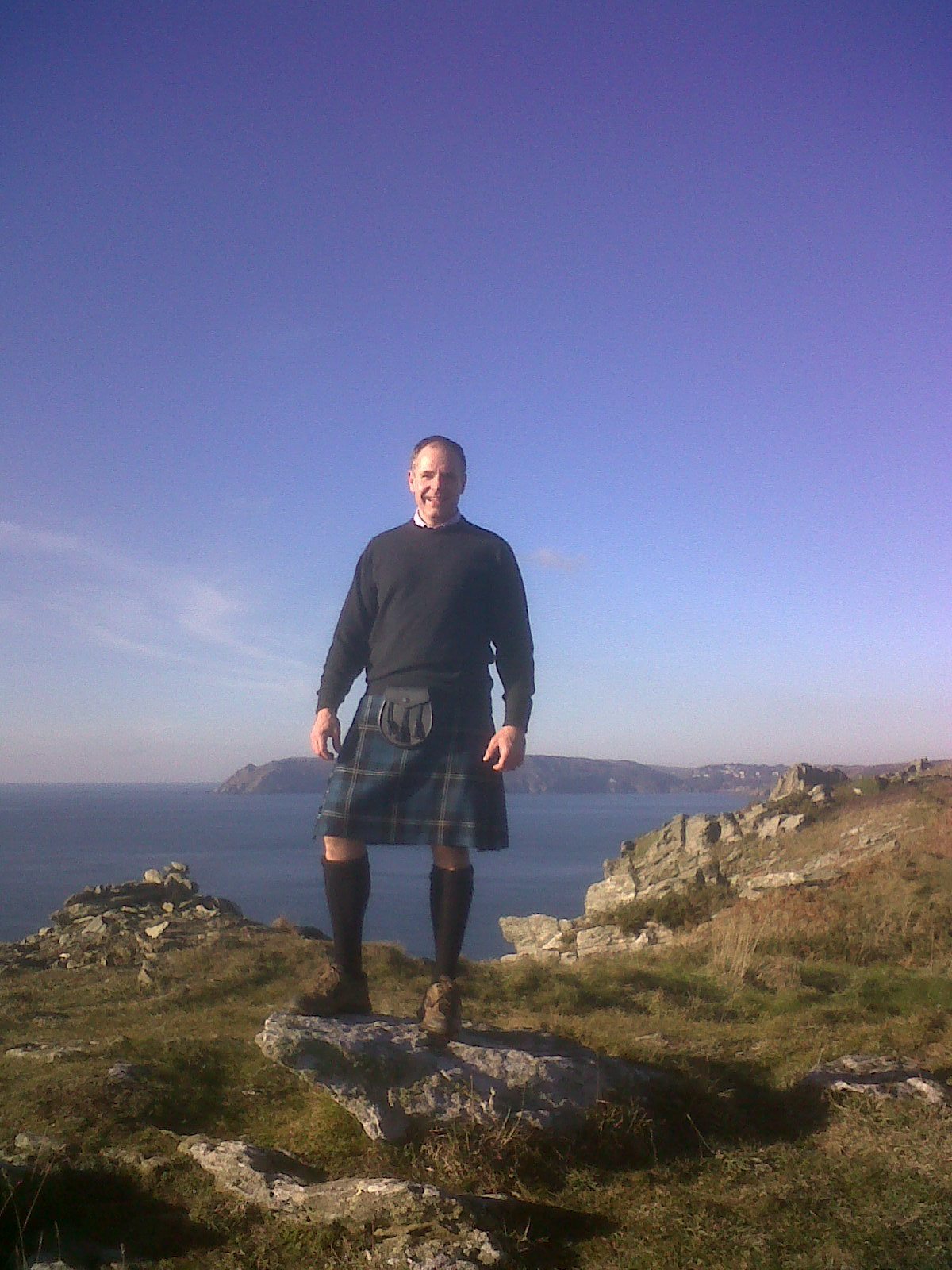 Lunch will be a light affair of smoked salmon and game terrine, with Bert Salomon's bracing Grüner Veltliner Wachtberg, and the juicy, almost healthy tasting Domaine de la Rochette's Beaujolais Régnié. Both light enough to keep us well focussed for the evening ahead. We will spend the afternoon walking along the estuary, combing the shores for driftwood and cockles, and walk as far as we can go before the open water where we will see the twinkling lights of Salcombe in the distance. By the time we return to the cottage the fading light in the skies above the hills leave the estuary in all but darkness, and the fires are lit as preparations for our Christmas dinner resume.
The turkey has been cooking in the Aga almost all day, basted with a bottle of Palo Cortado sherry, and as we lay up the table and make final preparations, it is time for a quick sharpener before 'dressing for dinner'. A glass of Valdespino's bone dry Inocente Fino hits the spot and enlivens that palate.
Presents by the fire brings more champagne, and our family favourite on these occasions has become Barnaut's Grande Réserve Grand Cru from Bouzy; stylish, satisfying and so easy to enjoy amongst all the excitement. In reserve, there will be a bottle of Chablis (personally I like just one glass of fizz and then a bottle of Chablis…) and what is drinking so well right now is Moreau-Naudet's 2007 Premier Cru Forêts; bracingly dry and mineral but with lovely fruit too. With dinner this year we will drink a new Pinot Noir to our range, packed with elegant juice and  flavour, full enough to stand up to all the flavours of turkey and all the trimmings (including this year black pudding with wet walnuts and caremelised apples). Charles' latest find in Burgundy is the small Domaine de la Douaix and their 2009 Hautes Côtes de Nuits is simply delicious and will be perfect for the job in hand.
We have long since given up the idea of a traditional Christmas pudding (even if it might contain a whole orange) and all I miss, apart from the brandy butter, is the pyrotechnical display when parading it into the room. Mince pies, fruit and walnuts are all washed down with a bottle of vintage port, or two, with a bottle of Graham's 1999 Malvedos in reserve.
Boxing Day will be a slow start, before a long and bracing coastal walk round the headlands to Prawle point and on up to the Pig's Nose, for a pint of beer and to listen to the annual bell ringers display. A late lunch of baked potatoes and ham back in the cottage gives me the opportunity to open one of the two Italians of choice, either Fuligni's brilliant value 2009 Rosso di Montalcino or Sottimano's exceptional 'baby Barbaresco', the 2009 Langhe Nebbiolo, probably both.
There will be other bottles that find their way down the hill, but I dare not mention them all, since I would be at risk of being told (again) that we drink too much over Christmas. But then we will have the Mother-in-Law with us (again), there is no television in the cottage, and there is always plenty of outdoor activity and walking, with each of the pubs a good few miles each way. Take the car? Not likely, I might have to forgo the chance of another drink.