Roberto Fuligni came to London this week to launch the new releases of Brunello, the 2006 'Riserva' and the 2007 'normale', and this gave us the perfect opportunity to show off a number of his wines to a select number of journalists and wine buyers over lunch in the private dining room of the River Cafe.
As a setting it is hard to beat, on the banks of the river Thames, with a wide open space looking towards Richard Rogers' Architects building, and a bright airy room that is set apart from the main restaurant, but still enjoys the buzz of the open kitchen and the bustle of the dining room. There was a slight frisson of nervous excitement as one of my guests, a notable restaurateur (with four establishments and more than one Michelin star under his belt) arrived at the reception at the same time as A.A .Gill, who was lunching in the main restaurant. Having never set eyes on the man in person I could not resist venturing out to spot him, which was easily done once I had been warned of his dreadful suit, a suit which would have horrified even Bertie Wooster, and made my own tweed look positively demure.
Back to business, as the River Cafe produced a fabulous spread of Antipasti to go with the first pair of wines; both 2007 and 2006 Brunello. As Roberto says, it is difficult to say that one of these five star vintages is better than the other, only that they are different. And so they are, the 2007 being immensely complete and elegant, and so difficult to resist even now, while the 2006 is vibrant, with higher acidity and in need of more bottle age. Both fabulous wines.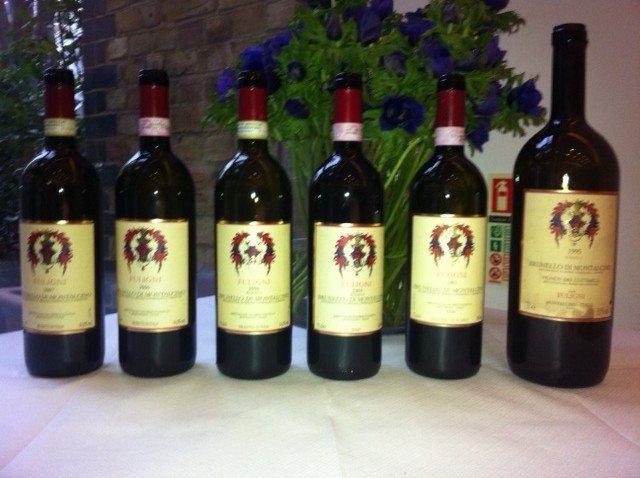 The main courses were served alongside the soon to be released 2006 'Riserva' and last years's release of 2004 'Riserva' (2005 was not a vintage for 'Riserva'). The 2006 shares the same tone of vibrant and bright tannins as the 'normale' and will undoubtedly age gracefully to become a wonderful mature Brunello, while the 2004 is showing the beginnings of sweeter and softer tannins, but not without a great future ahead.
As an example of how these wines mature we then poured 2001 Brunello' normale' and 1995 Brunello 'Riserva' from magnum. Both wines still showed remarkable colour, in fact little different from the younger wines. The 2001 was a great vintage and the wine showed tremendous class, while the 2005 'Riserva', albeit a lesser vintage, was really quite stunning and although showing maturity still had a good few years left in it.
One seasoned journalist, specialising in Tuscan wines, commented that Fuligni 'makes very understated wines, that do not necessarily shine in blind tastings, but provide deliciously rewarding drinking over an hour or two, as 'vini da meditazione", while another, younger but experienced wine buyer referred to these wines as 'aristocratic'.
These are not blockbusters, in spite of their relatively high alcohol levels (14.5% – 15%), because their acidity levels and judicious use of oak (no 'barriques' here) keeps them in check and allows the wines to be truly expressive of Brunello.
Rewarding drinking over an hour or two they most certainly are, and even after six different vintages one is left with a sensation of refreshing clarity and elegance on the palate that is quite rare when tasting such powerful wines as these. They are wonderful food wines, deserve to be cellared, and perhaps in years such as this, when the offerings from Bordeaux are likely to be of little interest, they might finally appeal to a broader audience than those who are already in the know and seek out these magnificent, aristocratic wines.
Our offer of Fuligni's and Collamttoni's 2006 Brunello 'Riservas' and 2007 Brunelli will follow in the next few days.