Lea & Sandeman Pinot Noir – the Wine Gang report

A selection of fabulous drinking Pinot Noirs as selected by the Wine Gang in their March report.
'This was in fact a tripartite tasting, with a substantial Nebbiolo flight between the Pinot Noirs and the Sangiovese, but we're putting the spotlight on the latter two this month and will cover the Piedmont reds in a forthcoming report. The Pinot Noirs, all young vintages, were from Burgundy, New Zealand and Argentina and the standard was high. We like the way Lea & Sandeman chooses producers and wines that express their vineyards and regions so clearly. The Sangiovese came in the form of Brunello di Montalcino from two estates – so, a small flight but, again, impressive. Burgundy and Italy are undoubtedly strengths of this very good merchant which now has four shops in London, from Fulham Road westwards' www.thewinegang.com
UNDER £15 –and let's not kid ourseleves, as there is not a lot of Pinot Noir worth drinking under £15 (though Remy's 2009 Bourgogne Rouge is another fabulous exception at only £10.95) but we love these.
CANTERBURY Pinot Noir 2010 The Crater Rim £12.95 (£11.75 when you buy a case)
The cheapest of the three Crater Rim Pinot Noirs from different regions of the South Island. Fruity aromas of plum, cherry and apricot with touches of bergamot, fresh herbs, sweet earth and truffle. The palate is soft, supple and polished. A tad oaky perhaps, but good value for Pinot Noir of this quality.
BOURGOGNE ROUGE 2010 Domaine Fernand et Laurent Pillot £13.95 (£12.75 when you buy a case)
The style here is purity almost to the point of austerity at present, with minerally, spicy red fruit underpinned by tannin and acidity, but there's a persuasive floral, red fruit fragrance and we think the palate will flesh out over the year.
BOURGOGNE ROUGE 2010 Domaine Nicolas Rossignol £14.95 (£13.75 when you buy a case)
Fragrant, fresh Pinot Noir sweetness on the nose and a palate of cherry fruit, crystalline minerality, gentle rounded texture and an overall impression of balance and clarity.
MORE THAN £15 but UNDER a PONY and exceptional value.
BOURGOGNE ROUGE 2010 Domaine Francois Raquillet £15.75 (£13.95 when you buy a case)
Fragrant, fresh, sleek and elegant, with perfumed cherry fruit, a delicate nuttiness and a hint of incense. Very seductive. Just what you hope for, but often don't get, from basic Bourgogne rouge.
BODEGA CHACRA 2010 Pinot Noir £18.95 (£17.95 when you buy a case)
Wonderfully, fragrant, with rose and pot pourri and just a suggestion of sweet, smoky bacon and salted caramel. The palate is effortlessly elegant, light and silky, yet with layers of flavour. Get to know these Bodega Chacra wines if you don't already. You owe it to yourself.
GIBBSTON 2010 Central Otago Pinot Noir The Crater Rim £17.95 (£16.25 when you buy a case)
A youthful, but expressive and sophisticated Pinot Noir from from the wetter, western part of Central Otago. Sweet, fresh, raspberry-scented fruit, some chocolate, mocha and vanilla notes from the oak and a soft, clean, satiny texture. The oak is still quite prominent, but it will recede as other flavours emerge.
MARSANNAY 2009 Domaine Huguenot £18.95 (£17.50 when you buy a case)
Attractive sweet earth aromas and an equally appealing, authentic earthy sweetness complementing the juicy, black, summer berry fruit and spicy notes. Good weight, nicely rounded, characterful Marsannay Pinot Noir from a 23-hectare estate – quite sizeable by Burgundian standards – which was certified organic in 2010.
MERCUREY 1er Cru Combins 2009 Domaine Theulot Juillot £22.50 (£19.95 when you buy a case)
Considering what voluptuous Pinot Noirs the 2009 vintage produced this is quite muscular and mineral, but it is Mercurey after all, so you're not looking for Burgundy at its most delicate. It has plenty of stuffing, dark fruit, savoury mineral flavours and quite chewy tannins, but it'll come round. Give it another year.
FIXIN Petit Crais 2009 Domaine Huguenot £24.95 (£22.50 when you buy a case)
Alluringly perfumy but also meaty and savoury on the nose. The palate, similarly, starts lush and sweet with black fruit, but then reveals Marmitey, liquoricy, earthy notes. If this is beginning to sound like anything but Burgundian Pinot Noir, we're giving the wrong impression. It really couldn't be anything else, but it's on the fuller, riper side, which good Fixin is, and it's from a ripe vintage. It's also organic.
POMMARD Tavannes 2009 Domaine Fernand et Laurent Pillot £24.95 (£22.50 when you buy a case)
A mouthfilling, perfumy Pinot Noir from the village of Tavannes in Pommard. Winning cherry fruit, spice and mineral flavours framed by grippy but reassuringly fine tannins. Good length too. Might be one to consider if you're trying to convert a devotee of big reds to the pleasures of Burgundy.
OVER a PONY and well worth the treat.
BLACK ESTATE 2009 Pinot Noir, Waipara £26.75 (£23.95 when you buy a case)
This full, flavoursome and characterful Pinot Noir was fermented with wild yeasts in open-top fermenters. Truffle and game add richness and a bit of wildness to the ripe black-cherry fruit, spice and chocolaty oak; acidity and tannin promise a good future.
GEVREY CHAMBERTIN Le Crais 2009 Domaine Huguenot £31.75 (£28.75 when you buy a case)
On the basis of the four Pinot Noirs we tasted here, we're pleased to have made the acquaintance of Marsannay-based Domaine Huguenot. The style is generally rich, ripe and savoury, but it's not an over-arching house-style: the terroir is allowed to talk. In this velvet-textured Gevrey, there's a mouthwatering stony minerality cutting through the succulent black fruit and ripe tannins.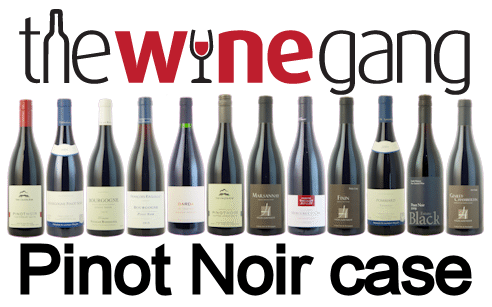 BUY a MIXED CASE made up of one bottle of each of the above for the ultimate Pinot Noir treat. Priced at £221.55 including delivery to your door.
Please note that both our BRUNELLO OFFER and POL ROGER 2002 OFFER close on 31st March 2012