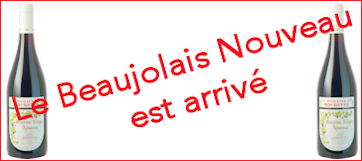 Beaujolais Villages Nouveau from Domaine Rochette – which can be ordered on the website now for delivery on release day (for those of you in London at least) which is tomorrow, Thursday 15th Nov., or bought in the shops from tomorrow late morning.
WINE DINNERS WITH PRODUCERS : update We have a very few places left for the wine dinner with the very charming Andrea Sottimano at Quo Vadis on next Wednesday 21st November. Andrea's Barbarescos have been getting rave reviews in recent issues of the Wine Advocate and Wine Spectator – time to get in before the prices go stratospheric.
David Porter, who has been such a lynchpin the office team here for the last several years, has been quite badly hurt when knocked off his bicycle in the New King's Road on the way to work three weeks ago, and with a broken left elbow and three fingers of his right hand, will be unable to work for some time. Our hearts go out to him (wishing him a speedy return to the office), but also to his wife Sarah who also has their two small daughter to look after. All of the rest of the L&S team are pulling togther to try to make sure that the service you have come to expect remains unaltered, but there may be moments when we have to prioritise the urgent over the next few weeks leading up to Christmas.