I had heard little whispers in the trade along the lines of 'I gather the 2011s are showing pretty well', and taken them with a large dose of scepticism. But my first day of tasting today has left me feeling that the rumours did not say the half of it. The wines I have tasted thus far (Comte Armand/Clos des Epeneaux, Henri Boillot, Nicolas Rossignol, Christophe Perrot-Minot, Thibault Liger-Belair and de Courcel) have all been 'au top', and there really has not been one wine I've tasted in any of these cellars that I'd have any hesitation about buying. Which shows that these growers have produced a consistently excellent quality. Yet I keep being told that this is not necessarily true of the vintage in general, so may just prove we've been following the right people. Not necessarily a big surprise.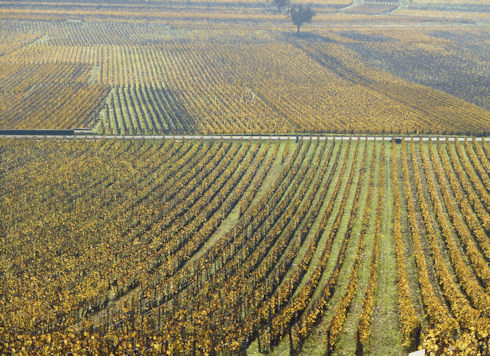 So far I have damson as the 'signature fruit flavour' of the vintage in red. Not that this should imply any of the aggressive bitterness of the raw fruit – I'm thinking the flavour of damson which my mother can always incorporate into sorbet or mousse or fool so that you get the depth of the flavour, but softened or sweetened, gently balanced. These are wines with enough mass, but not heavy – they are given lightness by their freshness of expression. A really top vintage along the lines of 2010 – not the dense heaviness of 2009, but something of the style of 2010, with even more really jumping liveliness. In this last sense like the 2008s, but they to not have the slightly jagged tannins of 2008. In 2011 the tannins are 'fondus' as they say here – melted-in, ripe and fine. But they are very present, and they give a 'tonic' firmness. At our big SNP tasting earlier in the year (of Sangiovese, Nebbiolo and Pinot Noir), we wanted tasters to draw parallels between the marginally 'bitter' tannins of the Italian varieties and those of Pinot Noir, and it seems that this 2011 vintage is designed to show the parallels in a very clear light. Never has de Courcel Pommard Rugiens had tannins so much like a Barolo Rocche. These are wines which, whatever their likely cellaring potential, taste great now.
Nicolas Rossignol, Christophe Perrot-Minot and Thibault Liger-Belair have all expressed interest in coming to our 11th Jan Burgundy 2011 Vintage tasting, so you can believe that they think these wines are good.
The vintage is a small harvest even by the standards of 2010, but this is as nothing compared to the lack of wine in 2012. I was given examples all day long – 'in 2011, I made five barrels of this parcel, in 2012 I've only one'. I hardly need say that there is going to be a shortage of historical proportions and the price of wines 'en vrac' (as liquid volume sold by growers to the Nuits and Beaune merchants) has already jumped up.
Tuesday's tastings? Anne Gros, Mugneret-Gibourg, Confuron-Cotetidot, Thierry Mortet, Clos des Lambrays and Bernard Dugat-Py. Never think its all fun and games, but definitely fun to be had tasting this vintage.