On Monday we faced another of the many hurdles on the long path since losing Patrick, with our postponed Press tasting. An opportunity for us to show the world our latest finds, as well as new vintages of much loved wines on our list.  A hard day, well-supported by the journalists, and trade buyers, who said many nice things and gave great encouragament. But we will miss Patrick's energising presence at such events for a good long time yet.
It is impossible to showcase everything every time; few people, even hardened professionals, have the stamina or time to taste though hundreds and hundreds of samples on a grey Monday in October, so putting together the right selection is key.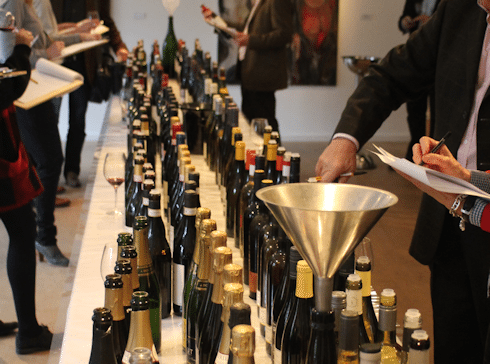 As ever the difficult bit for us was to rein ourselves in and try to keep the tasting list short and coherent when we have so many great things we want to show-off!
Thankfully the balance on the day seemed to work – everything on the table showed brilliantly from the amazing value new 2011 CHARDONNAY Domaine Pierre Belle through to the sexy and stylish wines from Sottimano in Italy's north western corner. Thankfully there were some excellent reactions from the journalists, many of which were almost immediately emitted to the world via Twitter, and hopefully further reports will appear in more traditional print and online formats over the coming weeks.
Of the tweeters, arguably the most effusive on the day was Joe Wadsack (you can find him on twitter under his handle '@vinesack').  Amongst others he highlighted a pair of wines which we too are really excited about.  Firstly the hugely impressive 2009 SAINT AUBIN 1er Cru Frionnes Domaine Hubert Lamy here he tweeted in his inimitable style –"09 White Burg won't last. A bit buxom & don't have enough minerality." as 1 D***head said to me last yr. This is sex!" – We could not agree more with the sentiment! Olivier Lamy shows how it is done with this pure and precise cracker from one of Burgundy's unsung heroes – the village of Saint Aubin.
He also was full of praise for the stunning wines from Rippon in New Zealand – 'The best Pinot in NZ? The last two vintages add considerable weight to the argument. Bloody love this.'
anyway how can you resist the idea of wines that come from here:-

Journalists often find extraordinary and wonderful adjectives to describe and bring to life the attributes of a wine, it is this ability to convey the excitement and impact of a taste that sets them apart from us mere mortal wine-lovers.  Somehow even when you don't instantly recognise the word you know they are onto a good thing – and when two respected wine writers concur, it would be simply churlish to disagree! 'Oz reckons this (LE PETIT ROY11eme-annee Domaine Jean Royer) is the epitome of flodgulence. I'm inclined to agree.' Tweeted Joe.
This delicious Rhône red, a Châteauneuf in almost all but name – is the perfect antidote to these dark, damp days of Autumn- packed with ripe peppery fruit and a lovely, almost old-fashioned, 'liquidity', making it so very gluggable. Flodgulent (?) indeed.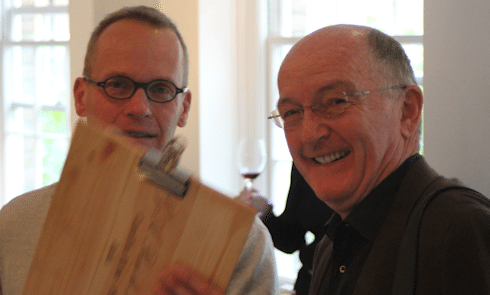 We also showed some of our highly acclaimed Growers-Champagnes – which we will be writing about next week with some seasonal jollity in mind. These prompted Jancis Robinson's memorable tweet "Today's tasting suggested nowhere better in London to buy champagne than @LeaandSandeman", which is a very kind thing to say and something you may see us quote again.
To cheer the soul on a soggy autumnal day – we would highly recommend Joe's brilliant blog – where you will find some of the most amusing and honest writing on wine anywhere.
To all our supporters we would just say again that it is the day to day routine and sales which cheer us most in these dark times, so please do not feel you have to tiptoe around us. I will be in Burgundy tasting the 2011's, but the rest of the team would welcome a deluge of orders.