In these straitened times, splashing out on a few cases of 2011 Burgundy might seem a tad indulgent.  Well, with a miniscule (but, by all reports, excellent) 2012 vintage to follow and the Burgundians making ever more successful overtures toward the Chinese market, it could turn out that 2011 was the smart vintage to buy. Quite apart from the fact the at the wines are very attractive.
Jancis Robinson MW, who yearly embarks on an exhaustive tour of the UK wine trade's Burgundy tastings, wrote up her musings on the 2011 Burgundy vintage and its offerings in the FT last week and included a list of Burgundy producers to seek out for your cellar, and eight of those producers have their wines shipped by LEA & SANDEMAN.  We are glad to be so impressive.
For sheer, full-on, Côte d'Or magnificence, there is Henri Boillot.  Of course, his Corton Charlemagne (case of six £405) is "hugely rich and well sculpted" but you'd expect it to be; the Puligny Montrachet 1er cru Les Pucelles (case of six £276) is "chalky and chewy and introvert but with lots of impact"; but it is the Puligny Montrachet 1er cru Clos de la Mouchère (case of six £258) which steals the show with "Lots of fun! This is clearly a magic site. The golden ticket."
We have always been pleased to offer Remi Jobard's excellent traditional Meursaults and the 2011's fare well with Jancis too, not least the "broad, sweet, rich and satisfying" Meursault 1er cru Genevrières (case of 12 £474).  But the Remi Jobard star performer, if only for value, would be the simple Bourgogne Blanc (case of 12 £135)
"Savoury, well sculpted and really precise. Dense. Really great wine for the appellation.GV"
16 points, 2013-2016

If Remi Jobard is our ever bankable Meursault producer, then Laurent Pillot takes that role for the Montrachets.  There is quite a range of Chassagnes, but Jancis seemed most pleased with his Puligny Montachet Noyers Brets (case of 12 £210),
"Tight and smoky and full of fruit. Very well done! GV"
17 points, 2015-2021
Great value is often found a little off the beaten track, in villages like Saint Aubin where Hubert Lamy continues to make superb wines.  Witness his Saint Aubin 1er cru En Remilly (case of 12 £267),
"Very toothsome and lip smacking. The nose alone really gets the saliva flowing. Juicy and precise, though this needs a bit of time in bottle. Would put many grander appellations to shame."
16/5+, 2014-2020
But his star wine features a return to the Côte d'Or for the "almost brilliant" Puligny Montrachet Les Tremblots (case of 12 £294) – "better than some Premier Crus".  We agree.

For lovers of red Burgundy, Jancis recommends casting an eye over what Nicolas Rossignol has to offer.  It is difficult to pick a star when nothing in the range (and quite a range it is) scores less than 16 points, so we'll pick out the Volnay 1er cru Le Ronceret (case of 12 £348) if only because I've never seen curry referenced in a tasting note!
"Very intense – nose almost of curry as well as all that lovely ripe fruit. Actually it's quite severe. Chewy and ambitious. Definitely needs time."
17 points, 2020-2032
One for the cellar.
A new name to LEA & SANDEMAN this year is Domaine Lignier-Michelot from the Côtes de Nuits, mostly the less explored village of Morey Saint Denis.  Witness the Morey Saint Denis 1er cru Aux Chezeaux (case of six £207),
"Burly aromas with chestnut and prunes. Very round and sweet. A real charmer. You could almost enjoy this already! Really very sumptuous and attractive."
17 points, 2014-2024
Northward to Chablis and Domaine Moreau-Naudet, who's entry-level wines steal the show,
Petit Chablis 2011 Domaine Moreau-Naudet (case of 12 £75)
"Must be one of the very cheapest wines to be presented en primeur this month! Actually it does taste like Chablis and is as good and representative as many a Chablis from a more mass-market source. GV"
15.5 points
Chablis 2011 Domaine Moreau-Naudet (case of 12 £87)
"Smoky and attention grabbing. Lots of energy and drive but accessible already. VGV"
16 points
Both ready to drink when you get them and whilst you're waiting for your "big and sleek"  Valmur Grand Cru (case of 12 £234) to mature.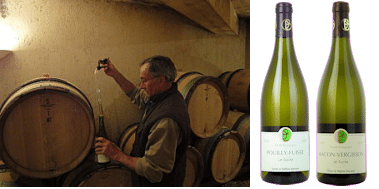 At the southern end of Burgundy, at the northern end of the Mâconnais are the vineyards of Daniel Barraud and this is really where quality and value collide if you want white Burgundy without breaking the bank.  Everything in the range gets well reviewed but it's difficult not to be seduced by the Pouilly-Fuissé La Rôche 2011 (case of 12 £183)
"Fine and tight and restrained. This should be really rather glorious eventually. Exciting but definitely Pouilly-Fuissé rather than Côte d'Or. (Nothing wrong with that!)"
17 points, 2016-2025
But for sheer value, if nothing else, what about the Mâcon-Vergisson La Rôche 2011 (case of 12 £96)
"Rich and also smoky. Lots of energy here. Doesn't really taste like Mâcon (much more concentrated) though it has a honey character. Chewy mineral finish suggests a relatively long life."
16.5 points, 2015-2020
All prices quoted are In Bond prices.
Our entire range of 2011 Burgundy can be found on our web-site, complete with Charles Lea's tasting notes and various wine writers' comments.