With Easter Bank Holiday only a few days off (hooray!), but the weather determined to stay at the frosty end of the scale (boo!), we've put together a great value mixed case with everything you need to accompany a hearty Easter lunch.
We've added 6 carefully chosen bottles at our usual 12 bottle discount rate including £10 off a bottle of Bollinger Special Cuvée Brut Champagne. So that's £20 off plus free* delivery to central London in time for Easter.

£100 instead of £120 including free delivery to central London
 2 x 2009 CHÂTEAU MONTAIGUILLON Montagne Saint Emilion
  "Very rich and velvety, the sweetness of the fruit and suppleness of the ripe tannins make this a wine that can be drunk young on the fruit or cellar-ed. 2009 Marked the family's 60th vintage at Montaiguillon, and it is as exceptional as the reputation of the vintage suggests."
Was £16.95 now £14.95 per bottle
2 x 2011 CHABLIS Domaine Adhémar et Francis Boudin
"Francis Boudin continues to make wines that are, for Chablis, rich and yellow gold, fatly concentrated, unoaked and pure, with a mildly buttery edge rounding out that minerally, stony ethereal Chablis character. As usual, open and with a creamy suppleness, then the mineral kicks in. Mildly saline feel, fresh and expressive."
Was £15.25 now £13.25 per bottle

1 x  2010 MAS AMIEL Vintage Maury Domaine Mas Amiel – Half bottle
"Perfect with chocolate! Mid-depth red colour, a very rich sweet nose of red fruits with a singe of burnt richness on the palate, sweet and concentrated, a little tannin to prevent it being cloying, an interesting, long cherry-sweet finish. A bit like Port, but lighter and with a dryer finish."
Was £12.95 now £11.95 per bottle

1 x Bollinger Champagne – Special Cuvée – Brut
"A blend par excellence, the Special Cuvée is the purest expression of the Bollinger style; of its craftsmanship and its singular conception of what a champagne should be."
Was £41.95  now  £32.95 per bottle
Place your order by clicking here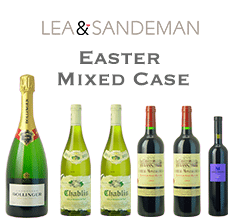 * We actually had to add a 1 pence delivery charge as our computer wouldn't allow delivery otherwise – our apologies!
Wishing you a great bank holiday,
The Lea and Sandeman team,